Final Cut preview: 'an extravaganza of sorts'
Footlights John Tothill and James Coward present an original full-length comedy show that is sure to revolt, charm, touch and tickle the audience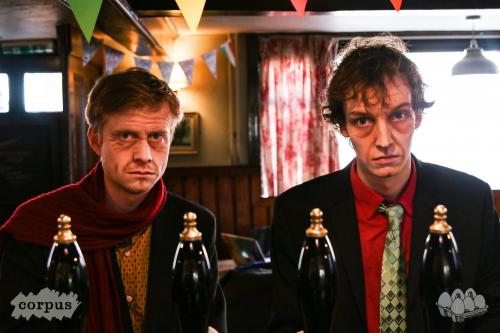 John Tothill is wearing a monocle and a Dumbledore beard, bewildered by the sight of a camera. James Coward is muttering in an Australian accent about his past sexual dalliances with deceased avant-garde filmmaker Trevor Brierly. Apparently it was something to behold. "Like a walrus fucking an elephant". All this takes place with The Beatles' jaunty 'All You Need is Love' playing in the background.
It's a strange trailer, but one that I think taps into the balance Footlights Coward and Tothill are trying to strike with their comedy. Their characters conjure up a reaction somewhere between love and disgust, while taking us to a place between the familiar and the absurd. If you've seen their work in smokers or last week's Footlights Spring Revue, you'll know what I mean.
Whether they're playing the chain-smoking women who run the school uniform shop, grizzled Cockney hitmen or anxious dads at a sleepover, they can't help but win us over. No matter how bewildering their comedy gets, their carefully-considered writing and performance keeps us grounded, and charmed. Their subtle characterisation might remind you of a lecturer you once saw, or a woman you met on the bus. It's this deep affection for life's characters that makes their performances so unmissable. Such commitment to character has brought the house down in their shorter sketches, and it's a potential I can't wait to see fully sustained and explored in Final Cut, coming to the Corpus Playroom next week.
I ask Coward to explain the premise: "the show is about two old men who, in some way, managed to stumble into the theatre scene decades ago and have sort of loitered there". These two men are the absurdly named Michaelmas Crouch and Patio Horse (Tothill and Coward, respectively). Their names remind me of the peripheral characters in Matt Berry's Toast of London, another affectionate but alienated look at the entertainment industry. Coward says that Michaelmas and Patio are inspired by Peter Cook and Dudley Moore's characters Derek and Clive, but that their writing has also been inspired by Anna Mann, Barry Humphries and John Pointing.
But it's not all fun and games, as Michaelmas and Patio are there for a rather sobering occasion: "'They've organised a memorial service for their recently deceased friend". Throughout the show they will be trying to get to the bottom of who their friend Trevor Brierly was as a person. Various people in his life will be invited onto stage to speak their piece. It's a brilliant concept and is sure to show off the full breadth of Coward and Tothill's acting and writing ability.
It also sounds exhausting. I ask them what it's like doing a two-man show as opposed to a sketch show, in which you can depend on three, four and often five people. "The obvious difference is that we are forced to multi-role a lot more and to really work hard at differentiating characters to keep them distinct and surprising. But that's also led to a show that will hopefully be lots and lots of fun". They'll also obviously be telling one sustained story, which sketch shows very rarely do. In that way it's "unlike anything we've ever done before", though their experience of sketch comedy has helped them along the way. They tell me that the concept has also given them space for innovation, with film and sound elements to "break up the show", but also to "explore certain characters in more detail". It all sounds like great fun, an extravaganza of sorts.
The trailer gives us snatches of characters, ideas of what they will look and sound like, but perhaps not of who they are. I ask if there are any characters they're particularly proud of and wouldn't mind introducing us to in advance. "One of our favourite characters is Jacob Molasses, Trevor Brierly's old agent. Jacob is a huge, dribbling, revolting man, virtually falling apart at the seams. He's a terrible agent and a questionable person, but he's also a loyal friend and a good laugh".
I personally can't wait to be immersed in Tothill and Coward's world. If you like being revolted and charmed in one breath, touched and tickled by thoughtful and masterful character comedy from two of Cambridge's premier Footlights, come along to the Corpus Playroom.
Final Cut is on at the Corpus Playroom from 13-16 March