Yes, Prime Minister preview: 'entertaining and unusual'
Staging one of Britain's best loved political satires in the Cambridge Union presents a unique irony of the historical image of the Union as a hotbed of the privileged politics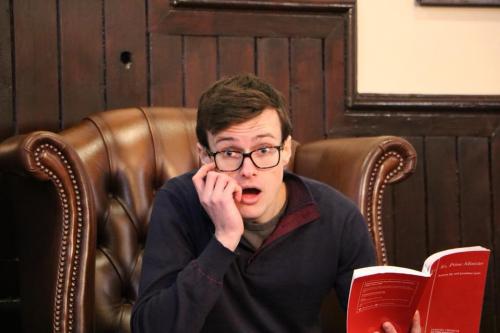 "What I want," Director Mollie Semple tells me, "is the audience to enjoy an unusual night at the theatre". Yes, Prime Minister is the 2012 play based on the highly successful 1980s TV series. It is perhaps one of the most well-loved satirical comedies of recent times, winning multiple awards including several BAFTAs. In 2004 it was voted sixth in a poll of Britain's favourite sitcoms and was, apparently, the favourite television programme of Margaret Thatcher.
Being so well loved, its appearance in Cambridge should be highly anticipated. Audiences will be treated to a script that retains its original edge and charm despite moving its setting further into modern territory. However, Semple recognises that times have changed and the public debate over much of what Yes, Prime Minister is satirising has moved on. As such, she wants to make it very clear that it is a "legitimate satirical look at public school boys in government," a state of government which is sadly still applicable now. The play broaches uncomfortable topics such as sex trafficking, illegal immigration and the state of deportation centres in the UK through comedy. Semple says that "watching incompetent, arrogant white men navigate a world which they know nothing about and deal with atrociously is not only accurate but painfully hilarious". She acknowledges the power of laughter, especially in satire, as the audience is forced to question what they are laughing about; she hopes they will go away and think about what they have just seen.
Jonathan Lynn, one of the co-writers of the original television series, had his realisation that politics itself was not for him in his encounters with Union hacks during his first year at Cambridge, leading him to turn to writing about politics instead. The placement of the play in the Union then seems rather fitting; Semple enjoys the irony of the historical image of the Union as a hotbed of the privileged politicking. Images of white men adorn the walls and will add to the satire of the play: the incompetence of the government further emphasised.
Yes, Prime Minister's success was based largely on the performances of its central characters. I asked how the cast was coping with living up to such iconic parts. Semple said she had asked the cast to bring their own approaches and not attempt to mimic the original performances. As a result, the cast have really come into their own. The rehearsal I witnessed was full of laughter with some great moments from a cast with heaps of comic talent who have, Semple hopes, brought their  "own interpretation of it as young people from a very different generation. The play talks a lot about the financial crisis of the noughties, so for a generation having to deal with the consequences to make a satirical comment is very interesting".
The script and cast are wonderfully funny, even in rehearsal, and audiences should look forward to seeing original renditions of Jim Hacker, Sir Humphrey Appleby and Bernard Woolley. The play seems to be shaping up to be an entertaining and unusual night of theatre in the historic Cambridge Union, filled with comic performances that should not be missed.
Yes, Prime Minister is on at the The Cambridge Union Debating Chamber from 12-13 March