Snow Orchid preview: 'crude and graceful, naïve and wise'
The Cambridge University Queer Players bring an examination of family, masculinity and homosexuality to the ADC stage in this compelling production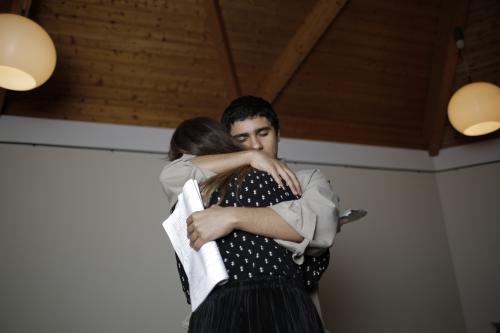 I wish I was exaggerating when I say that I was almost moved to tears within the first five minutes of entering a rehearsal for Snow Orchid. The cast was only in the middle of a run of Act Two, but their powerfully naturalistic performances, dedication to difficult characterisation, and their portrayal of complicated family relationships was so deeply moving that myself and other members of the production team were all clearly shaken. Even without knowing much about the plot, I was drawn in, and compelled to learn more.
Snow Orchid by Joe Pintauro is the third production from the Cambridge University Queer Players, which was established in June 2017. Indeed, through looking at their production history, it is clear that the Queer Players have made their mark on the Cambridge theatre scene: staging a main show within less than a year of their creation is no easy feat, and it is clear that the team behind it is passionate about its premise. Sophie Leydon (director of Snow Orchid and co-founder of Queer Players) tells me that the establishment of the company stemmed from a frustration with the lack of nuanced queer narratives on stage, and states that many plays with a gay character or narrative are sadly reduced to being labelled simply as a 'gay play'.
Snow Orchid, however, feels like quite a different play from Queer Players' previous productions. Leydon acknowledges that whereas their previous shows were a bit more overtly politicised, Snow Orchid depicts a queer narrative in a more domestic context. Set in Brooklyn in 1964, the play begins with Rocco Lazarra's return home after having spent two years in a psychiatric hospital (Bilal Hasna). However, his return home forces him and his family members to confront painful ghosts of the past. Rocco's agoraphobic wife Filumena (Clemi Collett) longs to leave her loveless marriage and return to her home in Sicily. His eldest son Sebbie (Toby Waterworth) is coming to terms with his sexuality as a queer man, but his father's presence forces him to face the simmering emotional wounds from his childhood. Sebbie's brother Blaise (Gabriel Wheble) craves acceptance from his family who in turn resents his lack of connection to Italy.
Such tensions are manifested visually. Gaia Fay Lambert (one of the show's producers) tells me that the stage will be transformed by set designers Arielle Domb and Esther Sorooshian into a highly naturalistic image of the Lazzarra house, complete with a dining room, kitchen, and two living rooms. On a platform at the back, we'll be able to see the walkway into the entrance of the house. I won't spoil it, but my word does this set lend itself to what will be a beautiful ending.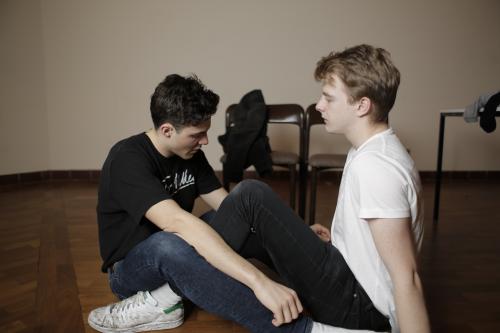 Both Leydon and Olly Francis (Assistant Director) cite Pintauro's script as the main reason for their compulsion to the project, with Leydon stating that it is "unbelievably well written". Even from attending one rehearsal, it's hard to disagree. With strong echoes of the hard-hitting domestic epics of the 1950s, Pintauro's Snow Orchid is beautifully written. Filled with a stunning combination of rich symbolism, authentic realism, and quite lyrical passages of text, the characters are beautifully crafted, and their individual longings for a different future free from the turmoil of their past are heart-wrenching.
From the run, it is clear that the attention to characterisation has been meticulous. James Coe tells me that the main priority throughout the process has been to really "get under the skin" of the characters. For instance, Leydon tells me that to highlight Filumena's agoraphobia, she will remain on stage throughout the show. In the rehearsal, Clemi Collet is compelling. Even when it isn't her scene, she sits like a trapped bird in a cage: she looks out of the window, fixes her appearance in the mirror, and clutches rosary beads. It is a subtle, but visually potent image.
In order to achieve this effect, many of the rehearsals have been simply discursive, and the team has experimented with exercises such as improvised family therapy sessions. Such a directorial approach has evidently culminated in nuanced understandings of the three-dimensional characters. Each member of the cast embodies their characters with particular attention to their age, physicality, and vocal quality (I must note that their Brooklyn accents are notably convincing!). I was surprised to learn that Snow Orchid is Hasna's first venture into the Cambridge acting scene; his depiction of Rocco carries a seasoned maturity and intelligent sensitivity.
It seems as though Snow Orchid will prove itself to be an examination of family, masculinity, and homosexuality that is, in the words if Pintauro himself, 'both crude and graceful, both naïve and wise'. The blisteringly powerful performances, combined with a script rich in an inherent emotional violence, is likely to present a narrative not worth missing, and I, for one, am greatly looking forward to witnessing this tragedy unfold in full.
Snow Orchid is on at the ADC Theatre 6-10 March