Far From the Madding Crowd review: 'phenomenal'
The incredible acting and effective use of space in the small but intimate Larkum Studio has left our reviewer in awe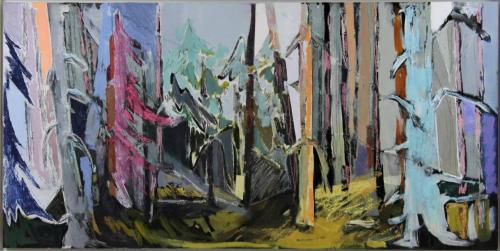 Far From the Madding Crowd, Jessica Swale's adaptation of Thomas Hardy's novel of the same name, is directed by Eleanor Dodson and showcases some phenomenal acting, innovative dance vignettes and a generally effective use of staging to produce a play whose flaws cannot prevent it from being utterly captivating.
The play is set in the south-west of England during the Victorian era, where the three love interests of female protagonist Bathsheba Everdene (Juliet Martin) intertwine against a backdrop of a rural, though by no means idyllic, farming community. Shepherd Gabriel Oak (Tom Hilton), soldier Frank Troy (Jamie Bisping) and prosperous but lonely farmer William Boldwood (Archie Williams) all try their hand at asking for Bathsheba's hand in marriage.
The Larkum Studio is an extremely tight space and, coupled with this play being conducted in the round, it is fair to say this production was extremely intimate. For the most part, this works very well. The entire audience is so close to the action it feels as if we are almost intruding on what can only be described as the most sensitive and poignant dialogue imaginable, and both qualities are enhanced by our proximity to the action.
There were, however, a few scenes where two characters were both static and face to face for lengthy periods of time, meaning large portions of the audience simply could not see either actor's facial expression for what felt like an agonisingly long time. This was particularly evident when Bathsheba is being proposed to for the first time by Boldwood: half the audience couldn't see Martin's attempt to animate this internal struggle, with her being unsure of whether or not to reject this offer despite the fact she plainly doesn't love him. It was a great shame I couldn't see the actor's attempt to do this, and the scene would have benefited by having a bit more dynamism on stage.
Nonetheless, in Martin, this play has a solid actor who is more than capable of shouldering the responsibility of protagonist. Her portrayal is initially capable, proud and confident, as Bathsheba rejects Gabriel's initial offer of marriage out of hand. Their dialogue is staccato, sharp and evidently very well-rehearsed; I was never under the impression that an actor was saying a line simply because its cue had arrived. Rather, the conversations always felt organic and natural, although Martin's lines elsewhere failed to strike the right note.
What stands out, however, is Hilton's wondrous portrayal of the transformation his character underwent as it became clear his proposal would fail. It is apparent from this first conversation that he is at ease on the stage. I was impressed by the subtle nuances of his performance: for example, his sharp intakes of breath between words and quickening pace of speech during the proposal to indicate a nervousness his character does not want to admit to. Towards the middle of the play, he navigates well the torturous catch-22 his character finds himself in; he loves Bathsheba with all his heart and wants her completely, but his desire for her to have the best in life means he must advise her to accept someone else's hand in marriage.
Jamie Bisping must come in for particular praise as well. I found it striking how he expressed his character's transformation into an aggressive, torn and belittling partner from a once charismatic and seductive suitor. When the script and director call for it, there's a venom to his speech that is genuinely terrifying. His on-stage chemistry as Frank Troy with Fanny Robin (Isla Waring) is wonderful, because it comes across as so real. Less talented actors might have fallen into the trap of making it seem gimmicky and superficial, but here they both strike the right balance and the result is magnificent and, ultimately, heartbreaking for all the right reasons.
Liddy (Hannah Lyall), Bathsheba's servant, also enjoys a fluent and natural on-stage presence. Her relationship with her mistress is genuine and warm. From the touching of her arm to the gossiping about Bathsheba's suitors, the dialogue and acting are truly skilful. Archie William's portrayal of William Boldwood is again fantastic. Each of the suitors has their own unique traits, and it is fascinating to see how each courts the woman at the centre of it all in their own manner. That these differences are so well yet subtly contrasted is testament to accomplished and delicate direction; William gets across very tangibly how desperation and the loss of dignity can never produce romantic attraction, but it's always understated and refined enough to seem real.
The play is punctuated by dance pieces accompanied with well-chosen music, often following an attempt at courtship from one of our suitors. The first instances of these are slightly strange and it is initially unclear what their purpose is, but they dramatically improve. The very best iterations, however, are when the transitions from scene to dance piece are blurred, and we get the sense that the emotions the characters held from the previous dialogue have bled into their choreographed movements. Movement Director Marlie Haco deserves kudos for achieving this feat.
Ultimately, this play is phenomenal. It's captivating, despite occasional flaws in delivery and slightly awkward set pieces, and the acting is some of the very best I've seen in student theatre, doing justice to Thomas Hardy's brilliant novel. I urge you to buy a ticket.
Far From the Madding Crowd is on at the Larkum Studio until 24th February