Pomona review: 'theatre at its best'
The first five-star review of the term is given to Alistair McDowell's dark dystopia, flitting on the edges of reality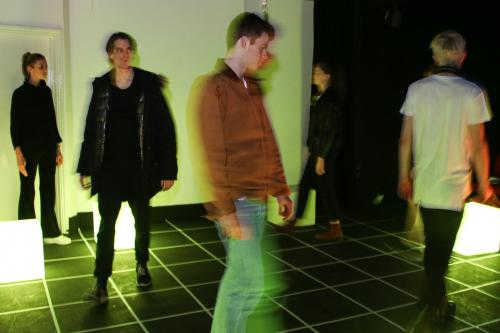 Go and watch Pomona. If you read nothing more of this review, go and watch Pomona.
When Alistair McDowell's drama opened back in 2014, it received rave reviews from critics and audiences alike. People urged their friends to watch it. And this production was no different. If you only see one play in Cambridge this term, make it this one.
There are people disappearing and somehow it all links to Pomona, a desolate and derelict area in the centre of Manchester, and the last thing you want is to get 'involved'. McDowell's dystopia flits between fantasy and reality, the kind of show that makes you sick to your stomach one moment and grinning at how powerful really great theatre can be the next. It is non-chronological, episodic, circling in on absolute horror while remaining unsettlingly amusing and challenging in a way that leaves the audience wondering what is fantasy and what is real.
This was an ensemble of exceptional talent, so much so that at any given moment you could hardly distinguish whose performance was best. Special mention must go to Rachel Kitts, who gave a wonderfully vulnerable and endearing performance as Ollie. A girl searching for her missing sister, Ollie was played with just enough edge to make the audience question who she really was and if her sister actually existed. Comrie Saville-Ferguson's Charlie had delightful boyish charm as a security guard to an underground warehouse on Pomona. He was especially strong in scenes with Grace England's unnerving Keaton. She was funny and threatening by turn; her presence throughout a reminder that people really shouldn't get 'involved'.
These excellent performances were complimented by an expertly simplistic set designed by Anna Curzon Price. The actors moved light-up cubes around a gridded stage, making the production feel clinical and detached, yet confining. Well-designed lighting (Johnny King) further added to the eeriness and threat of the play, particularly the exposed light bulb that pulsed menacingly. Both set and lighting managed to expertly capture the bleakness of the dystopian landscape.
Compliments must also go to sound design (Comrie Saville-Ferguson): it interspersed the action and matching the mood perfectly in its threatening nature. Careful sound choices made the scene changes feel as much a part of the action, allowing for intriguing movement which added to the distortion of reality the audience felt throughout.
However, the ultimate credit for this production must go to Director Jessica Murdoch. Pomona was clearly a meticulous labour of love, and it paid off. She was able to get the best out of an already talented cast and crew by providing a challenging vision for dystopia which the entire team fulfilled. Her use of space was excellent; Corpus felt the vastness of derelict Manchester and the claustrophobia of the characters' lives in equal measure. Her use of movement took the show to another level: it was able to unsettle the audience without letting them look away, the energy of each moment never faltering. Murdoch's vision was innovative and exciting, creating theatre that was intriguing and horrifying to watch in equal measure.
It is a rare production that can get an entire audience to collectively lean forward in their seats, but this one manages it. It really is theatre at its best.
Go once. Go twice, I know I will.
Pomona is on at the Corpus Playroom until 17 February