Assassins preview: 'a killer show'
Stephen Sondheim's award-winning musical dazzles with its musical numbers to tell a tale of political disillusionment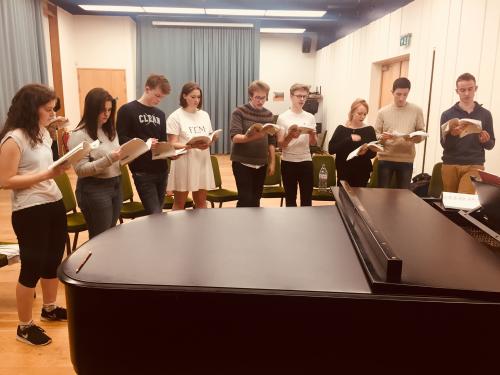 As I walk into a rehearsal for the upcoming ADC main show, Assassins, I am greeted by a glorious warm-up chorus of 'Somewhere Over the Rainbow' – sung under the watchful eye of musical director Laurence T-Stannard, who, of course, instructs it be performed in Boris Johnson's voice. The cast quickly segue into the show's opening number 'Everybody's Got the Right', and as Martha Cook (the proprietor – a menacing weapons vendor) urges the room to "c'mon and shoot a president", her powerful vocal leaves me in no doubt that next week's audience (which I will most certainly be among) is in for a treat.
Since it first opened in a 1990 off-Broadway production, Stephen Sondheim's Tony award-winning musical has enjoyed huge success on stages around the world, as it tells the stories of eight killers and would-be-killers of former American Presidents. From the infamous murder of Abraham Lincoln by John Wilkes Booth (Robin Franklin) in 1865, to John Hinckley's (Joe Sefton) failed attempt on the life of Ronal Reagan in 1981, Assassins reaches into the darkest corners of human desperation and disenchantment.
Her first foray into musical theatre, director Caroline Yu describes being drawn to the richly character driven nature of the show, which has provided her and the cast with the opportunity to spend time fostering each persona. Joe Pieri (Giueseppe Zangara) explains that the actors have all received an information-pack on their given assassin and thus taken up the task of delving into the minds of some of America's most disturbing historical figures, while showcasing the evolution of the country's music across the time period.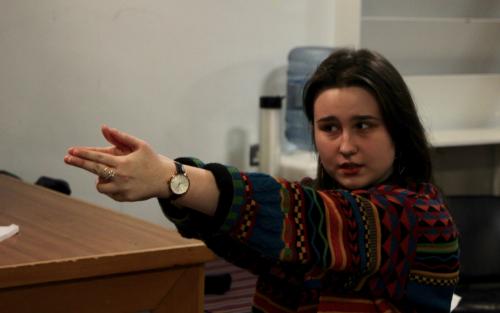 This production is an undoubtedly timely one. With political disillusionment running high, Yu sees Assassins as a work that explores the root of disenfranchisement – turning the notion of the American dream on its head to expose the perverse side of the mantra "be who you want to be". Yu's show will be a musical with substance – not just razzmatazz and sparkle, performative glitzy numbers and jazz hands, but a piece with a more sinister edge, buoyed up by the introspection it presses upon its audience and, above all, the sting of reality.
The cast is small but obviously strong, even from the brief time I spent chatting with and watching them (in awe, I might add). Yu and Stannard have chosen not to use a chorus, with each actor doubling as both assassin and civilian, switching between the ostracised and their horrified, persecutory public. The actors are quite clearly being challenged here – this isn't your standard show and it's definitely something to be excited about.
A musical for the post-truth era, Assassins promises to explode onto the ADC stage next week – Yu is offering us a killer show, and I have no doubt it will hit its mark. I'm out of assassination puns and more importantly I'm about to buy my ticket. I suggest you bite the bullet and do the same.
Assassins is on at the ADC Theatre 13-17 February