Comic Sans Men preview: 'a celebration of women in comedy'
Co-directors Marie Moullet and Elise Hagan lead a female and non-binary cast to deliver this improvised comedy show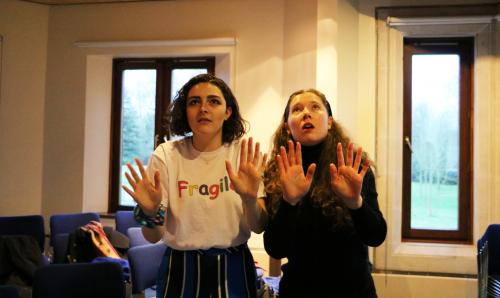 A brand new hour of improvised comedy, Comic Sans Men is designed to excite "without a script or a man in sight". Comprised of an all-female and non-binary cast, it was devised with the aim to "get more women and non-binary people involved in improv", having been born out of co-directors Marie Moullet and Elise Hagan's realisation that they operated in a "platform where there is often a very biased gender ratio and we were in the position where we can change that".
This is reflected in the cast; which is a mixture of seasoned improv performers alongside other comedy genres, as well as complete beginners. Moullet is keen to stress that this should not overpower the quality of performance: she would "never market this show as being less good or subpar … it's just as good [as an improv with male performers] just with more women involved". Her thoughts are echoed by performer Bella Hull, who spoke of there being an "unprecedented evolution" in the attitude of the Cambridge comedy scene towards women, non-binary and other minority performers, adding it is "shows like these that really allow for a celebration of women in comedy". The notion of a confidence gap between male and female performers is also discussed and, while observing the rehearsal, it is clear that Comic Sans Men has created a supportive space with a cast who do genuinely get along.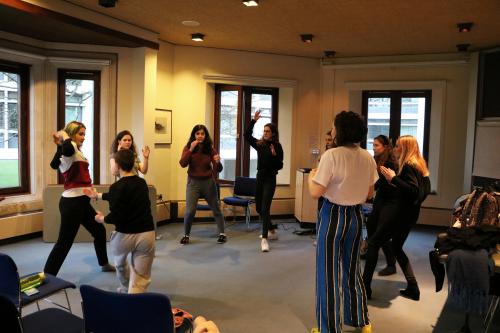 Improvised comedy is exciting due to its unpredictability. Moullet emphasised that the show is "creating something unique [which is] never going to come back again". The audience effectively receive a completely new show every night. I am assured that, despite typical preconceptions, nothing is scripted. Yet, this dynamism brings with it a danger. To be successful, a capable cast is required – who have the ability to be spontaneous and confident without the comfort of a script to rely on.
The rehearsal process has been designed to overcome this through workshopping skills. Four key skills (building characters who have desire and personality, physicality, miming and patterns) are focused on; with the directors constantly reminding the cast of their importance. Alongside this, the cast has agreed to stay away from certain topics which they feel they could not do justice to within an improv environment. In the practice sketches, these techniques were effectively utilised; while also demonstrating to me the tremendous thought and innovation required by the performers to be effortless in their deployment of complicated skills. This was demonstrated to me through a focus on patterns, in which the cast were told to identify objects of interest in scenes and re-use them later on – a series of sketches could be subtly linked together. Commenting on the importance of the rehearsals, Moullet added that "a lot of improv comes with practice and so, as a director, you want to set up the practice so the cast can figure out how to make a concept their own".
The ingenuity of the cast is impressive. In one exercise, sketches ranged from a library that only stocked odd numbered encyclopaedia book editions to a botanical garden date with Frosty the Snowman. The characters created were original, yet still convincing: a nervous hat shop owner, a pushy American renovator. The sheer variety of the settings and scenarios is a promising sign of the array of humour to expect on the night, and certainly supports Moulett's assertion that Comic Sans Men will be a "really funny show, these are really funny performers".
The improvising does not just come through sketches. Bella Hull is a compare – delivering monologues based on audience suggestions. Her role is also crucial in creating a "warm mood", a space in which people feel comfortable calling out suggestions (vital, as this forms "the basis of the show"). I wondered if relying on audience participation ever brought with it difficulties, and this question was quickly answered in the rehearsal, with Hull encouraged to challenge unsavoury suggestions if necessary. At the same time, going off audience prompt is designed to create spontaneity. This is followed through in the cast's performances, with many commenting on how enjoyable, and amusing, it is for them to see the comedy that their peers are able to create.
I came away from the rehearsal with an admiration for the skill and thought required by improv. The cast of Comic Sans Men have certainly embraced the challenge of creating spontaneous comedy, enabled by the supportive space created by the show's directors.
Comic Sans Men is on at the ADC Theatre, 13-15 February