Still fresh: Finding our feet in Cambridge theatre
It might already be Week 6, but the Freshers' Plays are showcasing the new kids on the block. Sophie Zhang chats to the cast and crew of Rabbit to find out more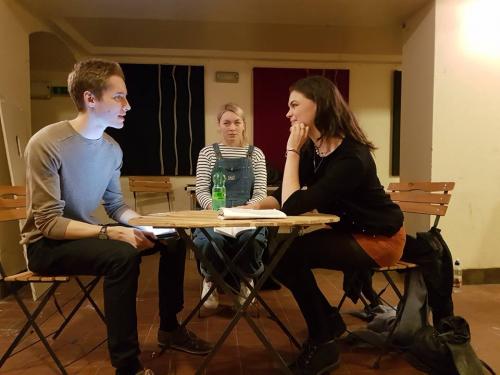 As I entered the rehearsal room, the atmosphere was surprisingly relaxed and a far cry from the imposing structures of the lecture theatre or supervision room. I was slightly nervous about doing my first interview, but upon seeing the friendly faces of the cast and crew of Rabbit, I realised that I have nothing to worry about.
First off, I asked the essential question, "Why did you choose to take part in a freshers' play?" There was a mixture of responses: for some, joining the theatre at Cambridge was a natural continuation of their previous experience with theatre, but for others, it represented a new opportunity that allowed them to further their love of drama.
"It is always nice to remember that Cambridge has a life of its own, beyond academia"
But one thing that the cast and crew seem to agree upon unanimously is the plethora of theatrical opportunities available at Cambridge. Producer Arthur Tan described "the diversity of plays" as being "so exciting". One actress admitted that she initially felt spoiled for choice when she first saw the range of Cambridge plays open for auditions, and was therefore relieved to see freshers' plays being advertised separately, thankful that she could see something "for me" out of the dizzying dozens of Michaelmas plays.
On one hand, the cast and crew are thoroughly impressed by the level of resources available to aspiring thesps at Cambridge. But on the other hand, the standards appear dauntingly high, as one fresher reported experiencing "imposter syndrome", a term we are all too familiar with at Cambridge.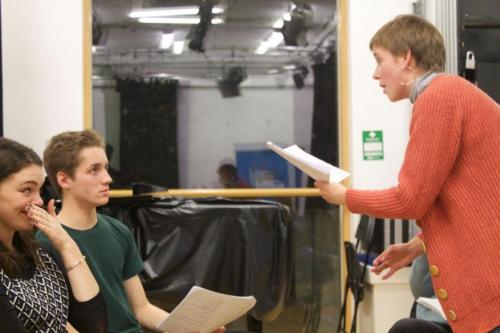 Conversely, one of the fresher directors explained that although being in the same position as previous ADC members, who are now well established in the world of theatre, initially made participating in the Cambridge theatre scene intimidating, her perspective has shifted. She explained that following in the footsteps of previous ADC directors she had previously admired gave her directorial post a sense of familiarity and added ease, as she now felt connected to previous directors, rather than unnerved by it.
Yet some cast members saw the experience as "daunting" in a different way: there was a fear that you would "miss the boat" if you didn't start taking up opportunities as soon as you set foot in Cambridge, which I'm sure is very relatable for all freshers, and some freshers even expressed fears of an ADC 'clique'.
"Many of the Rabbit cast and crew felt that the setup of freshers' plays really helped them gain a 'foothold' in the Cambridge theatre scene"
However, contrary to their original fears, they were relieved at the extent of the support provided by the ADC with the funding and script selection for the fresher's play. Many of the Rabbit cast and crew felt that the setup of freshers' plays really helped them gain a "foothold" in the Cambridge theatre scene.
The discussion then moved onto the play itself, of which everyone spoke about with excitement and passion, trying not to blurt out any spoilers lest they be released onto Varsity. I could tell that the Rabbit cast and crew really appreciated the play, as they elaborated on the juxtaposition of binary views and characters against complex situations featured in the tightly-woven text.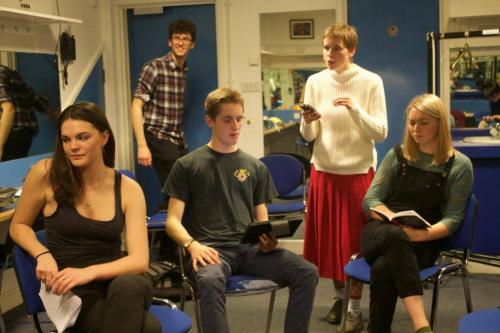 However, producing a play is never without its challenges. When I first asked the question, I presumed that the challenges would mainly involve time or money (probably just my student worries seeping into other areas of life), but I was pleasantly proven wrong. One member of the cast elaborated on the challenge of bringing a modernist play to life, making something dynamic and original out of a relatively ordinary setting. The team talked about how they dealt with this challenge by deciding to take creative risks in the staging of the play to create visually striking scenes.
As our discussion drew to an end, I couldn't help but admire the effort the cast and crew had channelled into this production, as well as the sense of camaraderie amongst the team. One of the directors spoke of an "emotional connection" to the piece, after having poured so much energy into social networking and putting together the play, as well as placing many of their own personal thoughts into its fabric. The producer spoke of "lots of energy and dynamism" going into the play, and it is always nice to remember that Cambridge has a life of its own, beyond academia