Preview: The Colour out of Space
If you shudder at the thought of a saccharine Christmas in Cambridge, these festive ghost stories from outer space may be the answer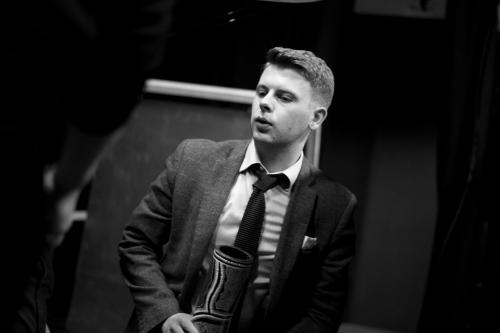 Tucked away in the shadowy grounds of Kings College School, on a desolate and dreary Saturday afternoon, lurks a sinister band of unnameable creatures. It is not the boys behind Shedload productions, who I am here to talk to (at my own peril, of course) about their upcoming production, The Colour out of Space – though I'm sure they would appreciate the honorific.
The Shedload team in fact do have names: there's Tim Vaughan, the director, Jonathan Siddall, producing, and the foley director, Matthew Barnes. What remains rather more mysterious is the strange collection of objects, ranging from the ordinary to the unidentifiable, that currently surround them in their magical foley corner. Closer inspection reveals some only marginally more illuminating names: there's the hauntingly wailing 'waterphone', the enormous, Jacobean theatre-esque 'thundersheet' and… a grapefruit?
The Colour out of Space follows what Vaughan calls "our trademark format, where we put on gothic horror readings in the style of a radio play with live foley sound effects". Barnes, armed with his menagerie of charity shop finds (a creaky wine rack, a pair of high-heeled boots) and DIY creations (what is essentially a salad spinner filled with nails is, with affection, sheepishly deemed "a work in progress") has been developing these other-worldly live sounds over the course of three years.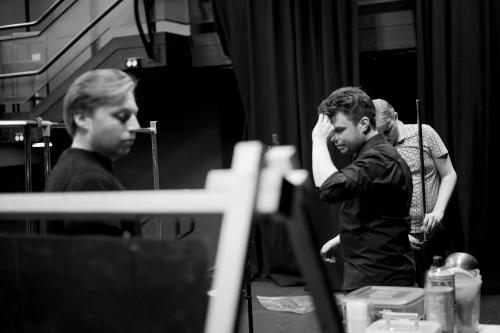 On the 12th, 13th and 14th of December, after a run in an exciting old factory venue in Norwich, they will be relocating to Cambridge's "claustrophobic, dimly lit Playroom that we all know and love" to create a very different kind of Christmas ghost story.
This time round, Shedload have returned to a favourite author, HP Lovecraft, to provide their stories. Lovecraft, as Vaughan puts it, "is America's closest answer to HG Wells". Commercially unsuccessful in his own lifetime, Lovecraft's dark fantasy fiction now has a cult following. The horror of Lovecraft's stories, Barnes explains, "is entirely founded on the idea of you not seeing things. The stories are based around stuff that is indescribable; you see it through the eyes of a human being trying their hardest to understand what's going on and failing because it is just too overwhelming".
Barnes glances back at his hoard of noisy objects, and it becomes clear that the ineffability of Lovecraft's style is what lends the stories so successfully to Shedload's "radio play"-like adaptations, with only a reader and the foley effects to spark the audience's imagination. "The idea of putting it on and actually seeing any fixed visuals would have completely ruined it," concurs Barnes.
"It's for the audience to invent those in their head, rather than through some terrible monster coming out in stage. So sounds are the best thing you can do for that – they encourage the writings".
The cast and crew are in total agreement about this. "As a performer, you definitely respond to the music," says Stephanie Ashenden, who will be reading the torturous dream story, 'Dagon'. "It creates this really nice harmony. Now hearing it with all the sounds, it's extraordinary the impact it has on the reading".
"If you're reading to silence you can get stuck in one state, one rhythm," adds Alex Harris, another of the readers, "the sounds invigorate your reading; as the tone of the background noise changes, you change with them. It makes varying your storytelling much more natural."
Despite the darkness of the subject matter, there is something appropriately seasonal about this deliciously simple form of storytelling. Settling into the thrillingly transportive dimness awaiting the vivid performances of the readers, Siddall, Barnes, his performer Andrew Longhurst, and I discuss what makes this such an appealing December activity. "It's a the winter time, the nights are getting longer," he muses, "If you want to see something a bit dark, a bit gruesome, this is your festive dose of ghost stories round the campfire".
"Christmas ghost stories", concurs Vaughan, sagely. "Christmas ghost stories from outer space" corrects Barnes. And an intimate, atmospheric alternative to your usual pantomime.
The Colour out of Space is on at the Corpus Playroom from Mon 12th December 2016 - Wed 14th December 2016, at 7:00pm.