Cambridge win 135th Varsity men's football on penalties
Cambridge win 5-3 on penalties to regain the Varsity crown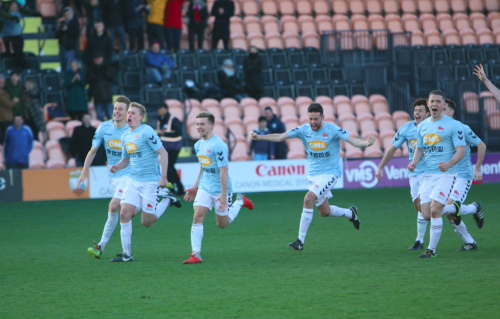 Kosi Nwuba scored the winning penalty as Cambridge held their nerve to win on penalties on a bitterly cold afternoon at the Hive in North London and secure a double-header of victories for Cambridge in Varsity football.  
The opening exchanges were characterised by a frenetic pace and intensity, and Oxford had the better of the first half, with Barton's pace and Thelen's trickery causing the Cambridge backline a number of problems. 
In spite of this, it was Cambridge who took the lead on the brink of half-time. There looked to be little danger when 30 year-old former professional footballer at Arizona United SC Julian Ringhof picked up the ball 30 yards out. Ringhof, however, proceeded to unleash a fierce, dipping shot into the top right-hand corner of the net, giving Cambridge the lead at half-time. 
The start of the second-half though saw a spell of sustained Oxford pressure, and Oxford were finally rewarded with 60 minutes on the clock when a slick passing move culminated in Oxford captain Leo Ackerman getting to the by-line and threading in an excellent pass across the face of goal for Actelstetter to poke home.
The stage, then, was set for a grandstand final thirty minutes. Neither side though was able to really assert themselves in this period, and the game, with none of the intensity of the opening half, petered out towards penalties. 
And so, the 135th Varsity football was decided on penalties, often dubbed the "cruellest way to lose a game of football". Thankfully, however, it was the Light Blues who held their nerve, with Joe Ellis, Joe Young, Julian Ringhof and Nick Gallagher all scoring for Cambridge as the opening seven penalties were scored by both sides.
With the score delicately poised at 4-3 to Cambridge, Sypniewski made the crucial save, denying the Oxford penalty-taker with his legs. Substitute Nwuba then had the chance to be a hero and win it for Cambridge, an opportunity from which he did not demur as he smashed the ball beyond the reach of the Oxford goalkeeper.