Boat Races, BUCS, and Bumps: The Varsity Lent sport preview
Blues and college players alike are preparing for a rigorous few months in sport. Varsity gives you an overview of all you have to look forward to this term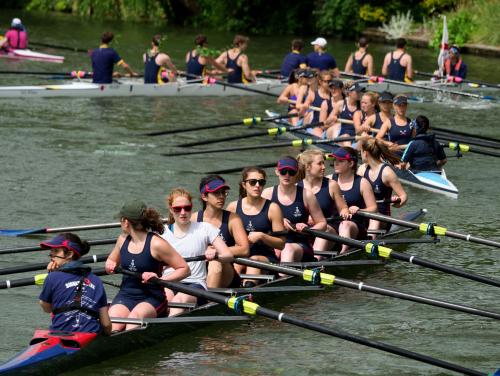 The Boat Races will headline a packed Lent sporting calendar. On 7th April, Oxford University Boat Club and Cambridge University Boat Club will battle it out in front of almost 250,000 spectators lining the River Thames in an event broadcast worldwide.
Cambridge heads into the contest on the back of last year's clean sweep, winning both the men's and women's races, as well as the reserve contests, and will look to retain its historical advantage over a recently resurgent Oxford.
"Lady Margaret Boat Club of St. John's looks to retain its head of the river status for a third year running"
The football Varsity match not only sees two familiar rivals meet, but also remains an historically significant fixture. Cambridge University Association Football Club has recently laid claim to being the world's oldest football club, with records dating back to 1856.
However it is more recent history that Oxford will look to, with Oxford University Association Football Club having won both the men's and women's fixtures last year. CUAFC men's captain Oscar Melbourne was unlucky to see his side fall to a 1-0 defeat earlier this season, and with the Blues separated by just a point in BUCS, another close match is on the cards. Having suffered penalty shoot-out heartbreak in last season's Varsity game, the women's side will hope that their 5-1 thrashing of Oxford earlier this season will be a sign of things to come for this year's contest.
On 3rd March, Cambridge University Netball Club will host Oxford in their Varsity fixture. Sitting a division above Oxford in BUCS, Cambridge goes in as the favourite, and will hope to match the heroics of the national team last year in sealing victory.
Southgate Hockey Club will host the Hockey Varsity on 4th March, in a match which has historically been a breeding ground for future international players. First held in 1890, Cambridge holds the edge over Oxford in terms of all-time victories, but Oxford comes in as the current champions, having won both the men's and women's games last year.
Dating back to 1878, the Golf Varsity remains the oldest amateur event in the sport, and will once again take place at Rye Golf Club in mid-March.
There's no shortage of college action, with football Cuppers coming to a head this term. Reigning men's champions Fitzwilliam face Christ's in the pick of the quarter-final ties, before the semi-finals on 16th February. Meanwhile, rugby Cuppers will get underway in February, and Division 4 Queens' heroic journey to last year's final shows that, again, anything can happen.
The term will of course culminate in Lent Bumps, as Lady Margaret Boat Club of St. John's looks to retain its head of the river status for a third year running in the men's division, whilst Jesus looks to do the same in the women's. Bumps take place from Tuesday 5th to Saturday 9th March.