David Moyes: 'With the money that's being earnt now, you'd be stupid not to look after your body'
Speaking to William Ross, David Moyes reflects on his time playing in Cambridge, football drinking culture and coping with press attention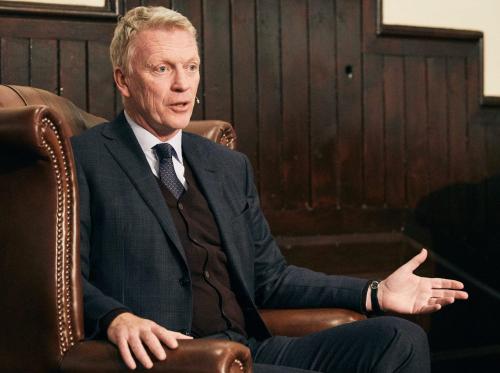 "You always felt a little bit isolated – we didn't get inside these walls, we didn't get to go to any of your balls, we didn't get to go to any of the things that you were doing."
Speaking at the Cambridge Union and reflecting on his period as a player at Cambridge United in the 1980s, David Moyes provides a thought-provoking insight into the way that students at the University were perceived by those living in Cambridge, emphasising just how "separate" the world of the student was from his own.
"This town revolves around students," he adds. "We always used to see them walking around in their gowns, and you were something special if you were a student."
During his time in Cambridge, Moyes' only interactions with the University were related to football: "We used to train at the University quite often and I used to be drop dead with how good the facilities were at the University." Perhaps more surprisingly, he is similarly gushing about the standard of Cambridge University football: "I can remember a few games – we might have played the University in friendlies a couple of times and I used to see the odd game."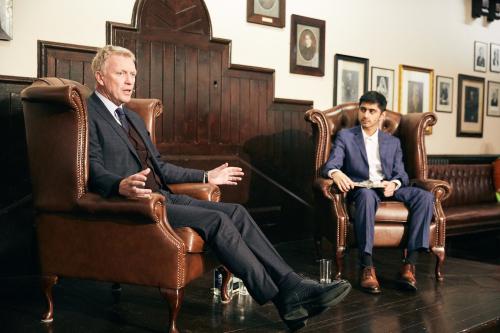 "I think the standard was high because most of them were all pretty keen", adding that "the big thing about academic students is that they're all mad keen on football or rugby".
One much-discussed aspect of student life that did seem to be shared with the British football world is its drinking culture – a reality that was thrown into relief when Moyes experienced the Spanish approach as manager at Real Sociedad: "When I started playing, people would be out having a few drinks right after the game. You'd go straight into the player's lounge after the game and have a few pints. When I went to Spain, there would be 24 bottles of beer and two or three bottles of red wine on the table [after the game] and it would be for the players to help themselves. I can honestly say that there might have been only one bottle of beer and half a glass of wine taken – there was a different culture in the way they saw alcohol."
"Players do need a release now and again but with the money that's being earnt now, you'd be really stupid not to look after your body."
He does stress that within professional football, the situation has "improved greatly in this country – players do need a release now and again but with the money that's being earnt now, you'd be really stupid not to look after your body."
One advantage of his playing-career at Cambridge United was that it was less of a "high pressure environment" when compared to some of his other jobs. At Everton, for example, he was labelled as "Dithering Dave" by sections of the Everton support over a perceived indecisive style of management. It was, however, as manager of Manchester United, one of the biggest jobs in world football, that Moyes was subjected to the most intense criticism. Not only did figures in the media call for his sacking as early as six games into his tenure, but supporters also staged protests, most noticeably organising a flypast in which a banner with the words "Wrong One – Moyes Out" was unfurled.
Moyes, though, does not seem to harbour any resentment for his detractors. "If you're going to be a leader in any business, whether it be in football or here at the Cambridge Union, you're always going to take criticism". Discussing how he dealt with these pressures, Moyes provides thoughtful advice, emphasising the importance of developing a "tougher skin" and of "going with your own instinct and your own judgement – you have to find your own ways to overcome [criticism]" . One such coping mechanism for Moyes was to never read any newspapers or internet forums written about him: "I don't think you'd necessarily walk into any pub and ask some random people about what they think about what you're doing".
"I don't think you'd necessarily walk into any pub and ask some random people about what they think about what you're doing"
Sympathy for footballers and football managers is, of course, limited among the general public, with many pointing to the inordinate salaries of those in the industry: Moyes himself, for example, reportedly received £5m compensation following his sacking from Manchester United.
It is striking that Moyes is unwilling to challenge the status quo on the question as to whether footballers are overpaid: "The amount of people who are now employed in the football industry is incredible, from young people who are taking school's football up until to the number of coaches in the academies. Then you have more physios, more doctors, psychologists, nutritionists etc."
"The football industry has created so many jobs before you even start talking about what it has done for Sky. I don't like the sound of the obscene figures at times and even as a manager I used to say: 'No, it can't be that much surely?' But you have to move with the times – that's where it's going and that's what it is."
The financial juggernaut of the Premier League is, of course, far removed from the more modest world of lower-league Cambridge United. With the interview drawing to a close, Moyes again looks back on his time in Cambridge, and offers a parting piece of advice to football-mad students at the University: "I think that it would be good for all you students to go and support Cambridge United." What better way to break out of the Cambridge bubble?