Women's Cuppers continue with comfortable win for Queens' over Downing
A hat trick from Rosie Mellor meant that Queens' won 4-1 to secure their place in the quarter finals of this year's women's football Cuppers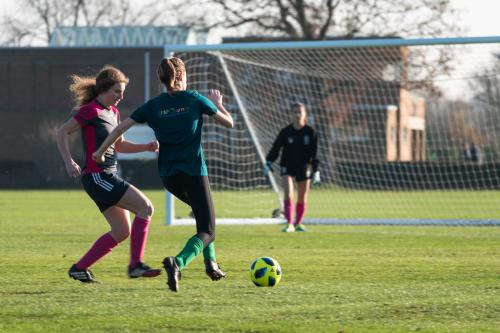 On paper, the second-round Cuppers tie between Queens' and Downing promised to be a closely-contested affair: both teams sit in Division Two of the Cambridge University Women's Association Football League, where only three points separate the two sides.
From the start, however, it was clear that the the Downing side, perhaps weakened by the absence of regular captain Freya Robson, would struggle to cope with Queens' free-flowing passing game, a style which allowed them to dictate possession and carve out chances seemingly at will.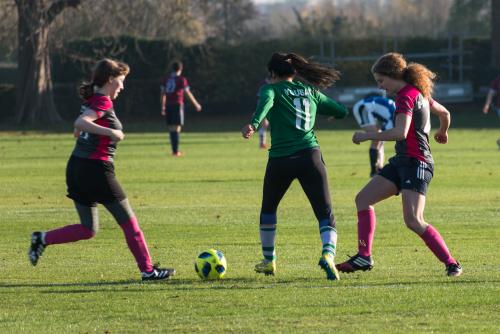 It is testament, therefore, to the Downing side's defensive tenacity and resilience that they managed to prevent Queens' from running riot in what was a very challenging opening half hour for the Downing side, keeping Queens' at bay until five minutes before half-time. The deadlock was finally broken, when a driving run from a Queens' midfielder drew a foul inside the box, leaving the referee with little choice but to award a penalty, which was confidently dispatched by Katie Woods.
Minutes later, left-winger Rosie Mellor's superb curling effort into the top right-hand corner from the edge of the box ensured that Queens' headed into the interval with a two-goal cushion, a fair reflection of their first-half domination.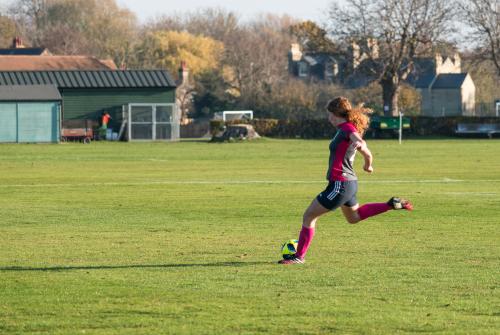 In spite of an impassioned half-time team-talk from a Downing supporter on the touchline, the second-half brought more of the same, with Queens' continuing to dominate possession, while their well-organised defensive work meant that Downing struggled to create any clear-cut chances. Again, it seemed only a matter of time before Queens' would score and put the game to bed.
And so it turned out: within the first five minutes of the second half, Mellor capitalised on an errant defensive pass to fire in from close range before capping off a fine individual display by completing her hat-trick with a precise effort from 25 yards out which rolled into the bottom right corner.
To their credit, however, Downing were rewarded for their resolve and effort throughout the game with a late consolation goal scored with the last kick of the game: Queens' first defensive lapse of the game meant that Molly Becker was left free at the back-post, who tucked home a smart finish.
Downing, then, can be proud of their efforts in fighting to the end against an impressively talented Queens' side, who reached the Cuppers Final in Lent 2017. Queens', meanwhile, march on into the Quarter-Finals, with their hopes of recreating their heroic cup-run of the 2016/17 season very much alive.