Dramatic fightback saves Fitz's blushes
Reigning champions Fitzwilliam come back from 4-1 down in thrilling 8-4 win against Churchill (after extra-time)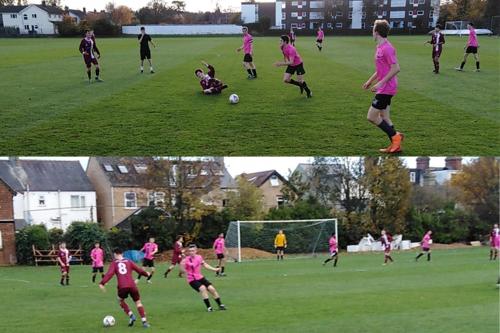 In recent years, Fitzwilliam have established something of an iron grip on college football, winning the last two Cuppers tournaments and winning the Premier Division in two of the last three seasons.
This year's team, including several members of the University Blues squad and a member of the Falcons, have made a 100% start to this year's Premier Division campaign, winning all three of their opening matches including a comfortable 3-0 league win against Churchill. It is therefore no understatement to say that on paper Fitzwilliam were strong favourites for their second-round Cuppers tie against Churchill on Saturday afternoon.
Churchill, however, had clearly not read the script. Inspired by the instructions of their charismatic coach Antonio di Anele on the sidelines, the well-drilled Churchill side set up to hit Fitzwilliam on the counter-attack, keeping ten men behind the ball out of possession before breaking in numbers once possession had been won. And after an uneventful opening 25 minutes in which Fitzwilliam were unable to break down the resolute Churchill defence and create any clear-cut chances, Churchill capitalised on a Fitzwilliam error in central midfield to release the pacy Ed Wicken into space on the left-wing, who smashed a superb curling effort into the top right hand corner.
Want to write for Varsity Sport?
Get pitching, and write for Varsity. Just email our Sport team with a 150-word pitch
Just a couple of minutes later, with the Fitzwilliam players seemingly still in shock at going behind, Wicken again found himself in space and smashed in a shot from 20 yards via the inside of the post. Four minutes later, Sam Ernest turned in a corner from close range and, much to the the dismay of the stunned Fitzwilliam supporters on the sideline, Churchill were 3-0 up.
Indeed, Churchill continued to stymy Fitzwilliam's attacking play for the rest of the half, limiting Fitzwilliam to speculative long-range efforts and set-pieces as they continued to execute their game plan superbly. The only blemish came when Blues central defender Joe Ellis headed in on the stroke of half-time after Churchill failed to clear their lines from a corner.
Nor did Fitzwilliam show any immediate signs of improvement in the early stages of the second-half. Instead, a freak Jack Dai goal put Churchill 4-1 up when his speculative effort from well inside his own half bounced over the Fitzwilliam keeper.
"Churchill capitalised on a Fitzwilliam error in central midfield to release the pacy Ed Wicken into space on the left-wing, who smashed a superb curling effort into the top right hand corner."
However, an injury to their commanding centre-half Sam Ernest proved a significant blow for Churchill, forcing them into a second-half defensive reshuffle which affected their defensive cohesivity. As the game entered its latter stages, it became clear that Churchill's makeshift defence were struggling to cope with Fitzwilliam's more direct and physical style, while the fatigue of the rest of the team meant that they struggled to break with the same intensity as in the first-half, allowing Fitzwilliam to pen Churchill back and subject them to wave after wave of attack.
With just five minutes left to play though Fitzwilliam had still only managed to claw one goal back through an Ellis Birch tap-in after 65 minutes, and it looked increasingly likely that Churchill would cling on for a famous victory. Blues striker Rufus Saunders, however, slotted home from a one-on-one in the 85th minute to make it 4-3, setting up a tense finish and sowing seeds of doubt and panic into the Churchill rearguard.
Sure enough, indecision between the two Churchill centre-halves a few minutes later meant that a long ball through the middle was not dealt with, and Fitzwilliam captain Max Burrows capitalised to smash home from close range, sparking an impromptu pitch invasion from several relieved Fitzwilliam supporters.
With the momentum having shifted decisively in Fitzwilliam's favour and the Churchill players mentally and physically drained, it always seemed likely that the floodgates would open in extra-time. And so it proved: three more goals from Saunders and a second for Burrows sealed an 8-4 win for Fitzwilliam, an unfortunate reflection on the valiant Churchill side, who had been on course to knock out the holders for much of the afternoon.
As the game petered out and the rain grew ever more torrential, a Fitzwilliam supporter reflected: "Watching Fitz play Cuppers is boring really – whatever happens, we always end up winning". Only time will tell whether anyone will be able to prove him wrong.
Round-up of other second-round matches:
Elsewhere, Division Three Christ's caused the shock of the tournament by knocking out last year's beaten finalists and Premier League side Girton with a 3-1 away win, meaning that Christ's are the only Division Three side to remain in the competition. Premier League Trinity, meanwhile, recorded a 2-0 victory over Division Two frontrunners Homerton, and Premier League Robinson edged past Division Three Corpus Christi 2-0. Premier League Gonville and Caius were predictably too strong for Division Five Peterhouse, winning 9-2. Premier League Downing comfortably beat Division Two side St. Catherine's 3-0, while Premier League Jesus also sealed their place in the Quarter-Final Draw with a 4-1 win over Division Two St. John's. Finally, an unfortunate spate of injuries in the warm-up meant that Division Three Magdalene were forced to play much of their match against Division Two Pembroke with just 10 men and despite battling hard Magdalene eventually succumbed to an 8-0 defeat.
Quarter-Final Draw: (ties to be played on the weekend beginning 2nd February)
Trinity vs Gonville and Caius
Fitzwilliam vs Christ's
Jesus vs Pembroke
Downing vs Robinson