New to a Blue: the Cambridge trampolining club
Marcus McCabe spoke to President Leo Jurascheck about how trampolining balances fun freestyle spirit with gentle guidelines, and how beginners can bounce their way to Blues status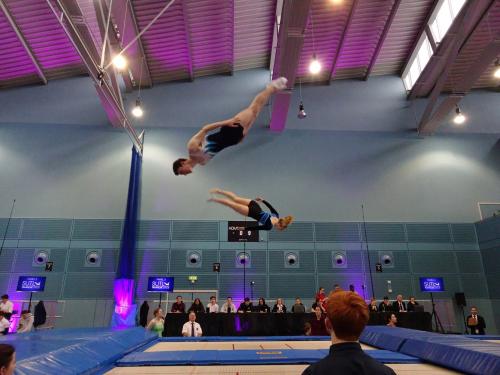 Trampolining is trampolining right? "Go up, do cool thing, come down, repeat with different cool thing!", as Cambridge University Trampoline Club President Leo Jurascheck succinctly summarised.
Whether you're on the trampoline in your back garden trying to master the ambitious and elusive star jump, or at the Olympics pulling off your third triple-twisting double Back Somersault of a routine, the same principles apply: "trampolining is first and foremost for fun, and it's just amazing for that. Learning new moves, perfecting old tricks, pulling off rogue skill combinations... there's a satisfaction and a rush you get from bouncing that's hard to put into words."
Inspired by the dizzying fashion in which particularly bold trapeze artistes would use their safety nets to bounce off and perform death-defying feats of acrobatics, the first trampolines were invented in the garage of American inventor and gymnast, George Nissen. Nissen designed them to help him practice his diving and tumbling in 1934, but before long they could be found all over the USA, from school's PE departments to astronaut training programmes. Not long after that, they were a staple of backyards and blissfully-spent afternoons worldwide.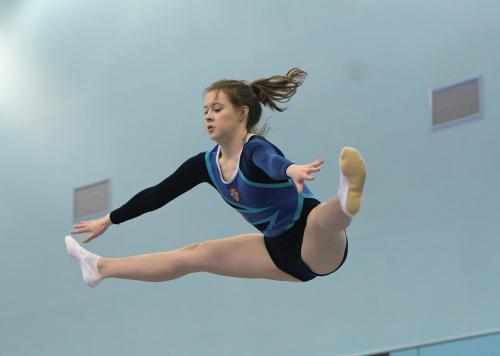 However, even more significant were the sporting implications. Such was the (elastic) potential of his invention, so spectacularly did it enhance the tricks that gymnasts were able to perform, that it was inevitable that trampolining would soon be a sport in its own right. As Leo Jurascheck explained, it offered the ideal springboard for acrobatic innovation.
"After the first modern trampolines were designed, the sport evolved chaotically for many years under what international coach Jack Kelly has called a 'challenge culture where participants strove to outdo each other without the constraints of formal competition rules'. It was a freestyle sport."
Fun and a healthy dose of fearlessness propelled daredevils higher and higher (trampolinists have been known to achieve heights of over 33 feet, or the length of a school bus!), turning more and more difficult twists and somersaults as they went.
"The sport has become formalised and has progressed to a very high technical level, but at the core of the trampolining experience will always be that uninhibited freestyle spirit."
For the sport to be taken seriously, though, standardisation and some regulation was necessary. Now, in a formal competition setting, members of the Cambridge University Trampolining Club can expect to "perform ten move routines, either solo or with a synchronised partner, doing shape jumps, body landings, somersaults and more," Varsity learned.
Evidently, this gradual implementation of gentle guidelines has worked – trampolining was made an Olympic sport at the Sydney games in 2000 and it has been a favourite watch for Olympic audiences ever since. But, as Jurascheck was keen to remind us, "In recent decades, the competitive aspect of the sport has become formalised and has progressed to a very high technical level, but at the core of the trampolining experience will always be that uninhibited freestyle spirit."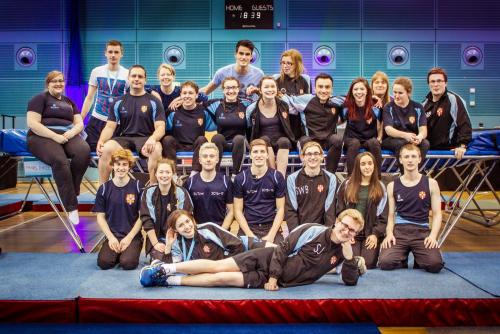 Fortunately, readers seeking that freestyle spirit for themselves are in the right place. Jurascheck reports that the Trampolining Club boasts "probably the best equipment and coaching team of any university trampolining club in the UK (or, for that matter, Europe) – eight trampolines, of which five are Olympic standard."
Running three training sessions and one conditioning session a week for around 30 years, this environment has nurtured countless national-standard trampolinists: "we've had quite a few people absolutely smash the regional and national student circuits, with a lot of medals, and one of our ex-coaches has just qualified to be an Olympic trampolining judge."
Vitally, these excellent sporting standards translate into what can only be described as the highest sporting accolade Cantabs can hope to achieve: Blues status. CUTC "tend to award two or three Half Blues and one Full Blue per year, taking into account performance at Varsity, regional competitions and BUCS." But if you are hoping for a more casual bounce, you'll still be landing on your feet.
Jurascheck emphasized: "There's something about the atmosphere at the club that clicked with us straight away – it's a really friendly vibe. We do a lot of stuff on the social side, with regular post-session pub and lots of official and unofficial events, including LGBT nights." He also added that "on the competitive side you can go as far as you like – some of our members are extremely accomplished competitors whereas others bounce solely for fun and don't intend to compete at all."
So, if you are interested in reaching new heights in your sporting life and making plenty of friends in the process, "Come along and try it out at the University Sports Centre! We run regular sessions throughout the year - check out our website for a live calendar with session times. Newcomers are welcome at every single session and you can just show up on the night."