New to a Blue: Fencing
Do you know your foil from your épée? Even if you don't, fencing could be the sport for you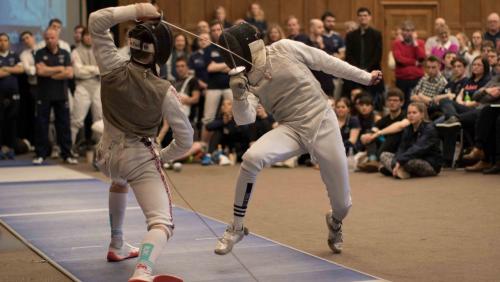 The Cambridge University Fencing Club, formed in 1896, is one of Cambridge's most successful sporting clubs, attaining several remarkable achievements in recent years. In the past few years, the club has had two individual British Universities & Colleges Sport (BUCS) gold medallist winners (Lawrence Peplow and Alex Schlindwein, who both matriculated in 2014), and the men's and women's first teams have both recently won the BUCS premier league team championships (the men in 2015 and 2016, and the women in 2015).
Perhaps more importantly, the club has been highly successful in the annual Varsity match in recent years: the Men's Blues retained the Varsity trophy for the fourth year running this year and although the Women's Blues lost this year, they had a seven-year winning streak until 2016.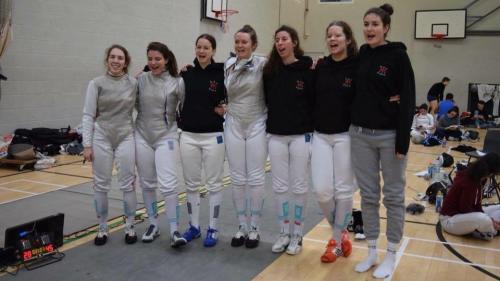 The club does not, however, restrict itself to University-level tournaments and there have been some striking successes on a national and international level, with Maddy Lee coming third at this year's British Senior National Championships for women's épée, and Alex O'Connel competing in the 2008 Beijing Olympics while still studying at Cambridge. The club is also currently able to call upon the services of Ethan Ren, who has represented the Britain at a number of fencing tournaments worldwide including the World Cup and European Championships, as well as a number of fencers who have represented their country at a junior level, such as Patrick Caffrey, a former England U17 fencer.
If you fancy thrusting a sword at some Oxford students, fencing in Cambridge could be the one for you
Given the success of the club's teams, therefore, it is little surprise that the vast majority of those who make up the club's University teams have fenced before arriving at Cambridge. The club's press officer, Alex Schlindwein, is, however, keen to stress the club's inclusivity and openness towards fencing-enthusiasts of all kinds, be they novice fencers, social fencers or high-level competitors: "We always love getting new members and have various sessions throughout the week to suit everyone. If you're interested in fencing, come along!"
As part of this, the club offers taster sessions at the beginning of the year, which are free of charge, and beginner's courses in foil are run by more advanced fencers. Members are also able to draw on the expertise of a number of top-level external coaches and special guests, including head coach Rhys Melia (2012 British champion) and five-time Olympian Richard Kruse.
Not only are there opportunities for novice fencers to take part in competitions both within the club and against other local clubs throughout the year including a Cuppers tournament, there is also the tantalising prospect of a novice Varsity competition against Oxford in Easter Term (a tournament won, coincidentally, by both the men's and women's this year). Indeed, the achievements of Lucy Miller (matriculated in 2014) are testament to the success of the club's novice program: despite only starting fencing at University, she broke into the first team in her final two years and won her weapon at the 2017 Varsity tournament, and even came second in the Welsh national championships recently. So, if you like the idea of joining a thriving Cambridge sports club, training alongside some international athletes and thrusting a sword at some Oxford students, there's no excuse not to get involved.