Mauling in Madrid: Part 2
As his Year Abroad comes to an end, Ben Cisneros reflects on rugby culture in Spain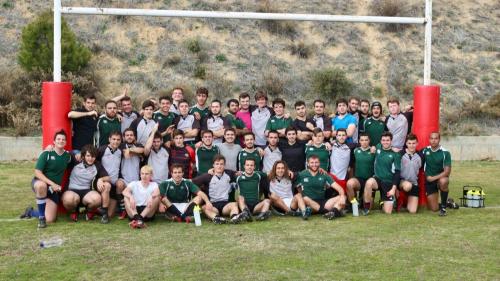 Earlier this year, I reflected on the growth of rugby in Spain, as the Champions Cup kicked off all over Europe. This weekend, the competition came to a close in Spain's Basque region as Leinster emerged as deserved 15-12 winners against Racing 92 in Bilbao. Indeed, this year has been a particularly exciting one for Spanish rugby and, as my time here nears its end, it is time to reflect on what I've learned about the sport in these parts.
This weekend's European Cup Final was the first to be hosted outside of the old Five Nations and was watched by over 52,000 fans in the spectacular San Mamés stadium, of whom an estimated 40% were Spaniards. The game was also broadcast on one of Spain's primary sports channels, bringing rugby to a potentially huge new audience. The experiment seems to have been a huge success, and we can only hope that it is repeated. Although Barcelona's Camp Nou has already hosted a TOP14 final, it would be fantastic to see more top-level rugby played in Spain's great stadiums.
This year, both the Spanish men and women's top domestic leagues have gained a sponsor's name for the first time – the Liga Heineken and Liga Iberdrola – while the international sevens teams have also been successful. The women's sevens side are sixth in the World Series out of 14 teams, ranking above a fully professional England side. The men have also secured their place in the World Series, having reached the quarter-finals at the Singapore Sevens, in what was a significant step in the right direction.
The XVs national side has made the headlines, too; for both good and bad. Their victories over Russia, Romania and Germany in the Rugby Europe Championship saw them catapulted into the spotlight as they looked certain to reach the Japan 2019 Rugby World Cup, before the now-infamous Belgium game put that in doubt. The outcome of that is to be made public this week, but you can read my thoughts on why the fixture should be re-played here.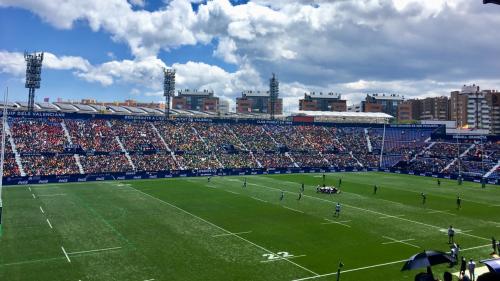 Whatever the outcome, the progress of Spain in Rugby Union has been significant over the past 12 months, and it has been exciting to be so close to the action. I have gone along to Spain's home games against Canada, and against Germany in the spring when it looked all but certain that Spain had secured qualification for the World Cup. A pitch-invasion followed the final whistle as the 16,000-strong crowd celebrated the historic win alongside the King, who was handed a jersey by one of the Spanish team.
The players paraded around the pitch signing autographs and posing for photos, but I was struck by the way they were received. The fans were audibly thanking them for what they had done for their country, and for Spanish rugby. It was a moment which said so much about both the rise of the sport and Spanish culture and is one I won't forget in a hurry.
This year has been a particularly exciting one for Spanish rugby as interest continues to develop across the country
I also happened to be in Valencia on the weekend of the Copa del Rey de Rugby final, so got myself a ticket and joined over 15,000 fans in watching VRAC Quesos Entrepinares beat Silverstorm El Salvador 20-16. The attendance wasn't as high as in previous years, but considering the final was at a new venue and that both teams were from Valladolid (some 550km away from Valencia), it was a crowd to reflect rugby's growing popularity. Nonetheless, the puzzled look I got from a chap on the metro when I told him that the train was full of rugby supporters probably shows how far the sport still has to go. Either that, or my Spanish isn't as good as I think.
On a personal level, rugby has been a great part of my Year Abroad. This term, I got involved with the Universidad Autónoma de Madrid's rugby team. Since the pitches are opposite my accommodation I had no real excuse, and there are a large group of budding players, both male and female, who train (pretty casually) three times a week. There are some talented individuals in the squads and most also play for clubs at the weekends. Though we're not the most polished of teams, the league has gone well and, now that the weather has come good, it's just good fun to be outside playing instead of inside revising as I would have been in Cambridge – and probably should be here, too, now I come to think of it.
Getting involved in a sports team on my year abroad has been one of the best things I've done, and I would recommend it to anyone, no matter what your sporting ability. As people who have been to a European university will know, there is not the same array of extra-curricular activities as in Cambridge. I hadn't played rugby regularly since my early school days but, with a lot more time and a relaxed set-up, it's been the ideal thing to keep me busy, fit, and to meet some great people.
I've been welcomed very warmly and, to my amusement, am thought to be a much better player than I actually am, simply by virtue of being English – we won a World Cup, don't forget! More importantly though, getting involved has been great for improving my Spanish. The informal, brief chats you have during training are different to many of the usual interactions you have – on top of all the rugby terminology – so it pushes you in different ways. Communication is a vital part of team sports, so trying it in a different language is bound to bring you on. It's safe to say my understanding of the imperative has improved – not to mention my cursing."¡Pásame la puta bola!"