Lent Bumps 2018: Days 4 & 5
The last two days of racing brought bumps a-plenty as the teams jostled for their final positions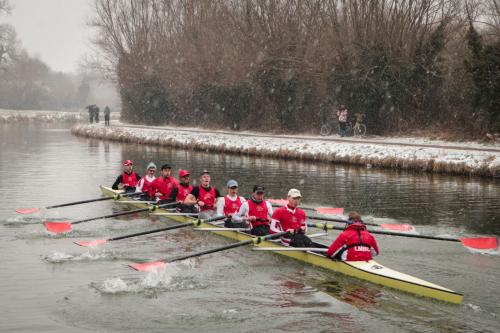 Day 4
After unseasonal conditions brought a halt to rowing over the past two days, a mammoth effort overnight from rowers of all colleges, and again in the morning, saw the towpath cleared sufficiently for racing to take place.
Weather did, however, put a stop to a number of divisions – a yellow flag for high winds, which continued to blow all day, allowed only the top two men's and women's divisions to battle it out.
There were six bumps in the first division of the day, the W2 division. At the top of the division, Homerton W1 launched themselves into third with a bump of Peterhouse's first crew. In the thick of things, Darwin W1 secured their second bump of the week with a bump on a Magdalene crew falling down the table. Sidney Sussex W1 condemned Selwyn W1 to their second bump down of the week, while further down the river Newnham W2 were reeled in by Wolfson W1. Rounding off results for the division were bumps for Lady Margaret W2 on Pembroke W2 and for Hughes Hall W1 on Clare W2.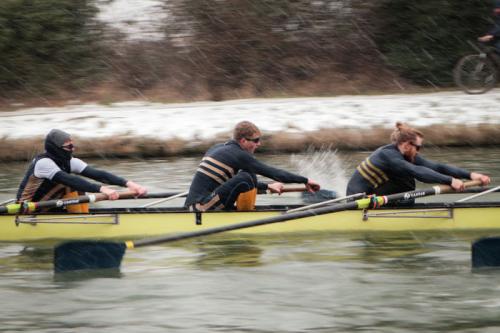 In the men's second division which, like W2 before it, had been held on the first day of Lents, affairs were only slightly more sedate. St Edmund's first boat secured an early bump on Darwin and were swiftly emulated by the likes of Selwyn M1 and Sidney Sussex M1. A bump on Corpus Christi by Lady Margaret M2 will set up a clash with Caius M2 for the right to the title of best second boat on the river on Saturday. Hughes Hall's bump on Queens' M2 for 16th place completed the bumps from the M2 division.
Both the women's and men's top divisions had not raced prior to day 4's action, and perhaps a degree of rustiness had set in as W1 saw not one, but two, overbumps. At the head of the division, however, behind a rampant Jesus, Downing did just enough to escape the clutches of Newnham before bumping Clare for second station on the river. Yet the real action was in the form of the two overbumps by Emmanuel and Trinity Hall. With bumps by Murray Edwards and Queens' clearing the way, Emmanuel and Trinity Hall were granted the opportunity of an overbump, which both crews took with aplomb. In the midst of chaos, Lady Margaret bumped Girton in the conventional manner at First Post Corner.
There were to be no overbumps in the M1 division. Rather, excitement was provided in the form of St Catharine's, Girton and Churchill fighting hard only feet apart through the tight corners before the Reach, with the Trumpington Street College securing the bump by the tightest of margins. A strong showing from sandwich boat Magdalene moved them up in lieu of Fitzwilliam. Other bumps on the penultimate day of a much maligned Bumps included Christ's on Peterhouse, and Robinson on First and Third.
Day 5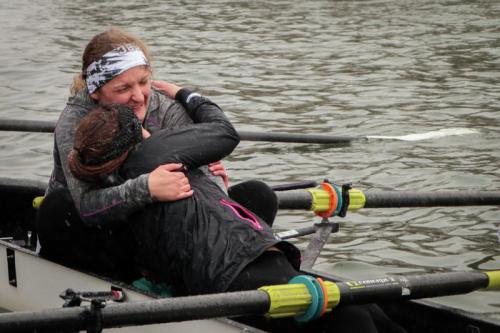 Thanks once again to the determined efforts of the gritters, the tow path was clear enough for the cyclists to safely support their crews and with slightly milder weather conditions, boats from all divisions made their way to the Cam for their last opportunity to bump for the term. 
Racing began with the 4th Divisions. On the Men's side, Hughes Hall M2 continued their good form and managed to catch Trinity Hall M3. Caius M3 will also retain their position as a sandwich boat between Division 3 and 4, successfully bumping Queen's M3. There were two bumps in the Women's event as Murray Edwards W3 were reeled in yet again, this time by the ever-improving Emmanuel W3.  Pembroke W2 managed to avoid the Wooden Spoon as they bumped Homerton W2.  Homerton M2 and W2 finish at the foot of the table, with plenty of improvement required before the May Bumps.
There was plenty of drama in Women's Division 3, starting when Lucy Cavendish W2 achieved their third bump of the week, after tracking down Newnham W3. Trinity Hall W2 managed to hit Darwin W2, King's W2 caught Murray Edwards' W2 and Queens' W2 were bumped by King's W2. The week's most prolific performers in the Women's table were St Catharine's W2, gaining five places overall, including bumping St Edmund's W1 in the final race. 
The Men's equivalent division was equally exciting. Fitzwilliam M2 recorded their first bump of the week against Peterhouse M2, as did Trinity Hall M2 and Robinson M2 against Lady Margaret M3 and Emmanuel M2 respectively. St Catharine's M2 managed to get revenge on First and Third M3 by cancelling their bump from Day 1. Clare M3 have gained two places in Division 3, achieved by catching Churchill M2. Queen's M2 have been relegated to Division 3 after Pembroke M2 sneaked past them. 
Women's Division 2 has also been hotly contested. Hughes Hall W1 have been the stand-out performers by consolidating their promotion from Division 3 with three consecutive bumps, their final victims being Pembroke W2. The week has been less successful for Magdalene W1 and Selwyn W1 since they have been caught three times in a row. Yesterday they were caught by Sidney Sussex W2 and Robinson W1 respectively.  The only other bump in the division was for Darwin W1 as they successfully reeled in Emmanuel W2.
There has been considerable change at the bottom of Men's Division 2. Hughes Hall M1 managed to catch Downing M2 and Sidney Sussex M1 tracked down Clare M2 as the bottom four teams all switched positions. St Edmund's M1 continued their impressive form by bumping Homerton M1 and Selwyn M1 finished their account strongly by overtaking First and Third M2.  Emmanuel M1 will start May Bumps at the top of Division 2 after they managed to bump the recently demoted Fitzwilliam M1.
Although there were many bumps in Women's Division 1, Jesus W1 consolidated their place at the top of the table as no other boat has managed to bump them.  Lucy Cavendish W1 will start May Bumps in a precarious position at the bottom of Division 1 after being caught by Caius W1.  Buoyed by Friday's triple bump, Trinity Hall W1 hit St Catharine's W1, whilst Pembroke got their first score of the week by knocking Girton W1.  After sliding three places down the table on Friday, First and Third W1 recovered one place by catching Christ's W1.  Newnham W1 will start Easter term in 3rd place after successfully catching Clare W1.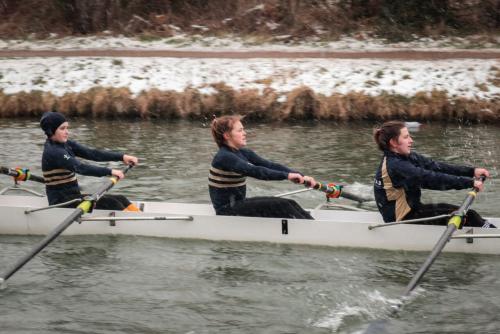 The day culminated with Men's Division 1 in a race where only 3 teams were not involved in a collision. This included Lady Margaret M1, who again could not be caught and will be the hot favourites come the summer. However, Caius M1 will be hot on their heels, starting in second after tracking down Downing M1. Pembroke M1 have moved up to 4th at Jesus M1's expense.  Robinson M1 and St Catharine's M1 bumped in their two races, reeling in Peterhouse M1 and Queen's M1 respectively. Clare M1 caught First and Third M1, Trinity Hall M1 recorded their first bump of the week against Girton M1, and Magdalene M1 consolidated their place in Division M1 by colliding with King's M1. 
The focus for the college boat clubs will now turn to the May Bumps and trying to oust Lady Margaret M1 and Jesus W1 from the top of the standings. In the meantime, the rowers can pick up a few tips from the Light Blue crews, when they compete in the Boat Race on 24th March