Joey Barton: "Are you still a virgin?"
Joey Barton's appearance at the Union confirmed him as a reformed, but flawed and controversial figure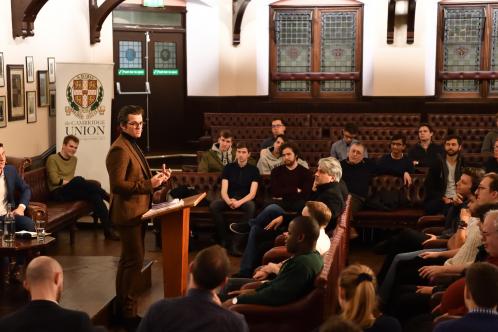 Joey Barton is currently suspended from football for betting offences. He has a history of violent conduct on and off the pitch and boasts more time on BBC's Question Time than in an England shirt. Yet, when appearing at the Cambridge Union Society, he spoke of his life of adversity, presenting himself as a reformed, though flawed, character.
The famously outspoken footballer took questions from journalists prior to his appearance. In some senses, the answer Barton gave to my inquiry concerning his drawing attention to the anniversary of women first getting the vote one hundred years ago reveals his changed personality. "I just thought, you know, sometimes it's good for footballers to not tweet about football all the time."
His response to questions over the recent appointment of Phil Neville as England women's coach was, however, emphatic: "I don't really care. It's nothing to do with me." As a football pundit, prolific user of Twitter, and burgeoning political commentator, that Barton had nothing to say is puzzling. For a pundit not to comment, especially on a matter that, given Barton's presence on Twitter, is relevant, is all the more peculiar.
Barton's address riffed on the theme of resilience, something he argued was a crucial attribute as he progressed from his humble beginnings amid the council estates of Knowsley, Liverpool. Barton stressed that his current position is a result of the mental strength he possesses. Referring to his release by Everton aged fourteen, at a time when his parents were divorcing, he commented: "It scares me to think, that if I'd been of a lower constitution, what I would have done." His honest assessment was that a life as a drug dealer awaited him. Now in the twilight of his career, honesty is a regular calling card for Barton.
The ex-Burnley midfielder, whose sole England appearance came as a substitute in a friendly defeat to Spain, revealed the origin of his scrappy on-field demeanour. Without seeking to defend his behaviour, Barton explained how life in Knowsley, which lacks sixth form provision as a borough of Liverpool, was tough "if you didn't have a menacing demeanour about you." This attitude certainly carried over to Barton's playing career. Whilst at Manchester City, the midfielder stubbed out a cigar in the eye of fellow player Jamie Tandy in 2004.
"Have you never had sexual conduct? Are you still a virgin?"Have you ever had sexual interactions with anybody?"
Barton's other mantra for the evening was that "discipline is freedom." With his history suggesting otherwise, Barton was seeking to present himself to his captive audience as a reformed character. Yet, he ardently suggested that he struggles to understand why he is a public figure of influence. "Who wants to listen to me talk?" he asked.
Barton, who insists he is called Joe by anyone who respects and knows him, has recently pivoted from the football pitch to the political arena: "The only reason I became political is because people said I couldn't do it." Barton is out to prove his nay-sayers wrong in the political world, but is no stranger to the odd gaffe, having called the four main political parties in 2016 "four really ugly girls" on BBC's Question Time. Yet the Liverpudlian insists that he "couldn't be a politician," since he is "not a good liar." Honesty, however, is a valuable commodity that Barton possesses; whether he is revered or reviled as a result is not something one imagines the footballer necessarily cares about – "I am who I am," he offers.
During his appearance at the Union, Barton's infamous penchant for controversy was again on show. When asked about young footballers' relationship with social media, in light of the recent release of a sextape which appears to involve a high-profile sportsperson, a most peculiar response was forthcoming. "Have you never had sexual conduct? Are you still a virgin? Have you ever had sexual interactions with anybody?" was Barton's retort.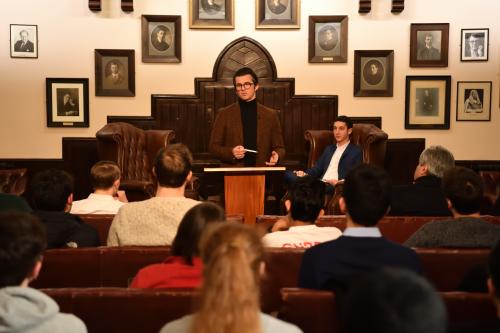 Having come from such humble, even broken, origins – Barton's uncle survived a near-fatal attack in 2006 – class is an idea over which the ex-QPR midfielder mulls often. "The class system, fortunately for society, is breaking down." Speaking at the Union, an institution affiliated with a University often criticised for its failure to fully open its doors to those from less privileged backgrounds, Barton had numerous life lessons for those who will likely to achieve success in the future: "You should be privileged to pay 50% tax."
Aside from politics, one of Barton's great passions in his time away from the field is philosophy. Barton's philosophy tutor from a one-year stint at the University of Roehampton was in attendance at his Union talk. A student of Epicures, the former Newcastle man has recently taken to working with psychologist Professor Steve Black. Barton claimed that the art of kaizen, which encourages continual self-improvement, would have materially improved his playing career had he learnt it earlier: "if I'd learnt that at 21, not 31, I'd have captained England." One wonders if the likes of Frank Lampard and Steven Gerrard, who finished second and third in Balon D'Or voting respectively in 2005, would have been displaced by the combative midfielder.
Barton is now a father, his son Cassius having been born in 2011 and daughter Pietà in 2014. Aware that his history as the tough-tackling bad boy of football looms over him, Barton talked openly of the challenges that parenting has brought him, putting into perspective his actions on the football field and on social media. Barton's revelation that one of his most recent and greatest challenges was addressing his jail time with his son was perhaps the most intimate moment his address offered. Rather than portraying a reformed, perfect character, the anecdote illuminated the conflicts which have shadowed Barton throughout his public, footballing life.
The Liverpudlian has recently started a podcast, The Edge, to go with his regular postings on Twitter, adding that it is something he "never thought" he'd be doing. Barton reveals that "he'd really love to do coaching," once he officially retires from playing the game that has been his entire life for so long. Pressed on his most influential coaches, Barton adds that sometimes "you learn the greatest lessons from those that are not the best." One could say that this view applies to the audience of Barton at the Union – the morsels of personality offered by Barton are, perhaps, to be taken as guidance. Indeed, Barton was reflective, commenting that the realisation that "I'm the one person that I've got to spend twenty-four hours a day with," prompted a more introspective period in his life.
Barton is a conflicted character. Born into the working-class, dog-eat-dog, holes-in-trainers world of Knowsley council estates, he was made in the furnace of society's unloved. But since his formative years, Barton has sought to improve, to continually self-improve in more recent years. Revealing that "you've changed" is a "great compliment where I've come from," Barton is not easy to love, but difficult to hate. Barton will attempt to return to football following his length lay-off, but it remains to be seen whether he will break back into the nation's favourite sport. With his tweeting, dabbling in politics, and philosophising, it is unlikely that Barton will be disappearing from the nation's consciousness anytime soon, regardless. He may struggle to comprehend why he has an audience, but it is one that will continue to exist so long as the footballer has something to say