Half-Time Report: Hockey at Cambridge
Vivi Way reflects on her experiences with the Women's Hockey 2nd team in her first term at Cambridge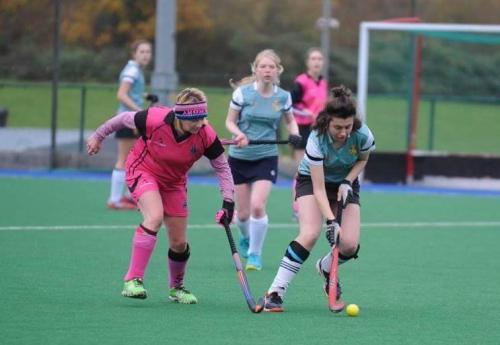 As I suspected right back in September, playing hockey for the second team has been one of the highlights of my term. I was apprehensive about joining one of the university teams before pre-season – all the teams at Cambridge play in higher leagues than my home side. I was also worried about having to prove my hockey ability to new coaches and prospective teammates, most of whom I did not yet know. My nerves soon dissipated, however, once I started playing and making friends in the team. Subsequently, representing the University at hockey became a very enjoyable experience.
One of the biggest adjustments I have had to make is balancing work with hockey. At home, training was typically a weekly affair before a game at the weekend. At Cambridge, training is three times a week, coupled with at least one game at the weekend. One of the sessions is strength and conditioning, which is new for me. It is a gruelling training session, but one that provides the platform from which I can play five times a week. Playing university hockey has helped me to learn how to best utilise my time; studying either side of training makes the latter a genuine break.
The team culture here, too, is very different from those that I have experienced before. Pre-match preparation includes discussions of both individual and team targets on the pitch. Failing to meet an aim results in it becoming the focus of training thereafter. I find this approach particularly helpful because, instead of condemning myself to having a bad game after making a mistake in the opening frames, I can keep these aims in mind and try to fulfil them in the rest of the match. I am sure that setting goals has improved our overall performances, even if this has not necessarily always been reflected in full-time scores. In our final fixture before Christmas, for instance, despite slipping to a 2-0 defeat to the top team in the league, we came off proud of our efforts and of the manner in which we had stuck resolutely to playing our brand of hockey.
"Every time Varsity is mentioned I feel a bit of nervous excitement because, other than the fact that the match will be very competitive, I have no idea what to expect"
The BUCS League has proved a challenge also. The pace of the games in this league is much quicker than in the Saturday league affairs. The physicality, too, is higher than at school level. But the clashes with other student teams are the ones to which I look forward the most, especially next term's Varsity Match. The extra training goes some way to helping get up to speed with the change in style of hockey at this level.
As the season has progressed, so too has the hype surrounding the Varsity Matches from within the hockey club. Before coming up to Cambridge, I believed this was just a fixture for the Blues teams. I have since learned that every side gets involved, and I now cannot wait to have my turn. My team, the women's seconds, were victorious over their Oxford counterparts last year, and it is my hope that we can repeat or better that performance. Every time Varsity is mentioned I feel a bit of nervous excitement because, other than the fact that the match will be very competitive, I have no idea what to expect; I am, however, taking confidence from our twin victories over Oxford's thirds this season. We will face that side once more ahead of the Varsity Match, it will be the last chance to mentally prepare and practice, as near as possible, controlling nerves in a contest against our oldest and greatest rivals.
Overall, the first half of the season has been reasonably successful. I cannot wait to get back on the pitch, and to make sure that our season continues in a similar vein. To win the Varsity game, it has been made clear, is our main aim for Lent. On a personal note, to win this game would be fantastic, but there are other things to aim for too. We are still in the BUCS Cup and I have never won any silverware playing hockey – this is something I would love to change. I am also yet to score a goal for the seconds. Playing in defence limits my opportunities, but attacking set pieces are the openings that I hope to finally convert.
I was a little daunted at the prospect of joining CUHC as a fresher. However, the experience I have had in my first term means that I would encourage any fresher willing to rise to the challenge of university sport to have a go. There's nothing to lose and the sport and the friendship I have found at CUHC have been a key ingredient in my enjoyment of my first term at Cambridge