Sport and politics: An inseparable marriage
Angus Parker argues that no matter how much we try to separate them, sports and politics are inextricably linked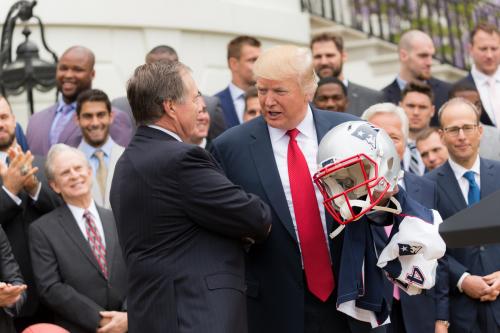 "Sport has the power to change the world. It has the power to inspire. It has the power to unite people in a way that little else does. It speaks to youth in a language they understand. Sport can create hope where once there was only despair."
Nelson Mandela's words hold particular pertinence in relation to the power of sport. Yet in recent weeks, the intractable interaction between sport and politics has once again been writ large across society. In America, what began as statement of protest by an individual player was enflamed and brought into wider political debates by the verbal intervention of the President which has subsequently developed into a fierce debate about respect for the national flag, serving to divide not just the sporting world, but wider society too. Similarly, last week, Barcelona became entangled in the controversy surrounding the Catalan independence referendum. It seems that events on the field have become sidelined by the ambitions, motivations and tensions of those off it.
This has prompted questions of whether sport and politics should ever mix. But perhaps the more relevant question is whether you can ever avoid such interaction. There is a tendency to envisage sport as a separate entity – a theatre of entertainment, hermetically sealed from the machinations of the political world. When assertions are made that recent events are examples of the 'world' of sport colliding with the political sphere, it suggests that such a collision is somehow unusual, rare and that there is usually a separation between the two domains, that they only coalesce at times of particularly acute tensions or as a result of inflammatory statements.
However, to adopt such a stance is naïve. Sport does not operate in a political or societal vacuum but serves as a crucible for tensions present in the real world and performs as both an extended arena of engagement as well as a significant platform to further political interests – whether that be as a means of protestation or enhancing power.
Sporting arenas become microcosms for politics, both explicitly through boycotts, bans or gestures or implicitly and insidiously through racism, sexism or other forms of discrimination. The recent events are certainly not without precedent. History is littered with examples of where the political and sporting spheres have explicitly merged. Whether it be the iconic Black Power salute of Tommie Smith and John Carlos at the 1968 Olympics in Mexico City, the boycott of the 1980 Moscow Olympics or even FIFA's ban on displaying the poppy in 2016 – sport has never been absolved from politics. 
Nelson Mandela presenting Francois Piennar the World Cup trophy is one of sports defining imagesWorld Rugby
It is perhaps because of the unifying nature of sport – the idea that it wields so much power – that political actors have utilised and sometimes exploited it so readily as a platform from which they can further viewpoints or enhance vested interests. Whilst it would be mistaken to claim that political objectives serve as the primary motivations behind most athletes' participation in sport, the same could not be said of certain other actors who see sport as a means of furthering vested interests.
However, should we be attempting to extinguish connections and links between politics and sport? After all, if politics has had such a persistent seat at the table of sporting events, how are we to judge what sport would be like if it were to be placed in a sterile environment detached from society and politics?
This is not to justify the recent statements by Donald Trump nor absolve athletes who perform boycotts of any responsibility of the subsequent effects of their actions, rather it is to admit and accept that politics - in all its explicit and implicit guises, is diffuse throughout society, and permeates the sporting arena as well.
It is quixotic to think that sport and politics can ever be completely separated. Of course, we would like to preserve the hallowed nature of sport as the innocent, unifying and hopeful pursuit so espoused by Mandela. But one should similarly acknowledge that sport is valuable in generating a platform from which political statements can be made, and this should be respected albeit with an appreciation of when such statements are appropriate. But this then raises the complexities of what is deemed appropriate, and the web of political-sporting actions becomes ever more complex and subjective.
However, the words of Mandela about the power of sport should resonate with hope as well as cause us to pause and reflect on the nature of the political-sporting nexus. The apartheid against which Mandela fought was often exposed in a sporting context, and thus the image of him wearing the Springbok jersey and handing the Webb Ellis trophy to Francois Pienaar in 1995 should perhaps serve as a timely reminder that, despite the myriad of negative interactions and conflicts associated with the political-sporting nexus, the power of sport can "create hope where there is despair" and bring a nation, divided by apartheid, together as one