Great Britain's exceptional Fed Cup campaign damped by 'Nasty' Năstase
Harry Wilson takes a dim view of recent comments by Romanian captain Ilie Năstase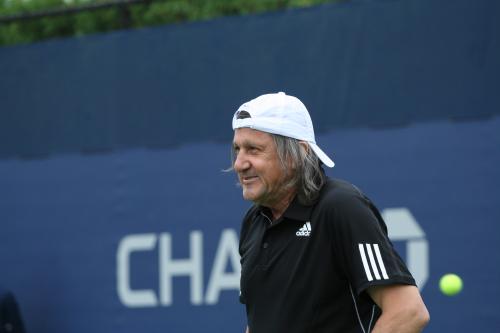 This past weekend, Great Britain's Fed Cup team had the opportunity to reach the second-highest tier of women's international tennis in their World Group II playoff match against Romania.  Unfortunately, the focus of the weekend was not the tennis, as Romania's team captain Ilie Năstase was reported to have made aggressive and sexist comments as he was being escorted from the court, first towards the match umpire and then to members of the GB team.
Following complaints from the British team about calls from the crowd during play, match umpire Andreas Egli asked the crowd to respect players and remain quiet, to which Năstase allegedly retorted: "it's not the opera, what's your f*****g problem?"  This came after two official warnings for Năstase, and he continued to argue until he was asked to leave the court for unsportsmanlike conduct.
As he was leaving the court, he is reported to have called Johanna Konta, Britain's number one women's player, and Anne Keothavong, the GB team captain, "f*****g b*****s", reducing Konta to tears.  The umpire saw fit for her match against Romanian number two, Sorana Cîrstea, to be suspended early in the second set due to her condition.  Following the 25-minute break, Konta was able to regain her composure and win the next five games in a row to win the match 6-2 6-3 and level the Fed Cup tie at 1-1. The following day the players returned to action but would fall just short of overcoming Romania in order to reach World Group II and will start their promotion push again next season.
Năstase played no further part in the tie, despite trying to make his way into the VIP restaurant of the Tenis Club IDU in Constanţa, Romania. The ITF has since launched an investigation into Năstase's comments, and had the following to say:  "His accreditation was removed and he will play no further part in the tie. The ITF has launched an investigation into this matter as well as previous comments made by Mr Năstase during the week."
"It disappoints me to know we live in a society where people like Ilie Năstase can make such racist comments towards myself and my unborn child, and sexist comments against my peers". - Serena Williams
This was the second time during the weekend tie that Năstase spoke out of line.  On Friday, it was reported that he made racist remarks while discussing Serena William's unborn child,  due in autumn: "Let's see what colour it has. Chocolate with milk?" Năstase then launched into a rant at Press Association's Eleanor Crooks on Saturday morning, calling the British journalist "stupid" and asking "Why did you write that?" The outburst took place in front of several representatives of Romanian media outlets and allegedly lasted two to three minutes.
Twenty-three-time grand slam champion Serena Williams responded to Năstase's comments on Instagram, saying: "It disappoints me to know we live in a society where people like Ilie Năstase can make such racist comments towards myself and my unborn child, and sexist comments against my peers".  She also quoted the American poet, memoirist and civil rights activist Maya Angelou, before stating that she fully supports any ITF investigation into the matter.
Năstase has since denied that his comments towards Williams could be considered racist, additionally complaining that no matter what he says, he will always be thought of as "the bad boy" with the media out to get him.  He has also refused to apologise for any sexist comments he made during the weekend tie against Great Britain, claiming that he "does not know what all the fuss is about". Năstase also tried to validate his comments against Konta by saying that she left the court without asking permission.
The allegations against Năstase have also triggered publicised opinions from other major sportspeople. Konta's opponent Sorana Cîrstea accused the Briton of "exaggerating" the incident by briefly walking off court. Other Romanians sprung to his defence as well, including gymnastics legend Nadia Comăneci, who also reached her peak in the 70s like Năstase: she claimed that he is simply "very patriotic" and often says things that "he does not mean".  The former gymnast did, however, later state that she "cannot condone or defend" his actions and that the 70-year-old International Tennis Hall of Fame inductee must accept any punishment imposed by the ITF. Romanian Tennis Federation president George Cosac also tried to play down the severity of Năstase's comments, saying: "He was all the time with a lot of jokes".
Năstase, who during his career was nicknamed "Nasty" Năstase, has always been a controversial character.  Despite being one of the all time greats – winning eight grand slam titles, being the first player to win the French Open without dropping a set (1973), and being one of five players in history who have won more than 100 ATP professional titles (58 in singles and 45 in doubles) – Năstase was involved in several contentious issues throughout his playing career.  In 1977, he used a 'spaghetti string', double-strung racket to end Guilllermo Vilas's 46 match winning streak; only a few days later, the ATP decided to ban such rackets.  He was frequently docked points and games due to unsportsmanlike conduct,  and most famously defaulted a match against John McEnroe at the US Open in 1979.  This led to the crowd throwing beer cans and cups onto the court before the match was restarted, and he eventually lost.
In the past few days, more female tennis players – including former US Open finalist Pam Shriver – have claimed that Năstase made derogatory comments about or to them throughout their tennis playing careers. Năstase is also reported to have asked Anne Keothavong "for her hotel room number" during the captains' picture after the draw presentation for the Fed Cup.  In response, Năstase stated that he did not regret any of his actions and said: "they can send me to prison if they want to."
ITF President David Haggerty most recently delivered a statement in which he said: "We will also hear Nastase's side of the argument. It will be a thorough process conducted in an efficient manner. I do not think you will be hearing any final decisions in the next two weeks." While the ITF's final decision may not yet be clear, one thing is certain: either Năstase apologises for his comments and faces up to the new realities of the world we live in, or he removes himself completely from the professional tennis circuit. The "bad boy", "nasty" Năstase attitude which helped him gain extreme popularity during his playing career in the 70s is no longer in vogue as the world of tennis strives ever more insistently to be a space of equality