Concert: Joyful Joyful
Isabel Adomakoh Young enjoys a vibrant evening of gospel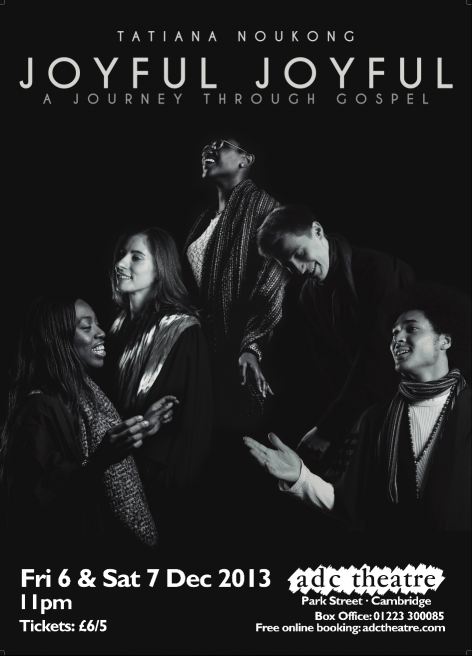 Simply staged, simply lit and with all the rawness of a true story, Joyful Joyful was a show of the sort you don't often see in Cambridge. Centred around the origin of gospel, it took us from the roots of the genre, in the fields where slaves worked all hours of the day, singing negro spirituals to keep time and to keep their spirits up, to the choral church setting (marked by the donning of black gowns), and then on to modern day extensions of the genre, where 'Man in the Mirror' made a welcome appearance. With a range of voices as rich and varied as their patterned skirts and headcloths, the choir stunningly conveyed the many identities of gospel under the musical guidance of Oli Rew, with beautiful harmony and enough isolation to get the best of every voice; there were particularly outstanding solos from Luke Sumner, Edith Nnotum and Dorian Peake. 

In many of the songs there was a lot of choreography to keep track of, and I do wonder if keeping those in mind restricted the singers from really getting carried away by the music – Nnotum deserves a mention for always rocking out (and for an incredibly touching solo during 'Joyful Joyful'). The show was led by its powerhouse writer and director Tatiana Noukong, to whom the subject matter evidently means a lot; she opened the show with her own poem mixed with 'Nobody Knows the Trouble I've Seen', and her singing voice was a constant delight throughout the show. The interspersed dramatic scenes and poems added to the context of the music, especially Peake's brilliant 'I have a Dream' speech, but the thread of the journey was difficult to keep hold of. Whether we were moving through a personal experience of gospel, through its chronology, or through the history of the people who created it was never quite clear. 

Rather than god, the human soul was given the most prominent portrayal, in all its hope, fear and flaw. This made the overtly religious songs all the more interesting. Although there were a few issues with tuning, lyrics and timing, these didn't detract as much as they might have done because of the open, energetic humanity of Joyful Joyful. Gospel as a type of music is not about perfection of presentation; it's about passion and hope. With a nod to For Colored Girls, which was staged in Cambridge in 2012, Noukong's poetry had some very powerful lines, my favourite being "Humanity can be at its best when it sings a glorious consensus". In the wake of Mandela's death, I felt a particular resonance in the show's incitement to join together in love and diversity. To this end, Joyful Joyful finished with a knockout back-to-back run of 'The World's Greatest', 'Oh Happy Day' and 'Joyful Joyful'; by then, everyone was clapping along.