Musical: Save the Last Dance For Me
Daniel Edward is unimpressed by the commercialism of Bill Kenwright's latest production, but sees some moments of flair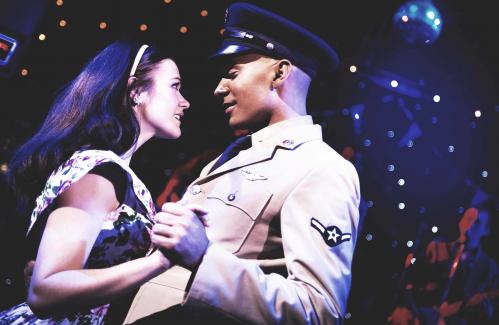 I would hazard a guess at there being one motivation behind this production: profit. It would appear that in Bill Kenwright's book, if the poster gets the punters through the door to hear some tunes, that should be enough to keep the box office healthy and the profit margins high.
It is disappointing to see a Bill Kenwright production fall so flat - after all, he is no novice. From the groundbreaking Starlight Express to Blood Brothers, which ran for 24 years in the West End, Kenwright is one of Britain's most powerful producers. He's also a critically acclaimed director – his staging of West Side Story earned him a nomination for a London Theatre Critics' Award. However, as Save The Last Dance For Me suggests, he is, first and foremost, a businessman who has stumbled upon a successful commerical formula.
Despite my disappointment with the show itself, Jay Perry (who played Rufus) stood out to me from his first moment on the stage through to his final bow. Some might be familiar with Jay from his time in the (excellent!) pop band S Club Juniors. Not only is he one of the strongest singers in the cast – alongside a strong performance from Kieran McGinn (Curtis) – he was by far the most engaging dancer on the stage. His moves were strong and vibrant, and it was clear from the word go that he has an excellent sense of rhythm.
The cast worked extremely hard, though for much of the show this was an uphill struggle. There were long pauses between dialogue and songs, which prevented the musical picking up the pace that was required to do justice to the rock 'n roll hits it showcases. This pervasive sluggishness is not necessarily the fault of the cast – they proved their ability to pull off a high-energy, exciting and pacy routine at the end of the show.
In many ways, the end was the best part of this musical. I mean that in a nice way - the final 5 minutes of the show were excellent, but the audience was tired by then and unable to reciprocate the actors' enthusiasm by this late stage.
Save The Last Dance For Me sells itself as being "from the team that brought you Dreamboats and Petticoats", but the two shows don't compare. Minus a couple of the same songs, the buzz and atmosphere created so expertly in Dreamboats is lacking in this production until the finale, by which time it really was too late.
Save The Last Dance For Me is on at the Cambridge Arts Theatre until Saturday 9th November