Mad about Museums: The Museum of Archaeology and Anthropology
Lucy Meekley hits up this hidden gem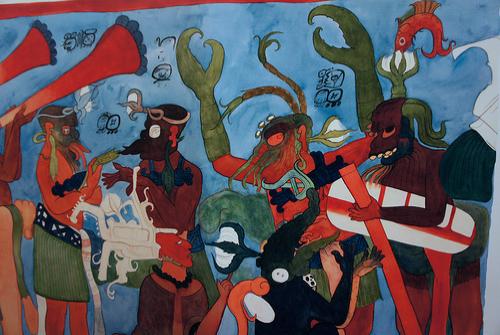 The Museum of Archaeology and Anthropology showcases the beliefs and traditions of cultures from across the globe. It was established in 1884, when the Cambridge Antiquarian Society decided to consolidate various collections held across the city and colleges. Since then it has built up an assortment of one million objects, spanning almost two million years of history, culture and society.
The first gallery we enter is the archaeology gallery. Its first case is clearly designed to whet the appetite: it is full of intricate tools, trinkets, masks and statues. What I find most intriguing is the Jade statue of a man, thought to be Mexican and dated between 1500 and 400 BC. However, the accompanying sign suggests curators are unsure if it is real or fake. It poses the question "If it is modern, is it less special?"
The remainder of the gallery explores the history of Cambridge. One case, "Under our very feet", contains objects dating as far back as the 15th century, excavated from beneath the John Lewis site. Another explores college life then and now; the collection of wine bottles suggests it hasn't changed much... A real highlight of the gallery is the Roman Arbury, a lead lined stone coffin containing a human, mouse and shrew skeleton. While studying for her degree, Sylvia Plath visited the museum, and this skeleton is thought to have inspired her poem All the Dead Dears. 
Upstairs, the Anthropology gallery is an absolute treasure trove. The first thing you are likely to notice is the Totem pole. It is decorated with animals, and at 14 metres high, is taller than any on display at the British Museum. Like many of the objects, it is accompanied by a photograph of its original setting: a nice contextual touch. There are impressive objects from Tibet, New Zealand, Papua New Guinea and Fiji, to name but a few locations. Of particular interest are various canoes and kayaks and the giant wooden grizzly bear. Objects from Fiji are currently being brought into particular focus by the temporary exhibition Chiefs and Governors: Art and Power in Fiji which will feature at the museum until April 2014.
The final gallery is a work in progress, but it contains an astounding installation: a stone front originally built for Winchester Cathedral in 1638. The style quickly became unfashionable and the front was put into storage. It was rescued by omas Jackson, and it has been built into the foundations of the gallery. Here, the artefacts are fantastically displayed. The museum is an excellent reminder of history that surrounds us in Cambridge and an eye-opening, continuous study of cultural practices across the world.