Ten Questions for: John Finnemore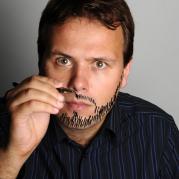 John Finnemore read English at Peterhouse College, matriculating in 1997. In his final year he was Vice President of the Footlights, and went on to contribute to BBC4 radio shows Dead Ringers and Safety Catch. Finnemore writes and performs in the comedy Cabin Pressure, has appeared on Radio 4's The Now Show and is co-writer of David Mitchell's Soap Box. His radio sketch show John Finnemore's Souvenir Programme aired on Radio 4 in September.
What's the nicest thing anyone's ever said to you?
"I don't think anyone noticed."
Worst public moment?
6th birthday. Sooty brought me up on stage. Sooty's handler asked me a question. I took too long to answer. Sooty pretended to fall asleep. Theatre full of children laughed at me. One day, when he least expects it, I shall be revenged upon that bear...
Magic power of choice?
To invite you to take a card, any card, and be able to tell you what it was.
What's the last thing you saw?
Fake answer: Juno and the Paycock at the Lyttelton. Real answer: Two episodes of Modern Family, and half a Porridge.
What are you reading?
The Brief and Frightening Reign of Phil by George Saunders. Really good.
Guiltiest pleasure?
Arson.
Favourite Cambridge haunt?
Summer: outside The Mill. Winter: inside The Maypole.
Fondest memory of studenthood?
Some of the Footlights Smokers I did. But see also: 'Most excruciating memory of studenthood?' - Others of the Footlights smokers I did.
Who would you invite to your dream dinner party?
Peter Cook, Eric Morecambe, and the three of my friends who would 1) most like to be there and 2) know to shut up and listen. (Oh, and, I don't know, a pie.)
Favourite joke?
What has eight legs and one eye? Two chairs and half of Sooty's head.