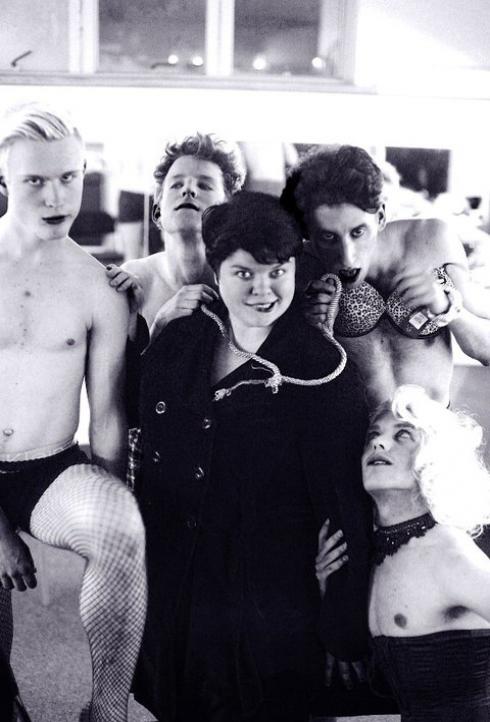 Ever since Blur captured the 90's taste for gender confusion in the aptly confusing chorus of 'Girls & Boys' sexual freedom in British culture has come a long way. Now it's Lady Gaga who sets the tone, but for the average Cambridge student, Gaga worship is restricted to a few sticky drinks, an energetic dance on an equally sticky floor, and a fumble at the end of the night. If you avoided her videos, you'd be right in thinking she was just some generic pop princess slut. But Gaga and her whole brave-new-world come one-born-every-minute act (if you've not seen the video for 'Born This Way', do it now) is far more than just dance floor fodder. Judy Garland's iconic status may have been paid tribute to in Margot de Sade's medley, but without a pair of Alexander McQueen's 'Armadillo' shoes, and a dress made of flesh, Garland's ruby slippers seem a little tame by comparison.
This was a night centered on proper Gaga worship. The right stuff. The royal stuff. This was Amrou Al Kadhi's Denim night, with the confusing, but somewhat inspired slogan - 'Denim. Do Him. Do Me Now.' No 'The night formerly known as' rubbish here. And for those who turned their backs on college bops, the queue at Life or the ADC late-show, they were in for quite an evening. Descending into Clare Cellars, we were greeted by a selection of girls dressed as boys, and boys dressed as girls. And while some girls were dressed as girls, and some boys were dressed as boys, this night was a happy waltz through all permutations of the gender spectrum.
We may have all done our best to interpret the theme – a smudge of lipstick here, a fake moustache there – but we were no match for the divas who were about to take centre stage. There stood Glamrou (Amrou's far more enticing sister) clapping her hands and telling us to step back. Down went the lights, and on came Judy Hench, declaring that 'if he liked it, then he really should have put a ring on it.' This was not your average Cambridge night.
The wonderful thing about Denim was the feeling of escapism it afforded us all. A glittering crust of false eyelashes, denim and fishnets, and everyone seemed far more at ease. When Shirley and Billy Ray appeared and performed 'Son of a Preacher Man', it looked pretty likely that the dolled-up audience were going to envelope the doting couple on stage out of sheer enthusiasm. Then, to the dirty sound of a muted trumpet, the countess of the clink, Glamrou, took to the stage in a floor-length, grape-coloured, sequined, slashed to the leg, you name it, it had it, gown. This didn't last long. Off it went, and as we were instructed to 'spice it up for mama', the rest was continued in a matching leopard print bra with fluro tutu. Gaga would have been proud.
It has to be said that it was the girls who really stole the show; the boys just couldn't quite live up to the performances given by the fairer sex. Credit must go to Tim Simple though for his tragic version of 'Mr. Cellophane', but the performance of 'Babooshka' was a little incongruous, and whilst the Pirates were entertaining, they were a little too grimy for the evening. A sprinkling of glitter wouldn't have gone a miss.
Denim was a magical jumble. Who knew who was whose fantasy down there in the cellars that night. The performers graciously introduced us to an underground culture Cambridge isn't really accustomed to, and when 'Born this way' came on, and Gaga screamed out 'Don't hide yourself in regret / Just love yourself and you're set', it couldn't have rung more true. God Save those Queens.