Brexiteers were wrong to reject the backstop
Peter McLaughlin argues that a mistaken understanding of 'Britishness' lay behind the rejection of the backstop.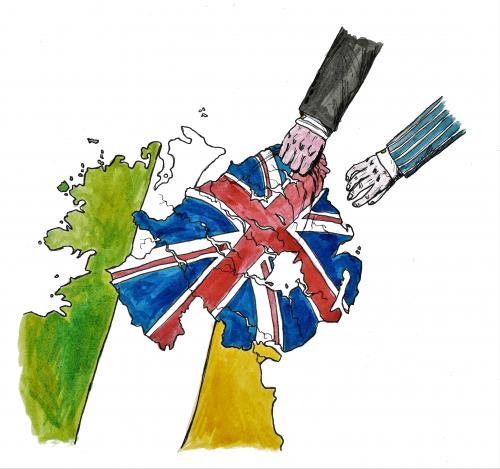 May's deal is dead: there is no coming back from the worst defeat of a government in parliamentary history. But it is worth reflecting on what killed it: widespread opposition to the Irish backstop.
The backstop was a policy intended to prevent a hard border returning to Ireland. If, after the Brexit transition period, the UK doesn't manage to strike a trade agreement with the EU, the backstop would have ensured that (at least) Northern Ireland would stay aligned to some single market rules. Without a backstop, World Trade Organization (WTO) rules (which would apply by default after the transition period) would mandate that Britain could not be any more lenient on goods coming from Ireland than it could from goods coming from any other WTO member.
It is almost a truism at this point that a hard border would be ruinous for Northern Ireland.
Northern Ireland sends billions of pounds worth of exports across the border every year, so a hard border would have an immense impact on the region's economy, which is still recovering from the Troubles. It would also undermine the Good Friday Agreement, the deal that brought peace to Northern Ireland, which promised an invisible border from Carlingford Lough to Lough Foyle. Fears have been expressed that customs checkpoints, perceived as symbols of occupation by certain republicans, could once again become a target for terrorist violence. And, often unmentioned, a hard border would close off Northern Ireland's Irish nationalist community from the Republic, isolating them from their own country and potentially fuelling resentment of the union.
"It is almost a truism at this point that a hard border would be ruinous for Northern Ireland."
Despite all this, the backstop seemed the most fiercely opposed part of the Withdrawal Agreement. The DUP saw the backstop as a betrayal of Brexit and of Northern Ireland. Jacob Rees-Mogg said that he believed "most of the poison" in May's deal was in the backstop, and indicated that he might have supported May's deal had it been removed. Even Jeremy Corbyn opposed the idea, saying that the DUP disliked it "for very good and sensible reasons".
What were these reasons? One of the most important was that the backstop was seen as a threat to the union. DUP Brexit spokesman Sammy Wilson said that the Government had broken the "fundamental agreement" that they "would not separate Northern Ireland constitutionally or economically from the United Kingdom". Were the deal to have gone ahead, Northern Ireland might have traded with the EU on different terms from the rest of the UK, and, the argument goes, this would threaten the unity of the UK as a whole and undermine Northern Ireland's shared identity with both the UK and the Republic of Ireland. But this is wrong. Rather than undermining the Britishness of Northern Ireland, the backstop is necessary to ensure that equal consideration is given to its people as British citizens.
Nations like Britain no longer match up neatly with the model of a homogeneous group of people with similar culture, ideals and values - indeed, it is doubtful they ever did. In looking at the country and what is best for it, we cannot pretend that such differences do not exist – instead, we must respect them, and work with them. This is not a mere recommendation; it is a necessary condition of treating all UK citizens equally, of giving them the right to assert their identity freely.
"Northern Ireland must be allowed to actively contribute to British politics and identity on its own terms"
If Northern Ireland is genuinely to be an integral part of the United Kingdom, if it is really to be "as British as Finchley", it must not be forced to fit into a political, economic, or constitutional mould designed for the rest of the UK. Ultimately, Northern Ireland's belonging in the United Kingdom is not predicated on whether it adheres to exactly the same trading regulations as the rest of the nation. Hence, Northern Ireland must be allowed to actively contribute to British politics and identity on its own terms, adding to the diversity that informs any real idea of 'Britishness'. There won't be one size that fits all: the unique position of Northern Ireland demands differences in politics and identity, and we must learn to accommodate this.
To see the backstop as undermining Northern Ireland's Britishness is to see Britishness through a very narrow lens. And when one moves beyond this rigid idea of Britishness, and considers Northern Ireland's unique position in relation to Brexit, the impact that a hard border would have on people's livelihoods, on the fragile political and constitutional situation, and on many of its inhabitants' identities – I would say it becomes obvious that a safeguard, in the form of the backstop, is absolutely necessary for any EU exit.
As a remainer, there was much I disliked about May's deal. But what was perceived by many to be its greatest weakness was, in actual fact, a strength: the backstop showed a willingness to allow for different political and economic situations, and to acknowledge that the UK is stronger for its diversity. Ignoring Northern Ireland's uniqueness will not make it disappear, and imposing the same trade regulations as the rest of the UK post-Brexit, on the grounds that this is an essential part of being British, will only result in alienation. A backstop-free Brexit will make us all much, much poorer.