The Tory-DUP deal is a detriment to Northern Ireland's government
Peter McLaughlin argues that the Tory-DUP deal has had serious ramifications in Northern Ireland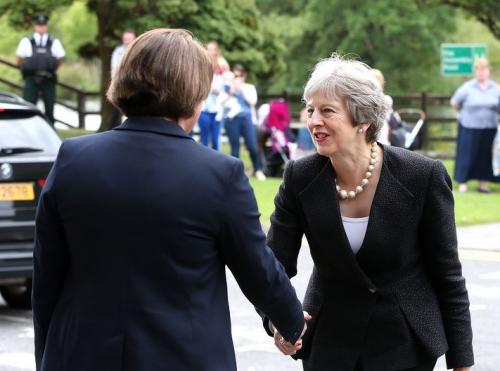 When Theresa May announced her intention to form an alliance with her "friends and allies" in the DUP (Democratic Unionist Party) after the 2017 general election, the initial reaction from much of the British public was one of confusion. "Who are the DUP?" was one of Google's most searched-for questions. This question made the headlines in more than one national newspaper. Many who thought themselves politically-informed had little, if any, knowledge of a party that was now to be kingmaker.
More than a year and a half later, you could be forgiven for the thought that the effects of the Tory-DUP deal are common knowledge. The DUP's commitment to keep Northern Ireland in alignment with the rest of the UK, and specifically its opposition to any backstop, has been a well-known thorn in Theresa May's side in the Brexit process. It is not uncommon to see Sammy Wilson, the party's Brexit spokesperson, in the papers or on TV news, as he expresses his latest problem with the government. But the confidence and supply agreement has a less-known, albeit not any less significant, consequence. It prevents a return to government in Northern Ireland.
It has been nearly two years without devolved government in Northern Ireland. This government is responsible for schools, hospitals, roads, the police, and most other public services. They all currently run without any ministerial direction or policy oversight. While there have been past instances when the government has collapsed, in all of these, Westminster has served as a neutral faction to oversee negotiations. Indeed, the Good Friday Agreement, which brought peace to Northern Ireland, commits the British government to exercise its power with "rigorous impartiality". But with the government in bed with one of Northern Ireland's parties, this impartiality has been compromised. This has dangerous results.
"It's been nearly two years without devolved government in Northern Ireland"
One of the issues with the deal is its disproportionate influence on the conduct of negotiations for the government's return. So far, the negotiations have been overseen by the Northern Ireland Secretary. Initially, this was James Brokenshire, and now is Karen Bradley. These two have been, frankly, useless — opposition leader Robert Swann denounced the recent round of talks as "depressing". An independent mediator with knowledge and experience could shake up negotiations and force parties to talk to each other rather than past each other. There is precedent for this. For example, the Good Friday talks were successfully chaired by former US Senate majority leader George Mitchell. But even if Karen Bradley seeks out an independent mediator, Westminster is unlikely to appoint one. This is because the DUP oppose this idea. And it is the DUP who prop up the government.
Another way in which the deal has prevented a return to government is the Conservatives' refusal to pass key legislation. Many were shocked by the DUP's regressive social policies in 2017. However, they are more than just a fringe group. Their power in Northern Ireland has held back social progress in the province. Notwithstanding the support of more than two-thirds of our population for same-sex marriage and the Assembly's (the democratic devolved parliament) vote in favour of it, the DUP has abused a mechanism called the 'petition of concern' to ensure that same-sex couples in Northern Ireland still cannot marry. Reform of the petition of concern, and specifically the passing of same-sex marriage legislation, has been one of the key issues that has stopped a return to government with the DUP.
This is an area in which the government can and should take action. Human rights is an 'excepted matter'. That is, in this domain, Parliament has a right to legislate for Northern Ireland, and the Northern Ireland (Executive Formation and Exercise of Functions) Act 2018 is explicit that the ban on same-sex marriage constitutes a human rights violation. If the government were to legislate for same-sex marriage in NI, it would force the DUP to give up on its dreams to create a bastion of traditional marriage and push negotiations forwards. But instead, a private member's bill (introduced in March last year) to extend same-sex marriage throughout the UK was blocked by Tory MPs, and its reading postponed until later this month. It will almost certainly be voted down. Why? Because the DUP have made it clear that same-sex marriage is a 'red line', and they would bring the government down before such a law could be passed.
With their reliance on the DUP for confidence and supply, the Tories have done more than just complicate Brexit. They have shown disregard for Northern Ireland and the over 1.5 million British citizens who live there, placed its already-precarious constitutional arrangement under pressure, and abandoned their commitment to equality and human rights for the whole of the UK. The government has given up on "rigorous impartiality". Their citizens have followed suit.