Do we have a right to complain about tourism in Cambridge?
Lucy Fairweather argues that although the presence of tourists in Cambridge can seem intrusive for students, its most severe impact is on residents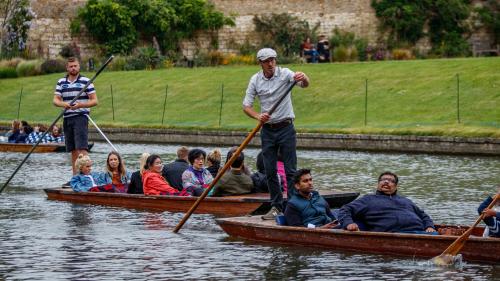 Studying in Cambridge can feel a bit like a fairy tale, particularly if you live in one of the older colleges. Castle-like spires, ancient buildings, cobbles, people wondering about in gowns: the centre of Cambridge still feels steeped in the past. One thing that definitely brings you back into the present, however, are tourists.
Whether it be the microphones and headsets used by tour guides, or the cameras and phones snapping pictures of the beautiful buildings in which we are lucky enough to live, work and study, Cambridge is visibly a tourist hotspot. The town, which has a population of 124,000, is visited by over 7 million tourists every year; and it's a number that seems only set to rise. The congestion and inconvenience caused by large tour groups can certainly burst the fairy-tale illusion and bring you back to reality.
To complain about tourists as a student can risk sounding gratuitous. After all, many on the 'town' side of the Cambridge divide find students objectionable for many of the same reasons as they do tourists: increasing prices for locals, disrespecting residents, creating mess and noise. All the complaints of market distortion and rent increases that come with holiday property rental services can equally be applied to student accommodation and other University developments, and it is not difficult to spot the parallels between the disruption caused by tourists littering and the remnants of student nights out or trashing after exams. Students moaning about tourists changing the character of Cambridge can easily have their gripes thrown back at them.
Cambridge has a world-renowned reputation, and to enjoy the benefits this confers on its graduates, being impeded on King's Parade or being asked if you want to go on a punt tour seems a small price to pay
However, Cambridge is also meant to be our home for at least half the year, and the worst excesses of tourism can stop this being the case. Colleges are understandably attractive to visitors, but when tourists go into private areas, such as staircases and even students' bedrooms, this can make Cambridge feel more like a zoo than a place of higher education. Such cases led to Clare, for the first time in 700 years, closing college grounds to the public after repeated cases of intrusion.
While the inaccessibility of colleges, and by extension a large proportion of central Cambridge, to the public is a frequently cited issue in the 'town vs gown' debate, the fact that colleges want to protect their students is understandable. Having pictures taken of you, being stopped repeatedly by punt touts, having private spaces invaded ... studying in such a beautiful and historic setting has its downsides.
Like many of the issues facing Cambridge today, to a certain extent this problem boils down to the question of 'who is Cambridge for?' While it is easy to moan about tourists as a hindrance to students, it is important to recognise that as members of the University, we are to a large extent shielded from many of the worst excesses.
For many Cambridge students, living near the centre of Cambridge means that even owning a bike is not necessary for some, and we are far less impacted by the traffic caused by coaches and other vehicles (which is already some of the worst in the UK). Campaigns to cut the rent notwithstanding, for the overwhelming majority of Cambridge undergrads, college subsidised rents for all three years of a degree means that students are not exposed to Cambridge's rents, which again are some of the most unaffordable in the country.
Cambridge students also tacitly benefit from the presence of tourists. Entrance to visit colleges can constitute a substantial source of revenue for many central colleges, with Kings charging £9 for adult entry, and St Johns £10. Cambridge has a world-renowned reputation, and to enjoy the benefits this confers on its graduates, being impeded on King's Parade or being asked if you want to go on a punt tour seems a small price to pay. 
Finding the right balance between residents, students and tourists is always going to be tricky, but all three are crucial for the city's success. At the moment, we would do well to remember that it is Cambridge's residents that seem to be sacrificing the most.