The tuition fees system is broken. It's high time we replace it
Lucy Fairweather argues that scrapping tuition fees is the only way to make a case for student contribution towards the cost of their education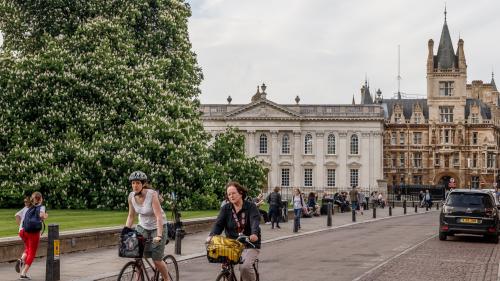 Perhaps no other policy last summer better symbolised Labour's youth popularity surge than its manifesto pledge to abolish tuition fees. With chants of "Oh Jeremy Corbyn" ringing out in any student town's clubs any time the White Stripes' Seven Nation Army played, scrapping £27,000 worth of debt clearly has resonated among a generation saddled with the cost of an education that most of their representatives received for free. The current system is clearly broken, and if politicians want students to make any contribution at all towards the cost of their education, they need to get rid of fees.
Student anger is understandable. The increase to £9,000 was passed on the back of Liberal Democrat votes, despite an election pledge to abolish tuition fees altogether. Many of today's graduates face tens of thousands of pounds' debt to work jobs they could have done without a degree, along with little pay premium. To then have their fees further increased and their maintenance grants scrapped by a generation of politicians who were never asked to pay a penny understandably rankles.
"If politicians still want students to make a contribution towards the cost of their education, they need to think soon about drastically reforming the system."
But should we be taking fees at their face value? When first introduced in 1998 at £1,000 a year, it was made clear that fees were a just a contribution, and not representative of the whole cost of a university education. Different courses at different universities cost varying amounts of money to teach, but what is certain is that the current £9,250 cannot, and does not, simply represent the cost of a course.
It is still, in essence, a graduate tax: a premium that represents a contribution by the student towards the cost of their education. However, it is a regressive tax that hits the poorest students hardest whilst professing to be something it is plainly not.
Tuition fees do not work: 30 years after graduation, when loans are written off, 83% of graduates will not have fully repaid them. UK universities may receive a high proportion of their income from tuition fees (in 2014-15, this stood at 73%), but this is government funding through the back door. By deluding ourselves into thinking that tuition fees are students paying for their education, we are simply lulling ourselves into a funding time-bomb thirty years down the line.
It's not unfair to argue that students should make some form of contribution to a university education- it is, after all, still linked with higher earnings and greater opportunities. Governments in previous decades were able, in large part, to completely subsidise fees due to the far smaller numbers of graduates. Whilst university students are still disproportionately drawn from the professional and middle classes, the increase in student numbers has been accompanied by an increase in disadvantaged students, regardless of fees. No one wants to see a return to only 5% of the population attending university.
Yet, contribution in the form of tuition fees is completely wrong. Those whose parents can afford to pay immediately are left with no debt, whilst the most disadvantaged (those with maximum maintenance loans as well) will graduate with over £50,000 worth of loans. This effectively amounts to the most privileged students avoiding a 9% graduate levy on income over £25,000 a year, further consolidating already stratospheric levels of inequality. Combined with a punitive interest rate of 6.1% – meaning that the average interest accrued before even graduating is £5,800 – student anger seems completely justified.
The Prime Minister can argue that those "who benefit directly from higher education should contribute directly towards the cost of it", but until there is recognition that the current fees system is neither fair nor working, abolishing fees completely will continue to enjoy overwhelming support among the youth. If politicians still want students to make a contribution towards the cost of their education, they need to think soon about drastically reforming the system. At present, they are perilously close to losing the argument for an entire generation.