BBC journalist named new Peterhouse Master
Bridget Kendall has been named as the first female Master of Peterhouse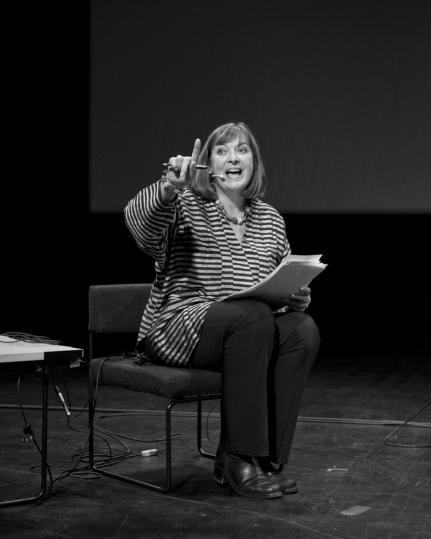 Peterhouse has announced that journalist Bridget Kendall will become the first female Master of the college. The journalist will take over from Professor Adrian Dixon, a Professor of Medicine, in July 2016.
A graduate of Modern Languages at Oxford and Harkness Fellow at Harvard, Kendall has worked at the BBC for over three decades.
She joined the Corporation in 1983 as a radio production trainee for the World Service, then became a foreign correspondent in the early 1980s, and was named BBC diplomatic correspondent in 1998 – a post she has held for the past 18 years.
In 1992, she won the James Cameron Award for distinguished journalism in recognition of her reports as foreign correspondent in Moscow during the breakup of the Soviet Union, becoming the first woman to do so. She has also been the principal host of the World Service discussion programme The Forum since 2008.
Peterhouse is the oldest Cambridge college, and also became the penultimate college to admit women in 1985. Of the 31 constituent colleges of Cambridge, nine are currently led by women.
In a statement released on the college's website, Kendall said: "I feel very privileged to have been chosen by the Fellows of Peterhouse to be their next Master. This is an exceptional College with a distinguished history and record of academic excellence. It represents all that is best about Cambridge University."
She added: "On my visits to the College I have been struck by its friendly atmosphere and the way it has turned its reputation of being the University's oldest and smallest college to its advantage: balancing a respect for traditions with a readiness to adapt and innovate, and remaining small enough to foster an intimate environment, yet seek engagement with the wider world."
"I am thrilled to be joining the College and look forward to collaborating with everyone at Peterhouse on the challenges and opportunities ahead."
A former student of the Perse School for Girls in Cambridge, before spending two years in Russia through British Council scholarships, she has further described the move as "both a new chapter and back to [her] roots".
The reaction from Peterhouse's student body has been similarly positive. Following the announcement, Stevie Hertz, the college's newly elected JCR Women's Officer, expressed hope that the new Master would be "a sign to the world that Peterhouse has changed".
Commenting on Peterhouse's desire to leave behind its conservative history, Hertz added: "[Bridget Kendall's] presence alone is hugely significant; we don't have any portraits of named women on the walls, so having a woman as Master is very significant."
Despite this, she acknowledged that this is merely "a step" in the right direction; the college and university can "always do better".
Julian Sutcliffe, LGBT+ Officer for Peterhouse, also described the appointment as hugely positive, calling it "an historic moment for the college that will hopefully mark a change from Peterhouse's reputation as the most conservative college".
The outgoing Women's Officer, Ellie Myerson, shared this optimism, commenting: "I was warned against applying to Peterhouse by a teacher who suggested it might not be the best place to study as a woman, but I've had a really positive experience."
"[The appointment] really marks a big shift for Peterhouse and shows how far the college has come and what changes it is intending to make in the future. Apart from anything else, we're certain to get at least one portrait of a named woman now!"
"This appointment makes me proud to go to Peterhouse", she added.
Peterhouse's outgoing Master, Professor Dixon, said: "Peterhouse has enjoyed great benefit by electing masters from a wide range of backgrounds: these include the church, the armed forces, the diplomatic services as well as academia."
"Bridget will bring to the college her exceptional skills in communication and knowledge of international affairs. She also provides an outstanding role model for students and young academics alike."
He said that he "look[ed] forward" to working with her over the summer.