Chamali Fernando sues Julian Huppert
EXCLUSIVE: Conservative candidate for Cambridge takes legal action over Liberal Democrat incumbent's characterisation of her comments in the wristband controversy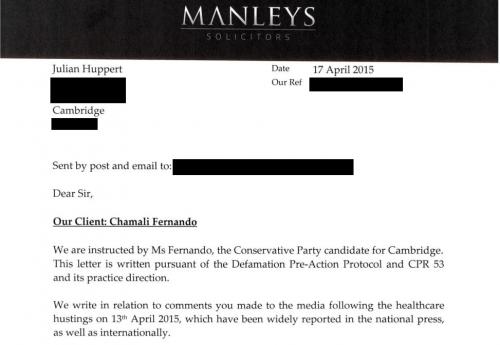 Chamali Fernando, Conservative parliamentary candidate for Cambridge, is taking legal action against incumbent Liberal Democrat Julian Huppert over comments he made around the mental health wristband controversy, Varsity can reveal.
In an extraordinary twist to the scandal, documents passed to Varsity indicate that Ms Fernando, a former barrister and licenced attorney in the State of New York, has served papers in preliminary defamation proceedings against Dr Huppert.
The proceedings are in response to Huppert's characterisation of her comments at the NHS hustings on Monday 13th April in comments made to Cambridge News.
In his comments to the media, Dr Huppert said that he was "shocked at the suggestion that people with mental health problems should be expected to wear wristbands to identify themselves", and on Twitter backed up a comment to that effect made by Richard Taylor, the political blogger at the centre of the controversy.
Some time later, Huppert said that he did not "recall the exact words" and that Fernando had not stated that such a bracelet or wristband would, in her proposal, be compulsory. Since the event, a recording of the hustings was transcribed by Cambridge News and shows that Fernando did not say that mentally ill people "ought" or "should" wear wristbands.
Since the events, Ms Fernando has reportedly received death threats, including violent threats left on her voicemail; she has since deactivated her Twitter account. She was also condemned by the Cambridge University Conservative Association (CUCA) over the comments.
According to the documents obtained by Varsity, Huppert apologised to Ms Fernando privately, but refused to repeat the apology in public, claiming they were "fair comment" (a defunct defence to defamation, now replaced by the defence of 'honest opinion') in a private meeting with Fernando.
A recording of the hustings obtained by Varsity appears to show that while Fernando mentioned the importance of "issues surrounding early diagnosis" earlier in her answer to the question, this was not in connection to her later mention of wristbands.
A spokesperson for Fernando's campaign told Varsity that reports which state otherwise could give the mistaken impression that she was promoting marking out the mentally ill from the earliest possible stage and 'branding' sufferers of mental illness.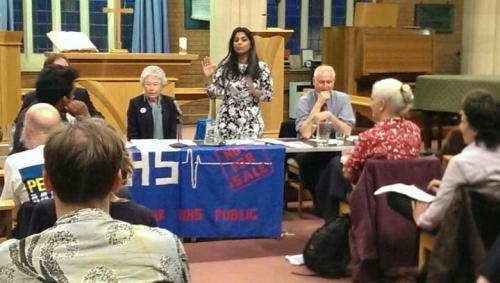 The letter from Ms Fernando's solicitors, Manleys, reads: "Given [his] refusal to make a public apology, our client [Fernando] has no option but to instruct our firm to pursue legal proceedings against [Huppert]."
The claim demands legal costs and a public apology by 4pm on Tuesday 21st April, or else defamation proceedings will be commenced, seeking "substantial damages". The timing is critical, as postal voting opens on 22nd April and polling day for the general election is 7th May.
A spokesperson for Chamali Fernando confirmed further to Varsity that she is not ruling out seeking to prosecute under sections 106 and 169 of the Representation of the People Act 1983. The Act makes it a criminal offence after the dissolution of Parliament to make or publish a false statement of fact about the personal character or conduct of an election candidate for the purpose of affecting how many votes the candidate will get. It carries a maximum penalty of a £5,000 fine as well as voiding the election.
The Act was last used to void the result of the 2010 election in Oldham East and Saddleworth, where the Labour MP Phil Woolas, former Minister for Borders and Immigration, was found to have made deliberate false statements that his Liberal Democrat opponent Elwyn Watkins had taken unlawful foreign donations and was linked to Islamic extremists.
The five party candidates in Cambridge signed up to abide by a "clean campaign pledge" before the Cambridge Union hustings on 6th March, including commitments "to state the facts concerning other candidates, but to refrain from personal abuse" and "[a]bove all, never to deliberately mislead the public in any of our statements or actions". A video seen by Varsity indicates that Chamali Fernando signed the pledge while stating to the other candidates that they had already broken it.
A spokesperson for Chamali Fernando told Varsity: "This episode shows that the very essence of the clean pledge campaign in Cambridge has not been honoured at the expense of democracy and standards in public life."
Speaking to Varsity, Richard Taylor – who is not being sued by Ms Fernando – said: "I'm confident that my tweets are not libellous. I've heard Chamali Fernando discussing my reporting on the radio and she appears to believe I reported she was proposing compulsory wristbands for mentally ill people. She didn't suggest that, and I did not report that she did.
"I don't think any claim Chamali Fernando thinks she has will be sustained past a meeting with a specialist defamation lawyer, and if a claim does get before a judge, I think an application to dismiss it would be swiftly accepted."
In a statement to Varsity, Julian Huppert said: "I have received a letter from Chamali Fernando's solicitor threatening legal action. I have instructed a solicitor and I am taking legal advice on this matter."