Animal activists condemn research site
Campaigners outraged by new AstraZeneca site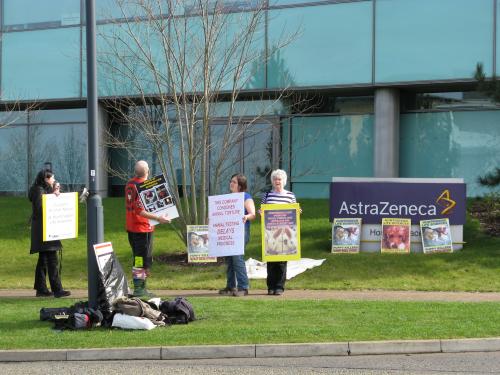 Animal rights activists have raised objections to the planned construction of an animal testing laboratory in Cambridge by the pharmaceutical company AstraZeneca.
The company, currently based in London and formed from a British-Swedish merger in 1999, has applied to include an animal research lab in the expansion of the Biomedical Campus, but the proposal has proved unpopular with the newly formed group Cambridge Against AstraZeneca Planning (CAP), as well as other environmental and animal rights movements.
The Cambridge AstraZeneca site, should it go ahead, would become the corporation's headquarters and would be the site for a significant amount of animal testing.
The company claims to use non-animal methods wherever possible, but currently experiments on over a quarter of a million animals each year. The site would be the second animal testing lab in the county, with Huntingdon Life Sciences already established in Cambridgeshire.
AstraZeneca's building is set to have a purpose-designed rodent facility, which would support the company's early-stage cancer research.
On their website the corporation describe animal studies as "a vital part of the research process, required by regulators before they approve a new medicine to be tested on humans during clinical trials".
Rachel Mathai, spokeswoman for the CAP campaign, explained the group's reasons for opposing the proposal, saying: "AstraZeneca's cruel, unnecessary experiments should be a thing of the past. Cambridge doesn't need yet another animal testing lab.
"We do understand that AstraZeneca is big but we hope people will see that they have the legal right to challenge injustice."
Chloe Hutchings-Hay, a second- year Psychological and Behavioural Sciences student at Gonville and Caius, said of the proposed development: "AstraZeneca should continue looking into alternatives and, when it is absolutely necessary to test on animals, minimize the harm caused to them.
"Nonetheless it seems that rodent testing at present seems to be integral in the development of safe and effective medicines."
A spokesperson for the University of Cambridge said that they could not speak for AstraZeneca, but noted: "Good science and good animal welfare go hand in hand.
"The UK has the most rigorous animal welfare regulations in the world, and Cambridge has always adhered to these regulations and will continue to work to the highest possible standards of animal care."
Should the AstraZeneca development go ahead it would finish in 2016, and employ 2000 people. The company has moved around 400 staff to the Cambridge site, working in temporary laboratories until the completion of the new facility.