Activists offer money to students who report animal testing
Anti-animal testing campaigners have begun a "cash for info" scheme in Cambridge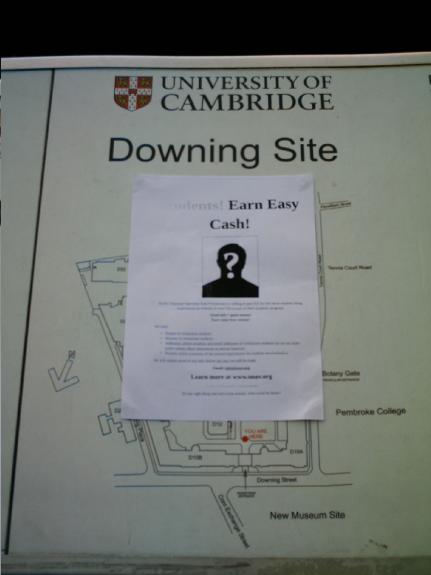 Cambridge students are being encouraged to report colleagues involved in animal research in return for money.
The recently formed animal rights network National Operation Anti-Vivisection (NOAV) have launched a new "cash for info" campaign, aimed at students with knowledge of animal experiments conducted within Cambridge.
Posters around the city advertise cash rewards for students if they "shop" colleagues who conduct research and experiments on animals in Cambridge. Reportedly other university towns across the UK are also being targeted in the same campaign.
NOAV aims to end animal experimentation entirely, as a spokesperson for the organization described it as "cruel and outdated".
The spokesperson, William Evans, said that "It is high time that universities move into the 21st century and start promoting human relevant research, such as computer modelling and micro-dosing".
There are some concerns that the posters offer money in return for personal information, such as the  names, pictures, addresses, phone numbers and email addresses of vivisection students, whilst encouraging students to "earn some beer money".
NOAV, however, claim that this is so that the organisation can "contact students conducting experiments and explain the reasons (scientific and ethical) for using human relevant methods rather than animal testing."
Evans emphasised that the campaign is intended to be "non – threatening, peaceful and legal … we will not be disclosing any personal addresses or phone numbers that we receive, as our approach is based on social as opposed to physical pressure."
He did not rule out, however, the "naming and shaming" of students and academics who continued to participate in animal experimentation, with the hope that "other students and members of the community can put social pressure on them."
An advocacy group for the "importance" of research conducted with animal testing, Speaking of Research, has condemned NOAV's incentive scheme as "targeting students".
Tom Holder, the Oxford graduate who founded the organisation, has warned that the hostile environment from activists may force young science students out of a career in the sciences.
"Stalking and harassing students is not a legitimate way of running a campaign," he said, "It is these sorts of actions which can force brilliant minds out of the life sciences out of fear."