Even more you may have missed…News and Science
With summer holidays within touching distance, enjoy a bumper round-up of bizarre and interesting news and science you may have missed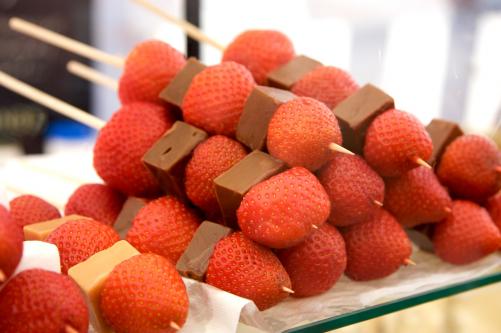 A jump start needed?
Mechanics working on a car brought in to Elms BMW and Mini to the west of the city were startled to find a rabbit living inside. Having nibbled through several cables, the rabbit seemed to have caused steering problems for the car but was released by staff into woodlands near the garage. It was reportedly "very 'hoppy'" to be free again.
Duck and dive
With May Bumps on the horizon, an animal rights activist has threatened to do a Trenton Oldfield and dive in front of Cambridge rowers - not to fight elitism, but to protect baby ducklings. Lee Culley, 45, is a member of Animal Rights Cambridge, which is one of the UK's most active animal rights groups. He argues that the high speeds of rowing crews means that the ducklings do not have time to get out of the way, and they are often mowed down. Bill Key, president of Cambridgeshire Rowing Association, has defended boaties, claiming that it is "unreasonable" for crews to go at less than race pace for a large part of the rowing season.
He should know better...
A Cambridge software engineer and budding author has fallen foul of the curse of 'not-backing-up' after his 10-year-old daughter deleted his novel whilst saving her homework on the computer. We all know that feeling.
Going up the country
The country is the place to be, as police helicopters have twice this month been called to illegal raves in farm buildings in the countryside surrounding Cambridge. The helicopter was called to a farm in Balsham (turn left before you reach Homerton and keep going) on the 18th, and then to Dry Drayton (past Girton, then turn left) on 23rd May. Tickets available at the gate.
That damn pheasant
A so-called 'terrorist pheasant' which used to chase anything it saw has been appeased after falling in love. The pheasant, who lives on a farm near St. Neots, has stopped attacking locals since he has found a new partner. Hen-pecked perhaps?
(Hair)do or die
Cyclists need no longer worry about ruining their hair with helmets, as Henry Marsh, a leading neuroscientist from St George's Hospital, London, has claimed that most helmets are "too flimsy" to be worth wearing. He explained that "I ride a bike and I never wear a helmet. In the countries where bike helmets are compulsory there has been no reduction in bike injuries whatsoever." He also pointed to research by Dr Ian Walker from 2006 which noted that drivers are more likely to drive recklessly around a cyclist if they can see that they are wearing a helmet. The Department of Transport guidelines and cycling safety campaigners have maintained that helmets can save cyclists' lives.
Exam sleep-over
An email was sent around graduate students at Clare this week after it was found that an undergraduate had been taken ill and was unable to take her exam - meaning that a volunteer was needed to keep her in isolation until she could take the exam the following day. A graduate student was paid £100 for sleeping on the floor of the student's room that night.
And the Worst Decision of the Week Award goes to...
...an Anglia Ruskin student who, despite being disqualified from driving, stole his father's car, crashed it, caused £2,500 of damage, rang the insurers and impersonated his father. He now faces 150 hours of community service, a £3,000 fine, £2,540 of compensation payments, and a £510 legal bill. Congratulations.
Shakespeare was wrong
Richard III's famous spinal condition, which was thought to have given him a hunch-back and a limp, has been debunked by 3D scanning. Research led by the University of Leicester concluded that other than making Richard shorter than average, the well-balanced nature of the spinal curvature would have had little visible effect. Study co-author, Dr Piers Mitchell from Cambridge's Department of Biological Anthropology, explained that "a good tailor to adjust his clothing and custom-made armour could have minimised the visual impact" of any physical deformity.