Dawkins v Williams: the Union debate
Renowned atheist Dawkins loses out to the new Master of Magdalene in the Cambridge Union's debate on religion in the twenty-first century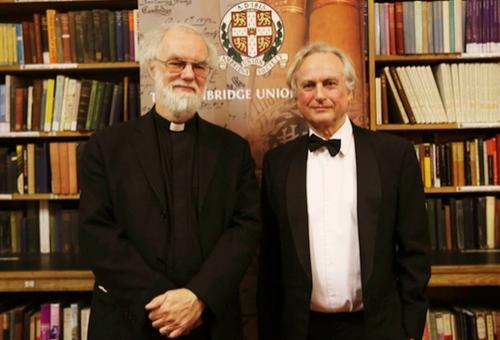 "Richard Dawwwkins!", came the cry of a student as the six speakers entered the chamber last night. The eager greeting was emblematic of the excitement which surrounded the Cambridge Union's debate last night. The prospect of a clash between celebrated thinkers Richard Dawkins and new Master of Magdalene Rowan Williams on the motion 'this house believes religion has no place in the 21st century' culminated in this term's most popular debate. 
A thousand students were watching, the Union's President-elect told the crowd, many unable to get a place in the chamber but following the debate in rooms around the building. Hundreds more had been turned away, with lines stretching into the streets since late afternoon.
As they rose to speak, the outgoing Archbishop of Canterbury and his opponent, the prominent critic of religion and biologist, both drew rapturous applause from the audience, watched by BBC cameras and journalists from national newspapers.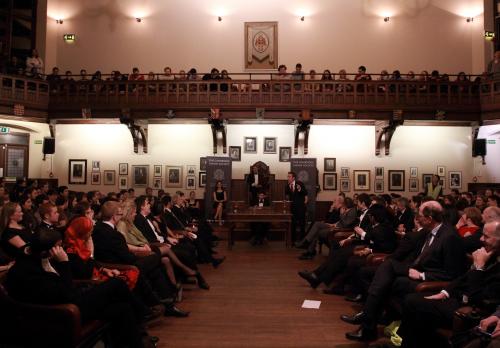 "I have to declare something of an interest here", Williams began, alluding to his long career in the Church of England, before setting forth his argument for religion's continuing role in the 21st century. "Religion has always been a matter of community building," he said, "a matter of building precisely those relations of compassion, fellow feeling and, I dare to use the word, inclusion, which would otherwise be absent from our societies."
Williams challenged another speaker in the all-male debate, Andrew Copson of the British Humanist Association, over his claim that human "morality has its foundation in our biology" rather than religious doctrine. Williams told the audience that without religion there was no "self-evident" reason to believe in universal human dignity. "The very concept of human rights", he claimed, "has very profound religious roots", with most religions demanding "a passionate, metaphysical commitment to human equality". 
Drawing on the example of former child soldiers he had met in the Congo, the former archbishop argued that religion is "that particular passion to attention for those who are otherwise ignored", and said the young people there told him that without the church "we would not be here". A student in the audience countered that he found "it incredible that someone could go to Congo and find" religion to have been a positive influence, saying that priests had been implicated in genocide and kidnap, and called Williams's claim "an extraordinary feat of mental gymnastics".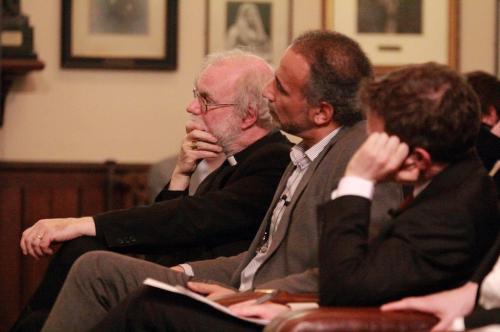 Responding to Williams, Dawkins said that as a young man he had believed in a God, but, quoting St Paul's letter to the Corinthians, he said that as a child he "understood as a child, I thought as a child: but when I became a man, I put away childish things".
Dawkins was at his most zealous when he told students that Christianity was in reality "obsessed with sin. Sin, sin, sin, sin, sin ... not a very humane or moral doctrine". The famous Oxford professor told students that he would almost like to still believe in a "God the physicist", a "master architect" of the universe in its intricate complexity, but claimed that religion today was "redundant and irrelevant".
Dawkins admitted he was speaking as a scientist and he particularly targeted his ire at how religion fosters the idea that we should be satisfied with simple answers to complex questions. A supernatural explanation, relying on the idea of what he called, to laughter, the idea of "an immortal knob-twiddler" is a "cop-out; a betrayal of the intellect", Dawkins told the audience. Religion is an "active and pernicious charlatan", he said, which obscures "scientific truth".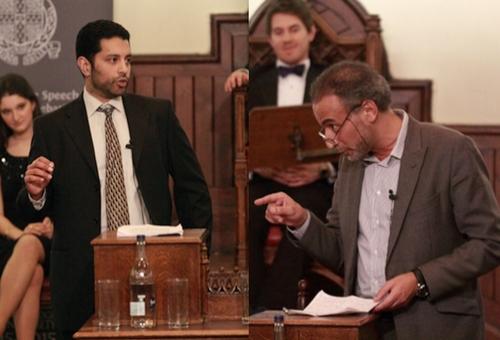 The wry and jovial nature of Williams's and Dawkins's speeches, two men who did battle last year at Oxford's Sheldonian Theatre, was pierced by Tariq Ramadan, the Swiss-born professor of Islamic Studies at Oxford, who branded Dawkins's claims "ridiculous". Ramadan said that Dawkins's scientific ideas proved not to be "very scientific", arguing his position was in fact driven by faith and a passion of a different kind. 
Rounding on Copson's claims that religion produced "pernicious intellectual effects" and was the "antithesis" of what he called today's "democratic", "free-thinking" spirit, Ramadan accused Copson of peddling a "dangerously dogmatic" way of thinking which itself stifled debate. When an audience member shouted that they were "really happy about being dogmatic about women's rights", Ramadan insisted that he was arguing for the importance of religion in "deep discussions" on morality and dignity, claiming that the proposition were guilty of having a "superiority complex" and an "arrogant attitude" to those with religious beliefs. "Why do you want to demonise me? Don't do that!", said Ramadan to applause.
Cambridge University's own Arif Ahmed, senior lecturer in the Faculty of Philosophy and director of studies at Girton College, focused his criticism at Islam, arguing that there is a "real threat of violence against those who oppose it". He rejected the idea that religions cause their followers to "show more compassion" than anyone else, and argued that religion was an enemy of a free society. Ahmed made reference to the apology issued by Clare College in 2005 after a student there republished the controversial Dutch cartoons representing Muhammed, which he called "spineless", to illustrate his point that religion has a dangerous effect upon freedom of speech.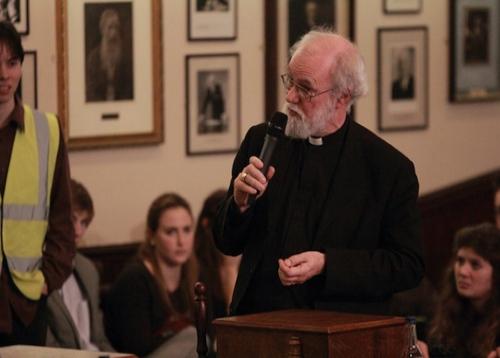 As Ahmed recited figures on Anglicanism's decline Rowan Williams grew restless, causing Ahmed to ask the master of Magdalene pointedly: "Do you want a point of information?" The room broke out in laughter as Williams responded by motioning for Ahmed to 'bring it on'.
The Spectator columnist Douglas Murray, arguing for the relevance of religion in the 21st century despite the "awkward position" of being an atheist, finished the debate by declaring that "no rational person could agree with this motion". Religion, alongside humanism and secularism, has "a contribution to make", Murray argued, telling students that without religion you may end up "with something like a perpetual version of The Only Way is Essex". 
Priyanka Kulkarni, Pembroke first year, said: "Tonight's debate was highly anticipated, the queue spanning for what seemed to be miles was an indicator that this was going to be a highlight of the union this term."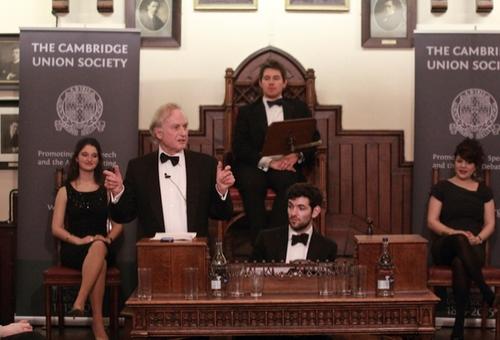 "Despite sympathising with many of the proposition's arguments, fundamentally the motion was too extreme. Whilst both Richard Dawkins and Rowan Williams provided an interesting clash of opinions, it was Douglas Murray in opposition who won the debate for me with his thoroughly convincing argument from the perspective of an atheist. A combination of great speakers, an engaging topic of discussion and a responsive audience made for a memorable debate."
Both Williams and Dawkins were met with applause as they left the chamber and students filed out through the doors of the Union, casting their votes. In the end however, the noes had it; by 324 to 138 votes, Rowan Williams and his team were victorious.