Actor Brian Blessed becomes third potential contender for Chancellorship
Facebook campaign set up by Cambridge alumni claims to have the necessary 50-member backing to make Blessed a Chancellorship candidate
After the announcement that Lord Sainsbury was facing competition for the role of Chancellor of the University, three Cambridge alumni have added a third potential contender - 'national treasure' Brian Blessed.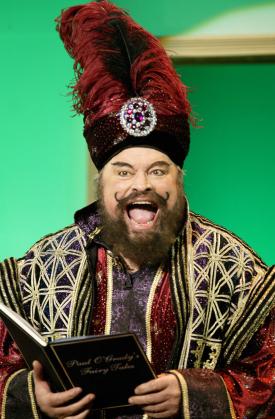 Lord Sainsbury, former chairman of the supermarket giant, and Abdul Arain, owner of Mill Road's Al-Amin store, had already applied for the position but it was not expected that the field of candidates for this rare vacancy would grow any further.
In response to this, a campaign has been launched by Seth Thévoz, James Ross and Stuart Moore, all Cambridge alumni, who hope to secure the booming-voiced actor the top position.
The group claims to have pledges for the 50 nominations Blessed needs, which is impressive despite only having 137 supporters for the Facebook campaign since its creation on Friday.
Speaking exclusively to Varsity, Thévoz justified their choice of candidate as a "wonderful unifying figure."
Thévoz explained that their decision was based on the principle that an "interesting and quirky" figure should represent the University.
Supporters of the Facebook campaign are told to "Picture Brian loudly reciting the Latin at graduation ceremonies and you have some idea of what a legend Brian would be."
But it seems that the celebrity choice is less of an underdog than it might first be assumed.
Although Lord Sainsbury has been named as the Nomination Board's choice, every graduate with a higher degree – including the honorary MA belatedly awarded to Cantabs – have the right to vote on the Chancellorship.
However the trio are still calling for more nominations from Senate House members, reasoning that, "We need a minimum of 50, and it would be a crime if he didn't quite qualify because one or two got lost in the post…"
Josie Parkinson, linguistic student at Gonville and Caius College, summed up the student reaction to the potential candidate for the ceremonial position: "I think that's the best thing ever. We haven't had enough bearded Chancellors with booming voices."
However, Blessed has still not given his confirmation about whether or not he will accept the candidacy.  The campaigners expect to hear from him "at least a week before final deadline" as he is thought to be on an adventure at the moment.
Thévoz, Ross and Moore told Varsity that the message the Chancellorship decision sends out to prospective students is more important than ever now that the University is focusing on broadening access in light of tuition fee rises.
The candidacy has been well received by alumni and students alike. Rupert Myers said "I have added my name to the list of nominators, not because I prefer Brian Blessed over Lord Sainsbury, but because I'd like a choice".
Continuing in this vein, Thévoz is eager to stress they are "not launching anti-Lord Sainsbury campaign. But I'd like to hear what Prince Philip would say about the nominations!"
Update: Blessed has since accepted the nomination.