Peter Hutchinson remains MML Emeritus Reader despite sexual harassment claims
The University removed Hutchinson's page from the MML website after being contacted by Varsity, however Hutchinson still retains his Emeritus Reader title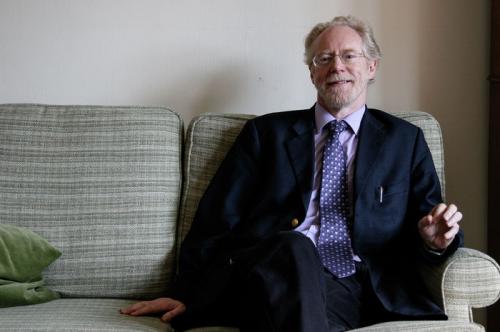 Content Note: this article contains discussion of sexual harassment
Dr Peter Hutchinson, a former Fellow of Trinity Hall, remains an Emeritus Reader of Modern German Studies despite widely publicised allegations of sexual harassment made against him.
Hutchinson, who was part of the MML Faculty from 1974 and was a Reader from 2002 to 2011, was conferred this title automatically when he reached retirement age in the 2011-12 academic year, as is stipulated by the University statutes.
Until Thursday morning, after being contacted by Varsity, Hutchinson was listed on the MML Faculty website as an Emeritus Reader. Hutchinson said he was "very disappointed" that the University had removed him from the site and questioned the legitimacy of this action.
A spokesperson for the University did not comment on the removal of Hutchinson from the site but said that "Dr Hutchinson is no longer a member of the Faculty and plays no role within it."
The title of Emeritus Reader is a symbolic one "without statutory duties or powers". However, MML students and alumni have called for the Faculty to review the decision in light of the sexual harassment accusations against Hutchinson.
When questioned on the message this sent to students, a spokesperson for the University said: "The Faculty and University take all issues related to sexual misconduct and harassment extremely seriously."
In 2015, Hutchinson stopped teaching at Trinity Hall following ten complaints from students accusing him of sexual harassment in relation to "inappropriate sexual and sexist comments".
According to the BBC, one complainant alleged that Hutchinson asked if they "ever had any love bites?" during a seminar and, while discussing a dominatrix in a book, asked a female student: "Does that turn you on?"
Hutchinson rejects the allegations of harassment and said comments he made were rhetorical questions asked "mainly during supervisions when we were discussing texts with a difficult sexual content."
He says he "regularly used humour to lighten the situation" and used the questions to encourage students to "assess their personal response to the work... in order to assess how successful the author has been".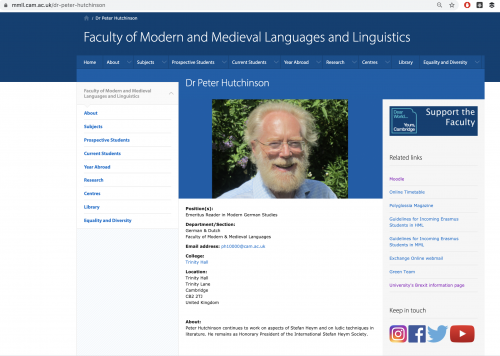 Varsity understands that around 13 days after the Master of Trinity Hall met Hutchinson to discuss these allegations a decision was made by the Business Committee of the University Council, the University's top decision making body, to change the statutes in relation to Emeritus Professors and Readers.
This decision, which was recorded in the Reporter, amended the statutes to make clear that Emeritus Professors and Readers are "without statutory duties or powers" and the title "is retained on an honorary basis, rather than a new title granted.
"
The University did not respond to a request for comment on whether the decision was made in relation to the complaints about Dr Huchinson, who at that time was a Emeritus Reader.
It also recently emerged in an investigation by Tortoise Media that Hutchinson wrote an erotic novel about students in the same year, set at a ficticious Oxford college and following a first year student named "Peter".
Hutchinson argues the book should not be taken too seriously and speaking to Tortoise said, "Does the novel speak to a particular view of undergraduate women which is troubling in a teacher? I suppose that some might say so, but this is fiction, not life… an author very rarely thinks the same way as his main character."
Previously, in 2005, Hutchinson faced trial after a former student accused him of sexual assault. After an initial mistrial, he was acquitted of all charges, an event which was marked by a party at Trinity Hall.
Ellie Pyemont, who made this complaint, said it was "disappointing to see that the MML faculty have not reviewed Peter Hutchinson's Emeritus Reader status" and that it was "at odds with #BreakingtheSilence on sexual misconduct."
"He's notched up a charge and ultimate acquittal for sexual assault, ten student complaints of sexual harassment, and self-published an erotic novel featuring undergraduates – what else do they need?"
Hutchinson confirmed to Varsity that he still holds the position of Emeritus Reader and said he saw "no valid reason to resign this title."
"I resigned from Trinity Hall partly for reasons of health, partly to save the College from a difficult situation. In the light of recent events, that resignation achieved very little", he explained, referencing his resignation as Emeritus Fellow in November and the recent fallout at Trinity Hall following the Tortoise investigation.
He also said he had not been on Sidgwick Site in several years and while he believed his Emeritus Readership gave him the right to access the MML Faculty and Library, he has "never exercised this right and [is] unlikely to do so."
"There are no specific benefits conveyed by the title. I have been to the occasional Christmas dinner organised by the Department of German (for which I had to pay, of course), but I was not invited last year."
However, there have been calls for the MML faculty to remove Hutchinson's title.
Tiffany Page, Cambridge Sociology lecturer and co-founder of the 1752 Group, which lobbies to end sexual misconduct at universities, called on the the MML faculty "to address why Dr Hutchinson remains an Emeritus Reader, and his affiliation to the faculty."
"Either giving an individual emeritus status or allowing them to remain affiliated to a department sends a clear message to students, both current and future, and staff that his behaviour is acceptable, or, equally as problematic, that MML has not even considered its impact."
Emma Hart, who graduated from Trinity Hall in 1999, also called on the Faculty to take action: "I hope this decision is now subject to scrutiny and potential review."
If you are affected by any of the issues raised in this article, the following organisations provide support and resources: