Emmanuel June Event to offer discounted tickets to bursary students
The scheme will automatically offer discounted Emmanuel students on bursary a ticket which is one-third cheaper than the standard price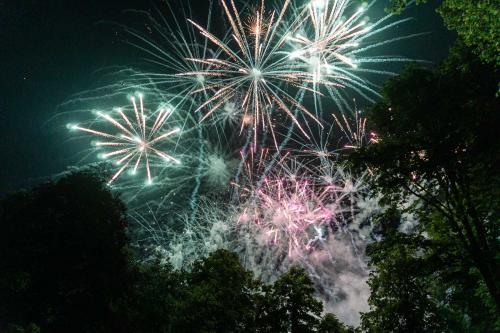 Emmanuel College announced this week it will offer discounted June Event tickets this year to Emmanuel students who are eligible for a full bursary.
The new scheme is set to reduce the ticket price by 33% - from £90 to £60 - and will be automatically applied to eligible students upon their purchase.
This follows the progressive May Ball pricing policy pioneered by Hughes Hall and Wolfson College in 2018. Last year, Jesus, Pembroke, Downing, and Homerton took similar measures to subsidise bursary students to improve May Ball accessibility.
The President of Emmanuel June Event 2020, Matilda Schwefel, told Varsity the initiative had been implemented to give every Emmanuel student, regardless of financial status, the opportunity to attend the college's May Week event.
She added that alongside the bursary discount, the 2020 Committee have introduced a living wage for workers at the June Event and dedicated "sustainability" officer positions on the committee, aiming to hold "as accessible and ethical a May Week event as possible to mark the new decade."
Cara Malcolm, Emmanuel College Student Union's Access Officer, was elected last term on a platform of addressing this issue, and has worked closely with the June Event committee to implement it.
"May Week is often portrayed as an essential part of the Cambridge student experience - this risks alienating students who can't afford to spend that much money on a single night," she said.
"We're really passionate about making our college as inclusive as possible, and I'm really pleased with this big step towards making Emma's June Event more accessible to students at our college."
May Balls and June Events have been criticised for encouraging elitism and excluding students who cannot afford their prohibitive price.
While most May Balls charge between £80 and £150 per head, some cost more than £200 a ticket. The upcoming St. John's May Ball is currently selling tickets at the base price of £430 per pair.
Emmanuel's initiative is also a step towards CUSU's vision of a more accessible university, as seen in the Union's 'Motion of 2018'. It called for subsidised tickets for students in receipt of a full Cambridge bursary, for events such as May Balls, and for annual society dinners.
"I think this is a great initiative and I'm very grateful for the June Event committee's work in getting this implemented," an Emmanuel finalist who did not want to be named told Varsity, who is eligible for the discount.
"This move will not only make May Week more financially accessible for students like me, but also sends a message that the Emma community is accepting to those from low-income backgrounds."
The scheme, which will be funded by money raised from ticket sales, will not threaten the privacy of eligible Emmanuel students, as individuals' bursary statuses will not be disclosed to the June Event committee.
The committee is also looking into improving this discount and extending it to bursary students who do not currently receive a full bursary for next year's May Ball in 2021.