'Global talent visa' sparks uproar given Newnham academic's visa refusal
Dr Asiya Islam's application for indefinite leave to remain in the UK was refused in November, despite Islam having lived in the UK for 10 years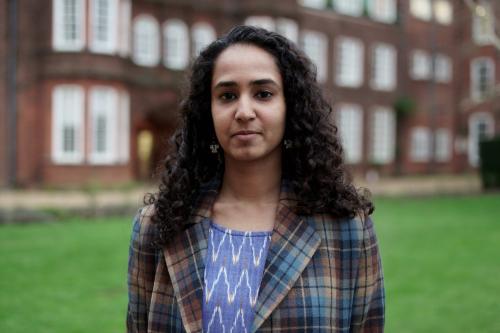 The government has announced it will launch a new visa to attract "global talent", contradicting the Home Office's refusal to grant Dr Asiya Islam, a Newnham academic, indefinite right to remain in the UK. 
The government's "global talent visa" will be introduced on the 20th of February to encourage scientists, mathematicians and researchers to come to a post-Brexit UK. Similar visas exist already, but numbers are capped at around 2000, whereas the new visa has no limit on the number of people accepted. 
The new visa has drawn criticism due to the refusal to grant the "unequivocally superb" Islam residency, despite Prime Minister Boris Johnson's recent claims "the UK is open to the most talented minds in the world".
Islam's visa expired on the 30th of January. Thereafter, she would have been classed as an 'over-stayer', leaving her unable to work or rent a home. Cambridge advised Islam to protect herself from this precarious status by seeking a temporary tier 2 visa to last her until the end of her three-year fellowship. 
While the temporary visa has been granted to Islam, the nature of the tier 2 temporary visa means Islam will not be entitled to reapply for permanent right to remain in the UK. 
Islam made her first appeal to the Home Office in November 2019 and last month handed in a petition with 2000 signatures with Cambridge MP Daniel Zeichner to the Home Office, demanding her indefinite right to remain. 
Islam expressed her deep frustration about the inability to pursue her residency appeal.
"I now have no right to challenge what has happened. It didn't really feel like a choice. How am I supposed to carry on if I am homeless and jobless?" 
Dr Islam, a Gates Scholar recently awarded the Joyce Lambert research fellowship, has lived in the UK for a decade. Her application for settlement was denied in November because due to her "excessive absence[s]", violating the conditions of her visa. 
Islam only left the country in order to complete research in India for her PhD, which has been explicitly supported by the University. 
Senior academics have warned the government's aggressive pursuit of immigration rules will deter talented international researchers from working in the UK. 
Head of the Cambridge Sociology Department Professor Sarah Franklin, has said this may foster a "febrile, irrational, volatile context" for them.
She stresses this undermines Johnson's own promise to put "people before passports", enabling the UK "to attract the best talent from around the world, wherever they may be". 
"What hope is there for bright young global talent if they are treated like this?" said Professor Beverley Skeggs, from the sociology department at Lancaster University.
"And if this is happening at Cambridge, one of our most elite universities, what on earth is happening elsewhere?"
The Home Office said it is unable to comment on individual cases.