Hugh Laurie installed as honorary fellow of Selwyn
Selwyn first announced plans to appoint Laurie as an honorary fellow in 2012, but have only recently been able to arrange the ceremony to formally install him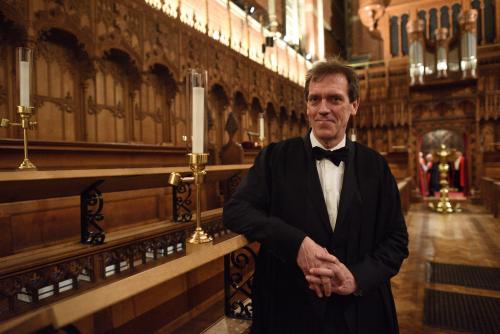 Hugh Laurie was formally installed as an honorary fellow of Selwyn College in a ceremony hosted in the College Chapel on Friday evening. 
"The honour recognises his extraordinary achievements as an actor, writer and musician", said a statement published by Selwyn College. A Selwyn alumnus himself, Laurie played the title-character in the medical drama House, and has starred in numerous other films and television series, winning three Golden Globe Awards and two Screen Actors Guild Awards, as well as being nominated for 10 Primetime Emmy Awards.
Following his installation, Laurie said: "There are very few things as solidly fixed in my life as Selwyn – emotionally, artistically, architecturally and academically. It's remarkable to return, and I am truly honoured to be an honorary fellow."
Selwyn first announced plans to appoint alumnus Laurie as an honorary fellow in 2012. 
Selwyn's then-Master, Professor Richard Bowring, told Varsity: "We know that he does not come to the UK much and that although he has a house in London he visits Cambridge only very rarely.
"We have no idea when he might have the time to come to Selwyn and celebrate the occasion."
Although Laurie has visited Selwyn a couple times since, including in 2017 when he took part in a Q&A session with Selwyn students, this is the first time that the College has been able to arrange the installation ceremony. 
In 2012 Laurie sent Selwyn a hand-written letter expressing gratitude for the honour, and also sent thanks to the Governing Body. Selwyn's Governing Body, comprised of College fellows, was responsible for determining which alumni to celebrate through honorary fellowships.
In his letter, Laurie wrote that he would accept the title with "enormous gratitude". 
Laurie matriculated to Selwyn in 1978, studying Archaeology and Anthropology, and was an avid actor and rower while at University. In 1980–81, Laurie was President of the Cambridge Footlights, with Emma Thompson in the role of vice-president. As a member of the Footlights, Laurie also met his future comedy partner Stephen Fry, with whom he would go on to work on numerous projects, including Blackadder and Jeeves and Wooster.