David Lammy speaks to students as he joins Zeichner on campaign trail
The Tottenham MP visited Christs alongside Cambridge's MP and current Labour candidate ahead of the December election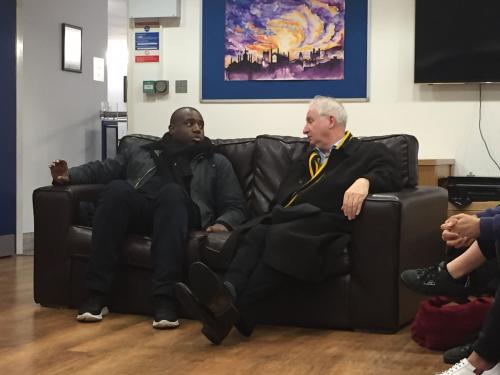 Just two weeks out from the general election, MP David Lammy joined Cambridge's incumbent MP and Labour candidate Daniel Zeichner to speak to students and canvassers at Christ's College on Thursday.
Lammy, a current Labour MP running for re-election in his Tottenham seat, is aligned with Ziechner on many policies. Both were part of the 'Rebel 20', a group of MPs which voted against holding the December 12th election, and both strongly oppose Brexit. Lammy told attendees that he was in Cambridge because he and Zeichner "are very good friends".
The informal meeting, held in Christ's College TV room, began with a short speech from both Zeichner and Lammy. Zeichner described Lammy, who went to school nearby in Peterborough, as "a good friend to Cambridge".
Lammy described the forthcoming election as the "most important General Election of [his] life" and argued that Cambridge, as a Labour seat, provides "powerful resistance to Boris Johnson".
He added that, "if Labour don't retain seats like Cambridge, it's very difficult to continue the resistance" and stated, "I hope that students would realise the need for strong parliamentary numbers".
In response to the question of whether students should vote in Cambridge or their home constituency, Zeichner was cautious: "it's tight in Cambridge- nobody should be under the illusion that it's safe."
Zeichner won with a majority of over 12,000 in the 2017 election, and current polls indicate that Labour will gain 49% of the vote in Cambridge on 12th December. Nonetheless, Zeichner insisted that Cambridge is a "thoughtful seat" in which voters are reflective and often are not committed to one party.