Lib Dem leader Jo Swinson visits Cambridge primary school
Swinson dropped by the school on the back of a party pledge to invest in education and ahead of her party's manifesto launch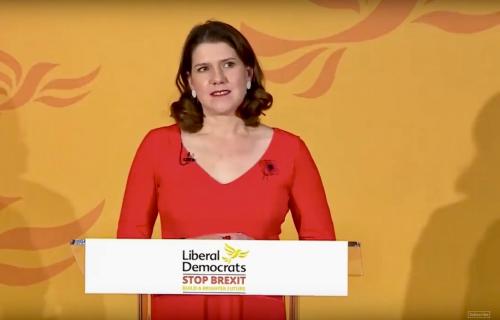 This week, Liberal Democrat leader Jo Swinson visited Trumpington Park Primary School following the party's announcement of plans to spend £10.6 billion more per year on schools and hire 20,000 more teachers over five years.
Swinson spoke to people at Trumpington ahead of the launch of the Lib Dem election manifesto, saying, "This is an investment in our children's future. Our schools should be world class, helping every child make the most of the challenges ahead. But instead, they are trailing behind. The Conservatives have cut school funding to the bone and children have paid the price, especially those with the most complex needs."
"It is disgraceful that some schools feel they have no choice but to ask parents to chip in for supplies, and are closing early on Friday to balance the books."
"Liberal Democrats will build a brighter future for every child. By stopping Brexit, we can spend £10 billion of our Remain Bonus on reversing school cuts and hiring 20,000 more teachers – so that pupils can leave school happy, healthy and with the skills they need to succeed in life. This is just one of the fantastic policies from our manifesto that will help build a brighter future for our country."
Cambridge's Lib Dem candidate Rod Cantrill also commented, saying, "Cambridgeshire local children are at the bottom of the pile in the already-low national per pupil funding."
"It's desperately important that this is addressed. The Lib Dems want an emergency cash injection of £4.6 billion next year to reverse school cutbacks, rising to £10 billion by the end of the next Parliament which will see 20,000 more teachers appointed. This is a priority for me as Cambridge's MP."
Reporter Alistair Ryder who was at the school in Trumpington told Cambridgeshire Live that, despite a protest at the start, it was very laid back for an election campaign visit.
A protestor filming Swinson arriving at the school, angrily shouted at her: "120,000 needless deaths under austerity, propped up by the Liberal Democrats. 120,000 deaths propped up by the Liberal Democrats!"
"Coalition with the Tories, tuition fees, debt, for hundreds of thousands of students, thanks to your party!"
"Neither Liberal, nor Democratic!"
Daniel Zeichner, Cambridge's Labour MP, who spent the morning with teachers from Long Road and Hills Road said of the visit, "There is a crisis in our classrooms, and that started under the Coalition Government when Jo Swinson and her pals spent five years propping up a Tory-led government that tripled tuition fees, slashed education funding, axed support for the poorest teenagers, cut FE funding year after year, took thousands from teachers' and staff pay, and cut the adult skills budget by a quarter."
"She's never said sorry and frankly I think it's a bit of a cheek now just turning up and using Cambridge kids for a photo opp.​"