Newnham student campaigners drop banners across College on offer holders' day
The campaign said: "Rent is a welfare issue. Rent is an access issue. Rent is a feminist issue"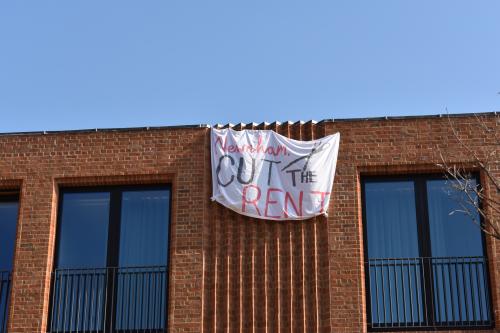 Earlier today, Newnham Cut the Rent, a student group focusing on the issue of rent levels at Newnham College, organised two banner drops across the college to coincide with the Offer Holders' open day.
A banner reading 'Newnham Cut the Rent' was dropped facing the inside of the college, while 'Rent is a feminist issue' could be seen on the Sidgwick Avenue side, both from the Dorothy Garrod Building that was opened this academic year. Posters were also put up in Newnham's Iris Café.
This comes as Newnham College has proposed a 2.7% rent increase for current first years and the incoming 2019 intake, despite already having some of the highest rents in Cambridge, according to multiple sources. A Varsity investigation last February found that Newnham had the highest average weekly rents, at £178.48 per week (excluding Murray Edwards and Jesus, for whom data were not available). This represented 21% more than the overall average across the University's 31 colleges.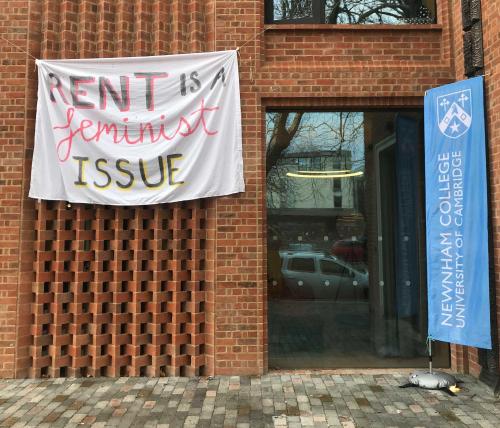 Despite these high costs, the 2018 Cut the Rent survey found that only 15% of respondents believed the quality of Newnham's accommodation to be in line with the price. 77% of student respondents to the survey reported that they were unhappy with the rent they were currently paying, with 36%  identifying the high rents as having a negative impact on their ability to enjoy university.
Newnham Cut the Rent explained their choice of carrying out the action today, saying "the college does not seem to be listening to students, and has recently expressed an intent to raise the rent", despite "multiple displays of our dissatisfaction with rent and the quality of accommodation".
Newnham College did not respond to Varsity's request for comment.
In an open letter, Newnham Cut the Rent demanded that the College abandon the 2.7% rent increase, and freeze rent prices for the next three years. The letter suggests supplementing this freeze through other means, such as reducing the top earner's income and limiting money spent on subsidised dinners, as well as introducing "fairer rent policies" such as means-tested rent bands.
The campaign also addressed its decision to choose the Offer Holders' day for the protest, acknowledging that concerns about the impacts on the perception of access from the protest had been raised by members. The decision was ultimately taken as it was felt that this would have the most impact, especially given that certain rent increases will specifically affect incoming students.