Zero Carbon activists disrupt talk at the Department of Chemistry
The activists gave a speech criticising the oil industry and the effects of climate change on women after a talk given by a Senior Reservoir Polymer Chemist at BP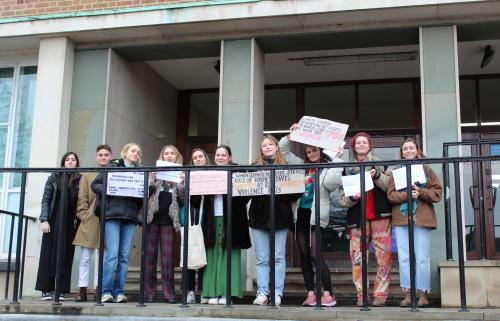 Ten Cambridge Zero Carbon Society activists disrupted a talk on women in chemistry given by a BP chemist at the Department of Chemistry earlier today.
The talk, entitled 'An international career in optimising energy', was delivered by Dr Emma Chapman, Senior Reservoir Polymer Chemist at BP. This was the first talk of the two-part Athena SWAN Presentation. Athena SWAN is a national scheme to support and advance women's careers in STEM subjects.
After Dr Chapman's talk, in which she spoke about the progress of her career in the oil industry and at BP in particular, several Zero Carbon activists stood up with signs and delivered speeches on the impact of climate change on women.
Leaflets handed out by the activists read: 'A CAREER IN OIL IS NOT A CAREER IN SUPPORT OF WOMEN'.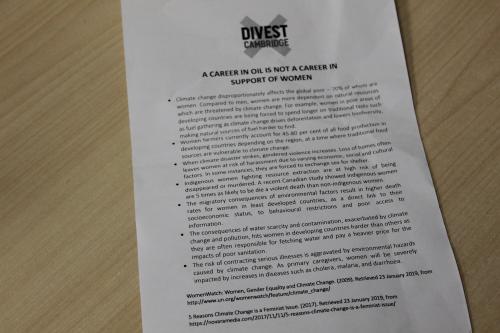 A Zero Carbon representative said: "There are many ways in which climate-disaster capitalism and patriarchy are almost synonymous – from effects on reproductive health and rights, to issues of disproportionate violence towards women (especially those of colour and those from indigenous communities).
"Whilst we recognise the importance of freedom to pursue a career of your own choice, and celebrate the success of women – especially in male-dominated professions – a truly intersectional feminism cannot condone working in careers which ride on the back of marginalised women and non binary people in the global south, and perpetuate their oppression.
"We believe that Cambridge's female and non-binary chemists who recognise this will look elsewhere than fossil fuel industries to put their formidable skills to use."
After the disruption, one of the presentation's organisers told the activists that they were "very welcome to give such a talk" and that "Cambridge believes in the openness of expression and the expression of ideas", but added that "in the future, just let [us] know so you can get your moment" and so "it doesn't cut into our time".
Last term, Zero Carbon also disrupted the Royal Dutch Shell annual lecture held at Emmanuel College.
The second talk of the presentation continued as normal after the Zero Carbon activists left the auditorium.
Varsity have reached out to BP for comment.