Zero Carbon activists disrupt Shell annual lecture
Members of Zero Carbon Society slipped past security personnel to enter the lecture theatre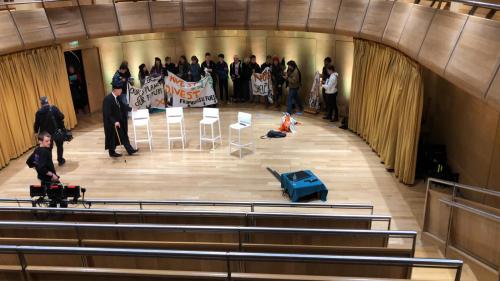 19 members of the Cambridge Zero Carbon Society disrupted the Royal Dutch Shell annual lecture given by Andrew Brown, causing the lecture panel and audience to be relocated to an adjoining venue around 12 minutes into the lecture.
Shortly after the lecture began, Brown – a member of Shell's executive committee – was interrupted by Zero Carbon activists who managed to gain access to the lecture theatre in the Queen's Building at Emmanuel College.
The activists carried banners, chanted and delivered speeches, causing the lecture to be shut down by University staff.
Protestors discussed several climate issues with Brown, including the fact that less than ten percent of Shell's funds are invested in renewables.
A Shell spokesperson told Varsity, "We want to work to help solve the world's energy challenges and that includes working with those who disagree with us.  We will always be open to and indeed welcome honest and constructive discussion and debate."
16 members of Zero Carbon applied for tickets, however only one was successful. It was noted, however, that there were empty seats in the lecture theatre. Varsity has approached Emmanuel College for comment on the disruption.
A spokesperson from Zero Carbon said that they were also protesting "in solidarity with the Ogoni people". The group have previously been in contact with the Movement for the Survival of the Ogoni People, which campaigns against Shell's presence in the Niger Delta and which called on Cambridge to "cut all ties with Shell" in May this year.
Brown's remarks at the Shell annual lecture sparked backlash in December 2017, after he said that he was "fundamentally proud" of the company's Nigerian operations. Last year, human rights group Amnesty International called for a government investigation into the company's role in human rights abuses in Ogoniland in the 1990s, which saw a brutal crackdown by the Nigerian government on protests against oil exploration.
Shell released a statement that they were, and continue to be "strongly opposed to violence" and emphasising that they "did speak out both publicly and privately about human rights issues on a number of occasions" during that time. They cited public statements and calls for justice made by the company during the trial of Ken Saro-Wiwa and eight other Ogonis, the arrest of Battom Mittee, and the 'Twenty Ogoni' issue.
Shell stated in particular that the then Chairman of the Shell Group sent a personal letter to the Nigerian Head of State appealing for clemency on humanitarian grounds, which "went unheard", as claimed in the statement.
Updated, 9th November 2018, 2:17pm: This article was edited to clarify that the annual lecture was disrupted and attendees were moved to a different room, rather than being shut down entirely.