'It'll be death by a thousand cuts': Omarosa Manigault Newman on the Trump administration
Trump's former staffer speaks about why she stayed in the White House, and how Charlottesville still haunts her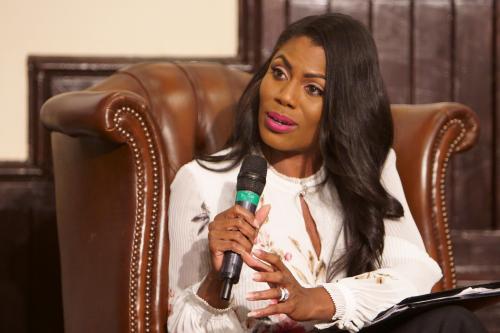 "Isn't it nice to have receipts?"
Omarosa Manigault Newman sent the Trump Administration into a frenzy when she released a tape of her firing by President Trump's Chief of Staff John Kelly in the Situation Room, where "you can only be buzzed in and you can only be buzzed out", earlier this year.
Manigault Newman has continued to tweet about Trump, referring to him as #45. Despite this, she tells the audience to "turn down the outrage." She adds that "he loves that you constantly stay in a state of outrage", as "we go from one crisis to the next". Manigault Newman claims that reduced coverage of his rallies is the "first sign" that "he is slowly removing his grip on our consciousness". She herself has been a victim of Trump's vitriolic, racist Twitter attacks: he called her a "dog" and a "crying lowlife" in August, to wide condemnation
Speaking at the Cambridge Union on Saturday night, Manigault Newman was the latest in a string of high-profile Trump defectors to come to Cambridge – the others including Anthony Scaramucci, former communications director, and Tony Schwartz, Art of the Deal ghostwriter. The Oxford Union's invitation to the far-right Steve Bannon is set to be met by large counter-protests.
A former The Apprentice contestant, Manigault Newman, the lifelong Democrat – who had worked for Clinton and Al Gore in the 1990s and campaigned for Barack Obama in Ohio during his first presidential race – was one of Trump's most outspoken supporters. She worked as the director of African-American outreach for his campaign, and as head of communications for the Office of Public Affairs until December 2017 – when, of course, she was brought in to the Situation Room by Kelly.
Her book, Unhinged, detailing her time with Trump in the White House, was released in August. Some of the more explosive revelations it contained saw her claim a tape exists of Trump using a racial slur on the set of The Apprentice, that his staffers believe the tape is likely to be genuine, and that his daughter-in-law Lara Trump tried to buy her 'silence' for a $15,000 a month role on the Trump 2020 campaign.
"He was an unorthodox candidate that promised to bring his business skills and business acumen into government"
Manigault Newman is a difficult figure to pin down. She tells the chamber that her quest to reveal Trump's true nature, is "because the truth matters". However, she also told Varsity that while he was running for President, she "had high hopes for the Trump administration", as "he was an unorthodox candidate that promised to bring his business skills and business acumen into government".
And in June 2016, she said: "Every critic, every detractor, will have to bow down to President Trump."
"It's everyone who's ever doubted Donald, who ever disagreed, who ever challenged him. It is the ultimate revenge to become the most powerful man in the universe." This was after Trump was already known for his "build a wall" comments – speaking of his equating migrants to criminals, the self-described 'Trumplican' said, "'He's at it again. Donald's being Donald.' And it worked." It is difficult to reconcile the image of Omarosa the whistleblower with one of Omarosa embedded in 'Trumpworld' for 15 years.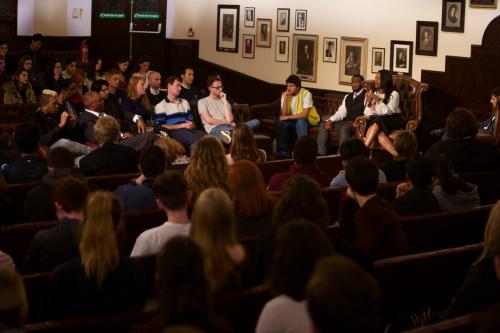 Rising to fame as a 'villain' on the first season of The Apprentice, Manigault Newman cut her media teeth in the same reality TV world as Trump, and ever since news broke of her departure from the administration, she's had the American public hooked with the release of each new tape. In brazenly driving her own media narrative, she has demonstrated that shock works – a tactic straight from Trump's own arsenal.
Trump's incendiary rhetoric and total disregard for facts may have been a fixture on the campaign trail from the beginning. However, even if Manigault Newman's discoveries about Trump's character were only made recently, she makes her case clear as to why she stayed. "If I left, there would be no one like me in the room and I would essentially be handing over my portfolio to Steve Bannon, Steve Miller". Manigault Newman highlights how in the opening days of the administration, she looked at his senior staff and noticed "I was the only African American in the room, one of the few women in the room … and the 30 of us were charged to advise him on running the country".
Manigault Newman told Fox in in 2017 that "the Democrats have taken advantage and taken for granted the African-American vote". She feared that with her departure from the administration, people with "no knowledge of the African American community" would work against their interests. "If you're not at the table, you're on the menu … I didn't want our agenda items to be on the menu."
On August 11th 2017, far-right protestors descended on Charlottesville, Virginia, a liberal college town, with participants bearing swastikas and Confederate flags. The rally was joined by white nationalists, neo-nazis, members of the alt-right, and the Ku Klux Klan – in protest at the proposed removal of a Confederate statue.
Charlottesville, "that moment, that defining moment in the administration haunts me over and over again."
Manigault Newman points to the white nationalist rally in Charlottesville, Virginia last August as a personal turning point. "That moment, that defining moment in the administration haunts me over and over again."
Manigault Newman says that "even though we implored him, we begged him to send in the National Guard … [to combat] white supremacists with tiki torches", Trump instead "decided to play God and do nothing", and then "had a press conference and said there were good people on both sides".
Now, Manigault Newman says she doesn't "believe one thing will take Donald out … I think it will be death by a thousand cuts". She points to how "the story about how he tried to buy off women, and that's all coming to light". David Pecker, the publisher of the National Enquirer, believed to have been witness to Michael Cohen, Trump's former lawyer' brokering 'hush money' payments to two women, was granted immunity in August. "If everyone around you is getting immunity, it's going down, you're going down."
"I think it will be a combination of all of his deception catching up with him."
"Instead of thinking about impeachment, I'm thinking about the 25th amendment", which can be used to declare a sitting president unfit for office. 
A great deal of Unhinged is writtten on the subject of Trump's fitness, or lack thereof, for the role of president. "I've seen a tremendous amount of crazy things in my 20 years in politics … which doesn't excuse Trump's craziness". She adds that while "I know it sounds stupid now", when "he got into office we thought he would rise to the occasion" and follow the guidance of experienced advisors.
"Instead he went 140-character-crazy on us."
"Instead he went 140-character-crazy on us."
To Manigault Newman, "ultimately, in life you get duped … I talk about how hindsight is 20/20, and how there were red flags that I missed".
Manigault Newman announces that she believes Trump has dementia. She says "those are things that I observed, the forgetfulness … he would go state by state on election night – as if I wasn't there – and that would be around ten in the morning". At five o'clock, she would hear the same story and "knew that it was one of those days when he would be in repeat mode". She adds: "I think it is impairing his ability to fulfil his responsibilities as president".
While suggesting the impeachment of Trump would be a good thing, she has little flattering to say of his likely successor. "I was probably the first and the only person to criticise Pence to come out of the Trump administration." She adds that this was "because he is the golden boy … he says the right thing, he does the right thing". However, she insists that "he is biding his time … He is so diabolical I can't even tell you."
"Pence is so dangerous because he knows exactly what his agenda is … he tries to use and exploit the faith of the American people".
She is hopeful after the results of the recent midterms. "It's the most historic turnout of midterm elections in recent history. And so I believe that there are people in this country who want to see change and because of that enthusiasm, the momentum, the message then you'll see Donald Trump may not be successful in his endeavours to be reelected."
Manigault Newman hopes, "just based on history, that our country is resilient and that we'll be able to survive this nightmare", and thinks that "people are starting to see the light". She hopes he will lose votes "when people struggle to fill prescriptions, to fill their gas tanks, and their healthcare's being taken away" – with his promises to her native Ohio to "bring back coal and manufacturing" being "a lie".
"Republicans have no interest in diversity or interest in improving the lives of people they say they want to improve." And the white supremacists many believe have been emboldened by Trump's rhetoric? "They've just ripped off their sheets and they're out in the daylight."