'He should have been in prison years ago': Tony Schwartz on the Trump Presidency
The Art of the Deal ghostwriter does not hold back on what he views as Trump's "extraordinarily limited intelligence, humanity and character"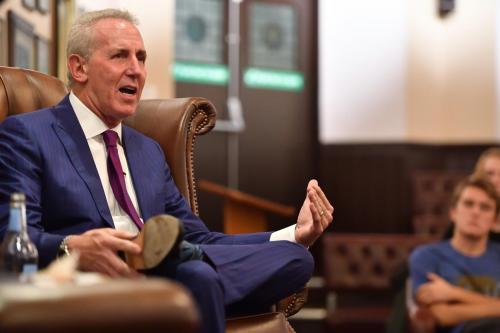 "I imagine that he would hope and intend to write about his presidency – I think he'll have a lot of time, since he'll be doing it from prison."
Tony Schwartz, the ghostwriter behind President Donald Trump's The Art of the Deal, does not hold back in his indictment of his former client. As he takes questions from journalists before his speech at the Cambridge Union, thirty-one years after the publication of that book, he says that he is "repentant" for what was "a really unfortunate choice" to write the book. "Given the forum I now have, because of the relationship I have had with him, I feel a social responsibility to speak out." The future of the United States, and the planet, apparently, are at stake.
We've had testimony after testimony like this already. Michael Wolff provoked a storm with Fire and Fury last year. In August, the president's former Director of 'African-American Outreach' Omarosa Manigault Newman released Unhinged: An Insider's Account of the Trump White House. Both confirm what was already on the minds of the president's opponents: an administration in chaos; family members and cabinet secretaries just about managing to mask in public their private frustrations; a nation led by a man whose ignorance is matched only by his narcissism.
Schwartz, however, was blowing the whistle long before these 'disgruntled employees'. His testimony could just as easily be dismissed as "deranged" (as Trump has described Wolffe's and Newman's), if only their relationship had not spanned over three decades. Schwartz first met Trump in 1985 - a "hired gun", he tells me. "Up until the very moment I decided to speak out [in 2016] he said very positive things about me."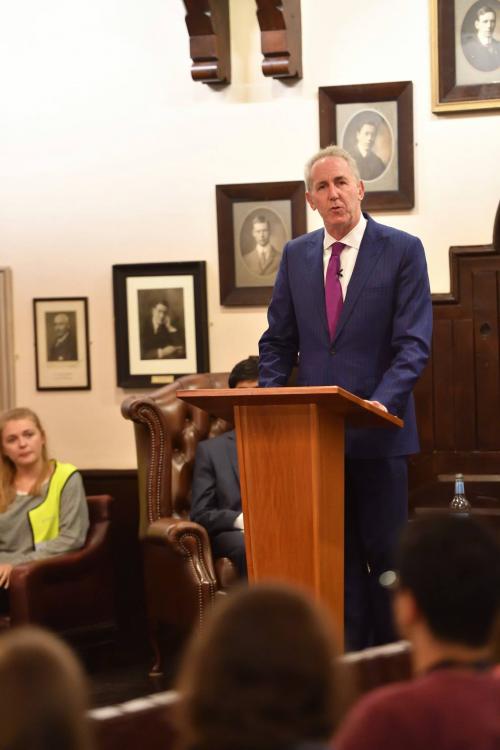 That is hardly surprising, given what Schwartz has done for Trump's public image. The Art of the Deal became a bestseller when it was first published in 1987. Its portrait of Trump was of a Gordon Gecko-esque entrepreneur; an embodiment of the American dream. Or, as Schwartz puts it, "a poor person's idea of what a rich person should be."
From their first meeting, Schwartz insists that he "had no inkling that this man would become president", but knew that he was "a bad actor." He is utterly unforgiving in stressing this point. The president is, according to Schwartz, a serial liar who compensates for his "extraordinarily limited intelligence, humanity and character" through a "blown-up fantasy" of himself. "I'd come to understand that what he told me, that people didn't specifically contradict at the time, wasn't true."
The Art of the Deal is described as "part-memoir and part business-advice book" on Wikipedia. According to its author, however, it is better described as "fiction". One aspect of this fiction, key to Trump's enduring appeal, is that he is a 'self-made man'. Schwartz argues that he is "as far from a self-made man that any human being could be," having inherited $400m from his father, and a property empire worth over $2m every year by his late twenties.
"At the age of seven or eight, he stopped growing, he stopped learning, he stopped evolving – and he's that person today, but seventy years older."
But I try and challenge him a bit, because by now we've got the gist of his point. Part of Trump's appeal was that, at least, he said what he meant - unlike the political elites at the 'swamp' up on Capitol Hill. Surely this is part of his enduring appeal? Schwartz is left incredulous by the suggestion. "That is utterly and completely preposterous… this is a man who has been documented to have told over 5000 outright lies over 2 years", as documented by The Washington Post's fact-checker. Does he not have a vision for America? At least a semblance of a principle underlying his actions in office? "I don't think the word 'vision' is a word he could even define."
Attempting to salvage something vaguely hopeful about American democracy, I ask Schwartz about Trump's best qualities. The room, which a moment before had been electrified by Schwartz's presence, suddenly falls silent. This isn't performative: Schwartz is genuinely contemplating this. He says he has been asked this many times before. "In terms of strengths that I would say aren't connected to some negative set of qualities, I guess the only one really I have been able to embrace is relentlessness." That certainly sounds like the Trump we know. "He's a dog with a bone."
This relentlessness is the trait common to everyone's understanding of Trump. According to Schwartz, he has barely changed in this regard. "At the age of seven or eight, he stopped growing, he stopped learning, he stopped evolving – and he's that person today, but seventy years older." It is also this relentlessness, however, that has kept Trump's main voter base loyal for so long. It seems that every indictment of the president only entrenches the devotion of his staunchly Republican minority. I'm not sure how much Schwartz's hyperbole will do to change that.
Schwartz ends our conversation, however, on a much more substantive, and worrying, note. I have already been told that the president is willing "to lie, to cheat, to obfuscate, to do absolutely anything, including well beyond the parameters of the law," to get what he wants. That's pretty much accepted by both his opponents and some of his supporters: the latter, perhaps, would prefer to use the phrase "truthful hyperbole" (coined by Trump to describe The Art of the Deal).
Schwartz describes Kavanaugh's appointment as Supreme Court judge as "insane", as "the evidence seems circumstantially powerful." Yet "the only thing more insane is to have a president who has committed sexual assault."
That's quite the statement to end on. "He's a serious sexual predator", he says. "The tragedy for those women is that they didn't get the chance to testify against him in a court of law [before he became president]." Finally, he adds: "he should have been in prison years ago." So it is that we have ended our conversation where we began: with Trump in a cell.