NUS delegates for Cambridge announced
The six delegates will elect the national committee and vote on national policy at the NUS conference in April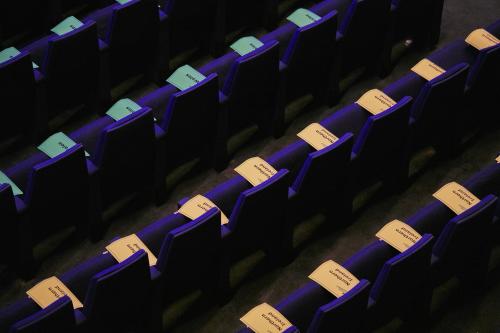 After a hotly-contested and controversial election, it has been announced that Shadab Ahmed, Tom Turtle, Claire Sosienski-Smith, Lara Parizotto, and Ali Hyde are to join CUSU president Evie Aspinall to attend the upcoming National Union of Students conference in April.
Of the three CUSU sabbatical officers running, two were elected as NUS delegates: CUSU Access & Funding Officer Shadab Ahmed and Women's Officer Claire Sosienski Smith. CUSU Education Officer Matt Kite, was eliminated in the fifth round of voting.
11 candidates ran for the five free delegate positions, making it one of the most competitive elections in recent years; last year, 11 candidates were in running, while the year before saw only 5 candidates up for delegacy.
Initially 12 students were running for delegate, however, earlier last week, Shannon Bernard Healey withdrew his candidacy for NUS delegate.
To be in line with the NUS's policy of 'Fair Representation', at least two elected candidates must identify as female; however, this did not affect who was elected as delegate.
While voting was initially set to take place from 30th October, an administrative error meant CUSU had to issue a postponement, and so voting ran from Thursday 1 November to Sunday 4 November.
This year saw relatively low turnout, as only 1,020 students cast their vote, which marks a decrease from last year's turnout of 1,696 students.
Tom Turtle won the most votes, followed by CUSU Access & Funding Officer Shadab Ahmed. Turtle, currently vice-chair of Cambridge University Liberal Association, said that he was running for NUS delegate "to make the NUS more relevant and effective for students", emphasising his pro-EU platform.
Controversy marred the run-up to the elections, as the CUSU elections committee found candidate Keelan Kellegher in violation of an election rule that states 'campaigners may not campaign for multiple candidates at the same time'. Kellegher was eliminated in the first round of voting.
The six NUS delegates are set to represent Cambridge at the NUS conference in March, where they will join delegates from around 60 university student unions across the county to have their say in setting the agenda for the NUS for the following year.
Results were also announced for the CUSU part-time executive. The winners were as follows:
Part-time students officer: Kerensa Gaunt
Education campaigns officers: Howard Chae and Michael Davin
Ethical affairs officers: Beth Bhargava and Finn Chapman
Union development officers: Edward Parker Humphreys and Liam Michael Plimmer
Welfare and rights officer: Ed McNally
Access and funding officers: Zainab Haider and Lydia Devonport